Best wedding love poems and readings
Find your true voice with our selection of classic wedding poetry and extracts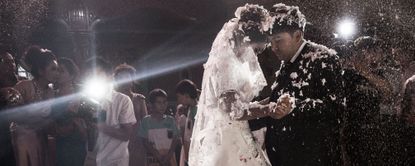 (Image credit: 2014 Getty Images)
Sign up to our 10 Things You Need to Know Today newsletter
A free daily digest of the biggest news stories of the day - and the best features from our website
Thank you for signing up to TheWeek. You will receive a verification email shortly.
There was a problem. Please refresh the page and try again.
Choosing readings and poems for your wedding can be a daunting task.
They must of course reflect your own feelings about each other and your own experience as a couple, but the best wedding poetry also expresses a more universal understanding of the importance of love - something that will bind together the friends and family who have come together to celebrate with you.
Here are some of the time-honoured poems about the joys - and occasional trials - of love and marriage.
Subscribe to The Week
Escape your echo chamber. Get the facts behind the news, plus analysis from multiple perspectives.
SUBSCRIBE & SAVE
Sign up for The Week's Free Newsletters
From our morning news briefing to a weekly Good News Newsletter, get the best of The Week delivered directly to your inbox.
From our morning news briefing to a weekly Good News Newsletter, get the best of The Week delivered directly to your inbox.
How do I love thee?
Elizabeth Barrett Browning, 1806-61
How do I love thee? Let me count the ways.I love thee to the depth and breadth and heightMy soul can reach, when feeling out of sightFor the ends of Being an Ideal Grace.
I love thee to the level of every day'sMost quiet need, by sun and candle-light.I love thee freely, as men strive for Right;I love thee purely, as they turn from Praise.
I love thee with the passion put to useIn my old grief's, and with my childhood's faith.
I love thee with a love I seemed to loseWith my lost saints - I love thee with the breath,Smiles, tears, of all my life! - and, if God choose,I shall but love thee better after death.
To My Dear and Loving Husband
Anne Bradstreet, 1612-72
If ever two were one, then surely we.If ever man were loved by wife, then thee;If ever wife was happy in a man,Compare with me ye women if you can.
I prize thy love more than whole mines of gold,Or all the riches that the East doth hold.My love is such that rivers cannot quench,Nor ought but love from thee give recompense.
Thy love is such I can no way repay;The heavens reward thee manifold, I pray.Then while we live, in love let's so persevere,That when we live no more we may live ever.
Song of the Open Road (excerpt)
Walt Whitman, 1819-92
Allons! the road is before us!It is safe - I have tried it - my own feet have tried it well--be not detain'd!Let the paper remain on the desk unwritten, and the book on the shelf unopen'd!Let the tools remain in the workshop! let the money remain unearn'd!Let the school stand! mind not the cry of the teacher!Let the preacher preach in his pulpit! let the lawyer plead in the court, and the judge expound the law.
Camerado, I give you my hand!I give you my love more precious than money,I give you myself before preaching or law;Will you give me yourself? Will you come travel with me?Shall we stick by each other as long as we live?
The Apache wedding blessing
Elliott Arnold, 1912-1980
Now you will feel no rain, For each of you will be shelter to the other.
Now you will feel no cold, For each of you will be warmth to the other.
Now there is no more loneliness, For each of you will be companion to the other.
Now you are two bodies, But there is one life before you.
Go now to your dwelling place, To enter into the days of your togetherness.
And may your days be good and long upon the earth.
Sonnet 116
William Shakespeare, 1582-1616
Let me not to the marriage of true mindsAdmit impediments. Love is not loveWhich alters when it alteration finds,Or bends with the remover to remove:O, no! it is an ever-fixed mark,That looks on tempests and is never shaken;It is the star to every wandering bark,Whose worth's unknown, although his height be taken.Love 's not Time's fool, though rosy lips and cheeksWithin his bending sickle's compass come;Love alters not with his brief hours and weeks,But bears it out even to the edge of doom.If this be error, and upon me prov'd,I never writ, nor no man ever lov'd.
Love is Enough
William Morris, 1834-96
Love is enough; though the World be a-waningAnd the woods have no voice but the voice of complaining,Though the sky be too dark for dim eyes to discoverThe gold-cups and daisies fair blooming thereunder;Though the hills be held shadows, and the sea a dark wonder,And this day draw a veil over all deeds passed over,Yet their hands shall not tremble, their feet shall not falter,The void shall not weary, the fear shall not alterThese lips and these eyes of the loved and the lover.
Extract from Les Miserables
Victor Hugo, 1802-1885
"You can give without loving, but you can never love without giving. The great acts of love are done by those who are habitually performing small acts of kindness. We pardon to the extent that we love. Love is knowing that even when you are alone, you will never be lonely again. And great happiness of life is the conviction that we are loved. Loved for ourselves. And even loved in spite of ourselves."
The Passionate Shepherd to His Love
Christopher Marlowe, 1564-93
Come live with me and be my love,And we will all the pleasures proveThat valleys, groves, hills, and fields,Woods or steepy mountain yields.
And we will sit upon the rocks,Seeing the shepherds feed their flocks,By shallow rivers to whose fallsMelodious birds sing madrigals.
And I will make thee beds of rosesAnd a thousand fragrant posies,A cap of flowers, and a kirtleEmbroidered all with leaves of myrtle;
A gown made of the finest woolWhich from our pretty lambs we pull;Fair lined slippers for the cold,With buckles of th purest gold;
A belt of straw and ivy buds,With coral clasps and amber studs:And if these pleasures may thee move,Come live with me and be my love.
The shepherds' swains shall dance and singFor thy delight each May morning:If these delights thy mind may move,Then live with me and be my love.
Continue reading for free
We hope you're enjoying The Week's refreshingly open-minded journalism.
Subscribed to The Week? Register your account with the same email as your subscription.
Sign up to our 10 Things You Need to Know Today newsletter
A free daily digest of the biggest news stories of the day - and the best features from our website