William Shakespeare: ten of the Bard's best poems
The playwright and poet penned more than 150 sonnets in his lifetime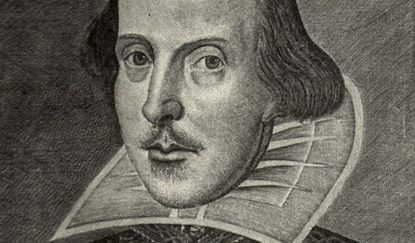 Celebrations are being held around the world today to mark the birth and death of William Shakespeare.
While his exact birth date is not known, his baptism is recorded in the Parish Register at Holy Trinity Church, Stratford-upon-Avon, on Wednesday 26 April 1564 and baptisms typically took place within three days of a new arrival. He later died in April 1616 at the age of 52.
Though he is most renowned for his plays, Shakespeare also penned vast quantities of poetry in his lifetime. His most famous poetical works, his sonnets, were intended primarily for a private readership - but many are still recited in classrooms today.
Subscribe to The Week
Escape your echo chamber. Get the facts behind the news, plus analysis from multiple perspectives.
SUBSCRIBE & SAVE
Sign up for The Week's Free Newsletters
From our morning news briefing to a weekly Good News Newsletter, get the best of The Week delivered directly to your inbox.
From our morning news briefing to a weekly Good News Newsletter, get the best of The Week delivered directly to your inbox.
The Bard's collection of 154 sonnets was first published in 1609. He also wrote two long narrative poems, which were published in the 1590s, and a few other shorter poems.
Almost all the sonnets follow the structure of three quatrains, or four-line stanzas, followed by a final couplet. The beginning of the third quatrain, at times, introduces an unexpected sharp thematic "turn", the volta. This form is known as Shakespearean Sonnet, not because he was the first to use it, but because he became its most famous practitioner.
With the partial exception of the Sonnets - which were interregotated from the early 19th century during the search for autobiographical secrets encoded within them - the "nondramatic writings have traditionally been pushed to the margins of the Shakespeare industry", says the Poetry Foundation.
"Yet the study of his nondramatic poetry can illuminate Shakespeare's activities as a poet emphatically of his own age, especially in the period of extraordinary literary ferment in the last ten or twelve years of the reign of Queen Elizabeth."
Here are a number of his most famous poems:
Sonnet 130
My mistress' eyes are nothing like the sun;Coral is far more red than her lips' red;If snow be white, why then her breasts are dun;If hairs be wires, black wires grow on her head.I have seen roses damasked, red and white,But no such roses see I in her cheeks;And in some perfumes is there more delightThan in the breath that from my mistress reeks.I love to hear her speak, yet well I knowThat music hath a far more pleasing sound;I grant I never saw a goddess go;My mistress when she walks treads on the ground.And yet, by heaven, I think my love as rareAs any she belied with false compare.
Sonnet 17
Who will believe my verse in time to come,If it were filled with your most high deserts?Though yet heaven knows it is but as a tombWhich hides your life, and shows not half your parts.If I could write the beauty of your eyes,And in fresh numbers number all your graces,The age to come would say 'This poet lies;Such heavenly touches ne'er touched earthly faces.'So should my papers, yellowed with their age,Be scorned, like old men of less truth than tongue,And your true rights be termed a poet's rageAnd stretched metre of an antique song:But were some child of yours alive that time,You should live twice, in it, and in my rhyme.
Sonnet 116
Let me not to the marriage of true mindsAdmit impediments. Love is not loveWhich alters when it alteration finds,Or bends with the remover to remove.O no! it is an ever-fixed markThat looks on tempests and is never shaken;It is the star to every wand'ring bark,Whose worth's unknown, although his height be taken.Love's not Time's fool, though rosy lips and cheeksWithin his bending sickle's compass come;Love alters not with his brief hours and weeks,But bears it out even to the edge of doom.If this be error and upon me prov'd,I never writ, nor no man ever lov'd.
The Phoenix and Turtle
Let the bird of loudest layOn the sole Arabian treeHerald sad and trumpet be,To whose sound chaste wings obey.
But thou shrieking harbinger,Foul precurrer of the fiend,Augur of the fever's end,To this troop come thou not near.
From this session interdictEvery fowl of tyrant wing,Save the eagle, feather'd king;Keep the obsequy so strict.
Let the priest in surplice white,That defunctive music can,Be the death-divining swan,Lest the requiem lack his right.
And thou treble-dated crow,That thy sable gender mak'stWith the breath thou giv'st and tak'st,'Mongst our mourners shalt thou go.
Here the anthem doth commence:Love and constancy is dead;Phoenix and the Turtle fledIn a mutual flame from hence.
So they lov'd, as love in twainHad the essence but in one;Two distincts, division none:Number there in love was slain.
Hearts remote, yet not asunder;Distance and no space was seen'Twixt this Turtle and his queen:But in them it were a wonder.
So between them love did shineThat the Turtle saw his rightFlaming in the Phoenix' sight:Either was the other's mine.
Property was thus appalledThat the self was not the same;Single nature's double nameNeither two nor one was called.
Reason, in itself confounded,Saw division grow together,To themselves yet either neither,Simple were so well compounded;
That it cried, "How true a twainSeemeth this concordant one!Love has reason, reason none,If what parts can so remain."
Whereupon it made this threneTo the Phoenix and the Dove,Co-supremes and stars of love,As chorus to their tragic scene: Threnos
Beauty, truth, and rarity,Grace in all simplicity,Here enclos'd, in cinders lie.Death is now the Phoenix' nest,And the Turtle's loyal breastTo eternity doth rest,Leaving no posterity:'Twas not their infirmity,It was married chastity.Truth may seem but cannot be;Beauty brag but 'tis not she;Truth and beauty buried be.To this urn let those repairThat are either true or fair;For these dead birds sigh a prayer.
Sonnet 55
Not marble, nor the gilded monumentsOf princes, shall outlive this powerful rhyme;But you shall shine more bright in these contentsThan unswept stone, besmear'd with sluttish time.When wasteful war shall statues overturn,And broils root out the work of masonry,Nor Mars his sword nor war's quick fire shall burnThe living record of your memory.'Gainst death and all-oblivious enmityShall you pace forth; your praise shall still find roomEven in the eyes of all posterityThat wear this world out to the ending doom.So, till the judgment that yourself arise,You live in this, and dwell in lovers' eyes.
Fear no more the heat o' the sun
Fear no more the heat o' the sun,Nor the furious winter's rages;Thou thy worldly task hast done,Home art gone, and ta'en thy wages:Golden lads and girls all must,As chimney-sweepers, come to dust.
Fear no more the frown o' the great;Thou art past the tyrant's stroke;Care no more to clothe and eat;To thee the reed is as the oak:The scepter, learning, physic, mustAll follow this, and come to dust.
Fear no more the lightning flash,Nor the all-dreaded thunder stone;Fear not slander, censure rash;Thou hast finished joy and moan:All lovers young, all lovers mustConsign to thee, and come to dust.
No exorciser harm thee!Nor no witchcraft charm thee!Ghost unlaid forbear thee!Nothing ill come near thee!Quiet consummation have;And renownèd be thy grave!
Blow, blow, thou winter wind
Blow, blow, thou winter wind,Thou art not so unkindAs man's ingratitude;Thy tooth is not so keen,Because thou art not seen,Although thy breath be rude.Heigh-ho! sing, heigh-ho! unto the green holly:Most friendship is feigning, most loving mere folly:Then, heigh-ho, the holly!This life is most jolly.
Freeze, freeze, thou bitter sky,That dost not bite so nighAs benefits forgot:Though thou the waters warp,Thy sting is not so sharpAs friend remembered not.Heigh-ho! sing, heigh-ho! unto the green holly
The Rape of Lucrece
Her lily hand her rosy cheek lies under,Cozening the pillow of a lawful kiss;Who, therefore angry, seems to part in sunder,Swelling on either side to want his bliss;Between whose hills her head entombed is;Where like a virtuous monument she lies,To be admired of lewd unhallowed eyes.
Without the bed her other fair hand was,On the green coverlet, whose perfect whiteShowed like an April daisy on the grass,With pearly sweat resembling dew of night.Her eyes, like marigolds, had sheathed their light,And canopied in darkness sweetly layTill they might open to adorn the day.
Her hair like golden threads played with her breathO modest wantons, wanton modesty!Showing life's triumph in the map of death,And death's dim look in life's mortality.Each in her sleep themselves so beautifyAs if between them twain there were no strife,But that life lived in death, and death in life.
Her breasts like ivory globes circled with blue,A pair of maiden worlds unconquerèd,Save of their lord no bearing yoke they knew,And him by oath they truly honourèd.These worlds in Tarquin new ambition bred,Who like a foul usurper went aboutFrom this fair throne to heave the owner out.
What could he see but mightily he noted?What did he note but strongly he desired?What he beheld, on that he firmly doted,And in his will his willful eye he tired.With more than admiration he admiredHer azure veins, her alabaster skin,Her coral lips, her snow-white dimpled chin.
As the grim lion fawneth o'er his preySharp hunger by the conquest satisfied,So o'er this sleeping soul doth Tarquin stay,His rage of lust by gazing qualified;Slacked, not suppressed; for, standing by her side,His eye, which late this mutiny restrains,Unto a greater uproar tempts his veins.
And they, like straggling slaves for pillage fighting,Obdurate vassals fell exploits effecting.In bloody death and ravishment delighting,Nor children's tears nor mothers' groans respecting,Swell in their pride, the onset still expecting.Anon his beating heart, alarum striking,Gives the hot charge and bids them do their liking.
His drumming heart cheers up his burning eye,His eye commends the leading to his hand;His hand, as proud of such a dignity,Smoking with pride, marched on to make his standOn her bare breast, the heart of all her land,Whose ranks of blue veins, as his hand did scale,Left their round turrets destitute and pale.
They, mustering to the quiet cabinetWhere their dear governess and lady lies,Do tell her she is dreadfully besetAnd fright her with confusion of their cries.She, much amazed, breaks ope her locked-up eyes,Who, peeping forth this tumult to behold,Are by his flaming torch dimmed and controlled.
Imagine her as one in dead of nightFrom forth dull sleep by dreadful fancy waking,That thinks she hath beheld some ghastly sprite,Whose grim aspect sets every joint a-shaking.What terror 'tis! but she, in worser taking,From sleep disturbèd, heedfully doth viewThe sight which makes supposèd terror true.
Wrapped and confounded in a thousand fears,Like to a new-killed bird she trembling lies.She dares not look; yet, winking, there appearsQuick-shifting antics ugly in her eyes.Such shadows are the weak brain's forgeries,Who, angry that the eyes fly from their lights,In darkness daunts them with more dreadful sights.
His hand, that yet remains upon her breast(Rude ram, to batter such an ivory wall!)May feel her heart (poor citizen) distressed,Wounding itself to death, rise up and fall,Beating her bulk, that his hand shakes withal.This moves in him more rage and lesser pity,To make the breach and enter this sweet city.
Sonnet 43
When most I wink, then do mine eyes best see,For all the day they view things unrespected;But when I sleep, in dreams they look on thee,And darkly bright are bright in dark directed.Then thou, whose shadow shadows doth make bright, 5How would thy shadow's form form happy showTo the clear day with thy much clearer light,When to unseeing eyes thy shade shines so!How would, I say, mine eyes be blessed madeBy looking on thee in the living day, 10When in dead night thy fair imperfect shadeThrough heavy sleep on sightless eyes doth stay!All days are nights to see till I see thee,And nights bright days when dreams do show thee me.
Sonnet 20
A woman's face with nature's own hand paintedHast thou, the master-mistress of my passion;A woman's gentle heart, but not acquaintedWith shifting change as is false women's fashion;An eye more bright than theirs, less false in rolling,Gilding the object whereupon it gazeth;A man in hue, all hues in his controlling,Which steals men's eyes and women's souls amazeth.And for a woman wert thou first created,Till nature as she wrought thee fell a-doting,And by addition me of thee defeatedBy adding one thing to my purpose nothing.But since she pricked thee out for women's pleasure,Mine be thy love and thy love's use their treasure.

Continue reading for free
We hope you're enjoying The Week's refreshingly open-minded journalism.
Subscribed to The Week? Register your account with the same email as your subscription.