10 things you need to know today: November 4, 2021
Financial coalition puts $130 trillion in assets behind green-energy transition, Biden says Democrats' setbacks not due to him, and more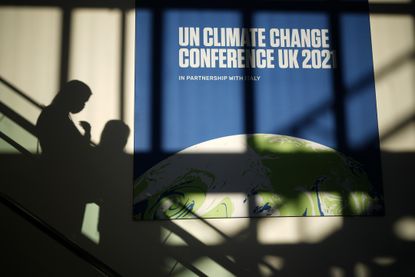 (Image credit: Christopher Furlong/Getty Images)
1. Financial coalition puts $130 trillion behind green-energy transition
A global coalition of financial institutions announced Wednesday that more than 450 firms controlling $130 trillion in assets have committed to shifting the global economy to cleaner energy. On Day 3 of the United Nations' COP26 climate summit, the Glasgow Financial Alliance for Net Zero said these banks, investors, and insurers have vowed that the companies and projects they invest in will reach net-zero emissions by 2050. This will mean "every financial decision takes climate change into account," said former Bank of England chief Mark Carney, who leads the coalition with billionaire former New York Mayor Michael Bloomberg. Jason Opeña Disterhoft, senior climate and energy campaigner at Rainforest Action Network, said the pledge would amount to "greenwash" without a commitment to stop fossil-fuel expansion.
The New York Times The Washington Post
2. Biden says Democrats' election setbacks not due to his policies
President Biden on Wednesday rejected suggestions that Democrats' election losses on Tuesday were a reflection of opposition to his policies, saying the losses of Virginia gubernatorial candidate Terry McAuliffe and other Democrats showed that the party needs to "produce for the American people." Biden said his failure to rally Democrats in Congress to pass his $1.75 trillion social and climate spending package and a bipartisan $1 trillion infrastructure deal was not a deciding factor. "I think we should have passed it before Election Day," Biden said. "But I'm not sure that I would have been able to change" voters' minds in GOP-leaning areas, because "people are upset" about many issues, including the pandemic, gas prices, and the job market.
Subscribe to The Week
Escape your echo chamber. Get the facts behind the news, plus analysis from multiple perspectives.
SUBSCRIBE & SAVE
Sign up for The Week's Free Newsletters
From our morning news briefing to a weekly Good News Newsletter, get the best of The Week delivered directly to your inbox.
From our morning news briefing to a weekly Good News Newsletter, get the best of The Week delivered directly to your inbox.
3. Fed announces plans to wind down stimulus
The Federal Reserve on Wednesday announced its plan to taper the asset buying program it has been using to boost the economic recovery during the coronavirus crisis. "In light of the substantial further progress the economy has made toward the committee's goals since last December, the committee decided to begin reducing the monthly pace of its net asset purchases," the central bank said in a statement at the end of a two-day meeting of its policy-setting Federal Open Market Committee. The Fed said it would start reducing the $120 billion-per-month in purchases of mortgage-backed securities and Treasury bonds, cutting $15 billion per month starting this month. Despite the vote of confidence in the economy, the Fed expressed a slightly more concerned tone on inflation, which remains double the Fed's 2 percent target.
4. Supreme Court conservatives wary of N.Y. gun law
The Supreme Court's conservative majority signaled Wednesday that it was leaning toward striking down a New York law limiting the right to carry concealed handguns, potentially broadening gun rights. About 80 million Americans live in states that restrict concealed carrying of firearms. New York limits licenses for concealed weapons to people going hunting or shooting, or people like bank couriers who have a special need to protect themselves. Conservative Justice Samuel Alito asked New York Solicitor General Barbara Underwood how denying licenses to people who are "scared to death" when they have to walk home or to the subway was "consistent with the core right to self-defense, which is protected by the Second Amendment?"
5. Pentagon watchdog: No criminal negligence in strike that killed Afghan civilians
The Air Force inspector general, Lt. Gen. Sami D. Said, said Wednesday that the U.S. drone strike that killed 10 civilians as the last U.S. forces were leaving Afghanistan did not violate rules of international warfare. Initially, the Pentagon called the Aug. 29 attack in Kabul a "righteous strike" against an Islamic State operative hauling explosives in a white sedan. The driver turned out to be a longtime aid worker for a U.S.-based group. He was "hauling water cans for his family," The Washington Post reported. Said said the initial mistake caused commanders and analysts to misinterpret drone surveillance of the driver, leading them to believe he posed a threat to U.S. troops helping to evacuate Afghans at the Kabul airport.
6. McCarthy predicts big 2022 gains for GOP after Tuesday election
House Minority Leader Kevin McCarthy (R-Calif.) said Wednesday that Republican wins in tight races like Virginia's governor's race showed that, "If you're a Democrat, and President Biden won your seat by 16 points, you're in a competitive race next year. You are no longer safe." McCarthy predicted Republicans would flip more than 60 House seats in next year's midterm elections, arguing that more than 70 Democratic seats are now considered competitive. "There's many that are going to lose their races based upon walking off a cliff, from Nancy Pelosi pushing them," McCarthy said. If Republicans won a majority in the House, McCarthy would be one of the likeliest lawmakers to take over as house speaker. Pundits have predicted the control could tip over to the GOP next year, since Democrats currently hold a narrow 220-212 majority.
7. N.J. Gov. Phil Murphy declares victory in tight election
New Jersey Gov. Phil Murphy (D) narrowly beat Republican challenger Jack Ciatterelli in an unexpectedly tight election, returns showed Wednesday. Murphy became the first Democrat in the state to earn a second term as governor since 1977, but his near defeat in a state President Biden won by 16 percentage points in November 2020 alarmed Democrats as they prepare to defend their razor-thin U.S. House and Senate majorities in next year's midterm elections. Registered Democrats outnumber Republicans by more than 1 million in New Jersey. Murphy struck a conciliatory tone as he declared victory on Wednesday. "If you want to be governor of all of New Jersey, you must listen to all of New Jersey. And New Jersey, I hear you," he told a crowd of supporters.
8. Prosecutors protest predominantly white jury in Arbery case
A jury was seated Wednesday in the trial of the three white men accused of murdering Ahmaud Arbery, a 25-year-old unarmed Black man. The defendants — George McMichael, his son Travis McMichael, and their neighbor William "Roddie" Bryan Jr. — are accused of racially profiling Arbery, chasing him down, and killing him as he jogged through their Georgia neighborhood. Prosecutors objected to the makeup of the jury, which includes 11 white jurors and just one Black member. Prosecutors said the defense cut qualified Black potential jurors because of their race. Judge Timothy Walmsley agreed that "there appears to be intentional discrimination," but said the case could proceed because the defense met its obligation to show a "legitimate, nondiscriminatory" reason for striking each potential juror.
9. At least 7 people who attended Trump Jan. 6 rally elected to state, local office
News organizations noted Wednesday that at least seven people who participated in President Trump's Jan. 6 "Stop the Steal" rally won election to state or local office on Tuesday. None of them were arrested in the riot that followed at the Capitol, and all denied joining the mob of Trump supporters that attacked the Capitol in an attempt to prevent Congress from certifying Trump's election loss to President Biden. Three of those 13 Republicans — Dave LaRock, John McGuire, and Marie March — won seats in the Virginia House of Delegates. LaRock and McGuire won re-election. March was elected to an open seat. "We're in a very conservative district, and a lot of people do like Donald Trump," March, a restaurant owner, said Wednesday to The Associated Press.
The Washington Post The Associated Press
10. Atlanta parade to celebrate Braves World Series title
The Atlanta Braves announced Wednesday that the team would celebrate its World Series title with a parade on Friday. Braves fans celebrated the team's first Major League Baseball championship since 1995 through the day after the Braves beat the Houston Astros 7-0 on Tuesday night to take Game 6 and win the series, 4-2. The Braves weren't considered to have a chance to take the title back in August, when they were mired below .500, but somehow the team took off. "We hit every pothole, every bump you could possibly hit this year," Braves first baseman Freddie Freeman said, adding that the team overcame them all. On Tuesday, the team was led by pitcher Max Fried, who allowed no runs and just four hits in six innings, and a powerful offense, including Jorge Soler's three-run homer in the third inning.
Fox5 Atlanta Atlanta Journal-Constitution

Continue reading for free
We hope you're enjoying The Week's refreshingly open-minded journalism.
Subscribed to The Week? Register your account with the same email as your subscription.