10 things you need to know today: December 10, 2021
Biden urges world leaders to step up defense of democracy, Bob Dole lies in state at the Capitol, and more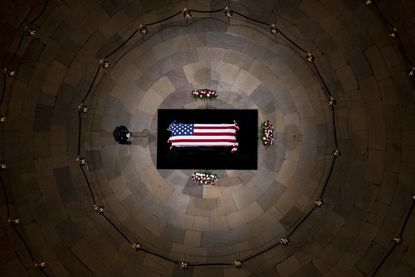 (Image credit: Andrew Harnik-Pool/Getty Images)
1. Biden urges world leaders to 'lock arms' to defend democracy
President Biden on Thursday called on fellow world leaders participating in the first White House Summit for Democracy to "lock arms" to show that democracies can deliver progress better than autocracies. Biden said global democratic institutions are under assault, and he called for leaders everywhere to step up efforts to strengthen democracies. "This is an urgent matter," Biden said as he opened the two-day virtual summit. "The data we're seeing is largely pointing in the wrong direction." The video gathering came as the U.S. and key allies are warning Russia that it will face strong sanctions if it invades Ukraine. Russia and China, adversaries who were not invited to participate in the summit, accused the Biden administration of trying to "stoke up ideological confrontation and a rift in the world" with a "Cold-War mentality."
2. Bob Dole lies in state at Capitol
Mourners paid their final respects to former Sen. Bob Dole at the U.S. Capitol on Thursday, where the late 1996 Republican presidential nominee lay in state. President Biden praised his former Senate colleague, who died Sunday at age 98, as "one of our greatest patriots" and a "giant of our history." Biden said he and Dole disagreed "on a number of things" but "still found a way to work together," and he called on a divided nation to find "unity again." Senate Minority Leader Mitch McConnell (R-Ky.) remembered Dole as someone who was "never stuck in the past" and who was "always looking to new horizons." Senate Majority Leader Chuck Schumer (D-N.Y.) said Dole was a "remarkable leader" who "redefined and elevated what it means to serve country."
Subscribe to The Week
Escape your echo chamber. Get the facts behind the news, plus analysis from multiple perspectives.
SUBSCRIBE & SAVE
Sign up for The Week's Free Newsletters
From our morning news briefing to a weekly Good News Newsletter, get the best of The Week delivered directly to your inbox.
From our morning news briefing to a weekly Good News Newsletter, get the best of The Week delivered directly to your inbox.
3. At least 53 migrants die in tractor-trailer accident in Mexico
A tractor-trailer full of migrants crashed Thursday in southern Mexico, killing at least 53 people. Mexican authorities said at least 54 others were injured. The crash happened in Chiapas state near the Guatemalan border. "According to survivors, the majority appeared to be citizens of Guatemala," Luis Manuel García Moreno, the state director of civil protection, said in an interview broadcast on Foro TV. He said a mechanical problem appeared to have triggered the crash. The Biden administration has called for Mexico to curb the flow of Central American migrants toward the U.S.-Mexico border, and smugglers have increasingly used tractor-trailers to avoid detection. Guatemala's top human rights official, Jordán Rodas, said 200 migrants might have been packed into the truck that crashed.
The Washington Post The Associated Press
4. FDA backs COVID boosters for 16- and 17-year-olds
The Food and Drug Administration on Thursday authorized giving 16- and 17-year-olds booster shots of the coronavirus vaccine developed by Pfizer and BioNTech. If Centers for Disease Control and Prevention Director Rochelle Walensky endorses the recommendation, as expected, it will expand the pool of people eligible for a third shot of the vaccine just as demand for boosters is rising due to concerns about the newly emerged Omicron coronavirus variant. Early studies indicate that Omicron is more resistant to vaccines than previous strains, including the still-dominant Delta variant, but Pfizer said Wednesday that fully vaccinated people who get its booster have significant protection from Omicron. The Moderna and Johnson & Johnson vaccines aren't authorized for anyone younger than 18.
5. N.Y. attorney general requests Trump deposition in civil fraud case
New York State Attorney General Letitia James has asked to question former President Donald Trump under oath in an investigation into possible civil fraud at the Trump Organization, Trump's property company. James' office is looking into whether Trump's company fraudulently reported property valuations, inflating them to get better loans and under-reporting them to lower tax bills. James could file a lawsuit against Trump if she finds evidence of fraud, but couldn't bring criminal charges. But James' office also is collaborating in a criminal investigation being led by Manhattan District Attorney Cyrus Vance Jr. that is seeking to determine whether Trump was involved in a pattern of criminal fraud by giving lenders false property values. James on Thursday ended her campaign for governor as the Trump investigations intensified.
6. Senate passes bill clearing way for debt ceiling increase
The Senate on Thursday passed a bill temporarily changing the chamber's rules to prevent a filibuster so Democrats can raise the debt ceiling with a simple majority vote, preventing a potentially catastrophic default. Ten Republicans joined Democrats in the 59-35 vote. The House approved the measure Tuesday, so it now goes to President Biden for his signature. Treasury Secretary Janet Yellen warned Congress earlier this month that the federal government could run out of money to pay its bills by Dec. 15. Senate Majority Leader Chuck Schumer (D-N.Y.) said passing the one-time rule change was "crucial" to help avoid "the prospect of a catastrophic, calamitous default on our sovereign debt. This is the responsible path forward — no brinkmanship, no default on the debt, no risk of another recession."
7. Appeals court rejects Trump attempt to block records from Jan. 6 committee
The federal appeals court for the D.C. Circuit on Thursday rejected former President Donald Trump's request to block the National Archives from giving his White House records to the special House committee investigating the Jan. 6 Capitol attack. The three-judge panel's decision set up an emergency Supreme Court review. The judges said Trump had given them no reason to override President Biden's decision not to invoke executive privilege to keep the documents secret. They said the White House and Congress agreed there was a legitimate need for the documents because the rioters, who sought to prevent lawmakers from certifying Trump's loss to Biden, threatened the peaceful transfer of power, and there's "a direct linkage between the former president and the events of the day."
The Washington Post The Wall Street Journal
8. '19 Kids and Counting' star Josh Duggar convicted on child pornography charges
A federal jury in Arkansas on Thursday found former reality TV star Josh Duggar guilty of downloading and possessing child pornography. Duggar, 33, faces up to 20 years in prison and fines up to $250,000 for one count of receiving child pornography and one count of possession. Duggar, 33, will be sentenced next year. TLC canceled the Duggar family's show, 19 Kids and Counting, in 2015 after revelations that Duggar had allegedly molested four of his sisters and a babysitter. Authorities investigated the case in 2006 after a tip from a family friend but concluded that no charges could be filed because the statute of limitations had expired. Duggar's parents said he had confessed to fondling the girls, and apologized. He later confessed to a pornography addiction.
9. Jury finds ex-'Empire' star Jussie Smollett guilty of staging fake hate crime
A jury on Thursday found actor Jussie Smollett guilty on five of six felony counts of disorderly conduct for falsely reporting to Chicago police that he was the victim of a hate crime three years ago. Prosecutors said the former Empire star arranged for two men to attack him, wrap a noose around his neck, and douse him with bleach while yelling racist and homophobic slurs, and lied when he reported the staged attack to police. Smollett took the stand and told jurors "there was no hoax." Smollett could get up to three years in prison for the charge of a false crime report. Cook County Judge James Linn will have discretion to impose concurrent or consecutive sentences. Defense attorneys said they would appeal.
10. Lina Wertmüller, 1st woman nominated for best-director Oscar, dies at 93
Italian director Lina Wertmüller, who made history as the first woman to receive a Best Director nomination at the 1977 Academy Awards, has died, Italian media confirmed Thursday. She was 93. After working with Federico Fellini on his film 8½, Wertmüller directed movies including Swept Away and Seven Beauties, the film that earned her the nomination for the Best Director Oscar. To date, only seven women have ever been nominated for the award and only two have won: Kathryn Bigelow and Chloé Zhao. Wertmüller's last feature film was 2004's Too Much Romance... It's Time for Stuffed Peppers. Wertmüller received an honorary Oscar in 2019, and she was honored by Greta Gerwig and Jane Campion, two of the other female Best Director nominees.

Continue reading for free
We hope you're enjoying The Week's refreshingly open-minded journalism.
Subscribed to The Week? Register your account with the same email as your subscription.