10 things you need to know today: December 30, 2021
U.S. shatters single-day COVID case record, Ghislaine Maxwell found guilty, and more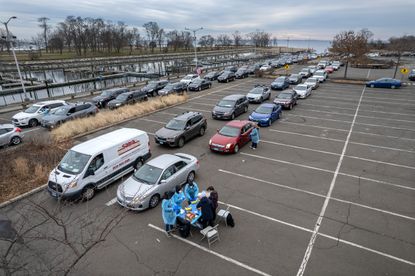 (Image credit: John Moore/Getty Images)
1. New single-day COVID case record nearly double that of previous worst day
The United States obliterated its record for most daily new cases of COVID-19 on Wednesday, topping 488,000. That represents a caseload "nearly twice that of the worst days last winter," The New York Times writes. The Times notes that while technically the total number of reported cases was higher on Monday this week, "that number should not be considered a record because it included data from the long holiday weekend." Wednesday also set a new record for the seven-day average of new daily cases, 301,000, up from 267,000 the day before. "Over the next three to four weeks, we are going to see the number of cases in this country rise so dramatically that we're gonna have a hard time keeping everyday life operating," Dr. Michael Osterholm, the director of the Center for Infectious Disease Research and Policy, told Morning Joe on Thursday.
2. Ghislaine Maxwell guilty in sex-trafficking case
British socialite Ghislaine Maxwell was convicted Wednesday on sex-trafficking charges, being found guilty on five of six counts. Each charge carries a prison term of between five and 40 years in prison. Maxwell, 60, had been accused of recruiting girls, some as young as 14, to come to the homes of millionaire financier Jeffrey Epstein, where he then sexually abused them. The incidents took place in the 1990s and early 2000s, at Epstein's properties in New York, Florida, and New Mexico. Epstein died by suicide more than two years ago while in jail awaiting trial, and Maxwell's attorneys argued that their client was taking the fall because Epstein was dead. It took a New York jury five days of deliberation before reaching the verdict.
Subscribe to The Week
Escape your echo chamber. Get the facts behind the news, plus analysis from multiple perspectives.
SUBSCRIBE & SAVE
Sign up for The Week's Free Newsletters
From our morning news briefing to a weekly Good News Newsletter, get the best of The Week delivered directly to your inbox.
From our morning news briefing to a weekly Good News Newsletter, get the best of The Week delivered directly to your inbox.
3. Putin requests Thursday call with Biden amid ongoing Ukraine tensions
President Biden and Russian President Vladimir Putin will speak on a call Thursday afternoon amid tensions over Russia's military buildup on Ukraine's border. Putin reportedly requested the call, with National Security Council spokesperson Emily Horne telling CNN the leaders plan to "discuss a range of topics, including upcoming diplomatic engagements with Russia." Biden reportedly plans to emphasize to Putin that in order to make "real progress," talks must be held in "a context of de-escalation rather than escalation." Putin seeks a legally binding agreement that Ukraine will not join NATO, which the U.S. and its allies have so far refused. American and Russian officials plan to hold talks in Geneva on Jan. 10.
4. CDC director addresses criticism over new COVID-19 recommendations
The director of the Centers for Disease Control and Prevention, Rochelle Walensky, appeared on several morning shows Wednesday to explain why the agency earlier this week reduced the recommended isolation time for people who test positive for COVID-19 from 10 days to five days if they're asymptomatic. Critics have argued the CDC should recommend obtaining a negative test result prior to leaving isolation. Walensky told CNN the agency decided not to recommend a rapid test to leave isolation because "we actually don't know" how well rapid tests "predict whether you're transmissible during the end of disease" and that the new guidelines were made based on the fact that "about 85 to 90 percent of viral transmission happens in those first five days."
5. Kevin McCarthy invited to sit for interview with Jan. 6 investigators
Rep. Bennie Thompson (D-Miss.) has extended an invitation to House Minority Leader Kevin McCarthy (R-Calif.) to speak with the House select committee investigating the Jan. 6 Capitol riot. "If he has information he wants to share with us, and is willing to voluntarily come in, I'm not taking the invitation off the table," Thompson, the committee's chair, told ABC News on Wednesday. Thompson's comments came in response to an interview McCarthy gave earlier this week to KBAK-TV, when he said he doesn't have "anything to add" to the investigation but "wouldn't hide from anything, either." During former President Donald Trump's second impeachment trial, Rep. Jaime Herrera Beutler (R-Wash.) said McCarthy told her that during the riot, he asked Trump to help put a stop to the violence, but was ignored.
6. Biden seeks Supreme Court ruling on 'Remain in Mexico' policy enforcement
The Biden administration is asking the Supreme Court to rule on whether the Department of Homeland Security is required to implement the Trump administration's controversial "Remain in Mexico" policy. The program requires asylum seekers to wait in Mexico for a decision on their cases; Biden suspended the policy on his first day of office, with the administration officially terminating it in June. Texas and Missouri subsequently sued, but Matthew Kacsmaryk, a judge on the United States District Court for the Northern District of Texas and an appointee of former President Donald Trump, determined that Homeland Security Secretary Alejandro Mayorkas did not convincingly explain the termination of the policy. A Biden administration appeal, citing the policy's "unjustifiable human costs," was rejected by the Fifth Circuit Court of Appeals earlier this month.
7. New York City buckles under record-breaking COVID-19 wave
Emergency responders in New York City are being inundated with 911 calls for fevers and coughs amid one of the worst COVID-19 outbreaks in the country. A spokesperson for the city's fire department told Gothamist that daily calls for COVID-like symptoms have doubled since the start of December, even as some 30 percent of the city's 4,400 emergency workers called out sick on Wednesday. More than 110,000 New Yorkers have tested positive since Christmas Day — Wednesday set a new city record of 39,591 new cases — and at least one local hospital is deferring elective surgeries due to the crush of patients. The New York City subway also suspended the service of two lines on Thursday due to COVID-related train crew shortages.
8. Jet stream causing more issues for airlines
U.S. airlines are already understaffed because of COVID-19, and the weather isn't helping matters. The jet stream winds have been unusually strong for several days, affecting transcontinental flights. Those going eastbound on Wednesday were arriving up to an hour earlier than scheduled, while westbound flights were slowed down, some delayed by as much as 45 minutes. Earlier this week, the headwinds were so strong that a Phoenix-bound American Airlines flight from Boston had to stop in Oklahoma City to refuel, The Wall Street Journal reports. Thousands of flights have been canceled in the last few days, due to snow in the Pacific Northwest and Midwest combined with staffing shortages caused by pilots, flight attendants, and other airline crew members testing positive for COVID-19; as of Wednesday night, more than 500 flights were already canceled for Thursday.
The Wall Street Journal The Week
9. Denver gunman was 'targeting specific people,' police say
The gunman who killed five people and left others injured in the Denver area this week was apparently "targeting specific people" and knew the victims, police say. Officials have identified the suspect, who died in a shootout with police, as 47-year-old Lyndon James McLeod. "Based on what we know, it does appear that the offender was targeting specific people in this case," Matt Clark of the Denver police said. According to The Associated Press, four of the victims were attacked at tattoo shops, and ABC News reports McLeod formerly owned a Denver tattoo business. He also shot a hotel clerk, and Clark said "there may have been some issue with the hotel," though "not necessarily the specific person."
10. LeBron James defends himself after accusations of 'uninformed' COVID-19 post
Los Angeles Lakers star LeBron James says he's "trying to figure this pandemic out" after sharing a COVID-19 meme that Kareem Abdul-Jabbar slammed as "uninformed." James recently posted a meme on Instagram that shows three versions of Spider-Man pointing at each other, with one labeled "COVID," another labeled "flu," and the third labeled "cold." He seemed to be implying he's unsure of the difference between the three, and he captioned the image, "Help me out folks." Former Lakers player Kareem Abdul-Jabbar in a Substack post slammed James over this, claiming "LeBron has encouraged vaccine hesitancy which puts lives and livelihoods at risk." Said James in his defense, "[I'm] literally honestly asking, 'help me out.' Help me kind of figure it all out, like we're all trying to figure this pandemic out."

Continue reading for free
We hope you're enjoying The Week's refreshingly open-minded journalism.
Subscribed to The Week? Register your account with the same email as your subscription.