10 things you need to know today: March 25, 2022
Biden proposes expelling Russia from the G-20, Ketanji Brown Jackson's Supreme Court hearings end, and more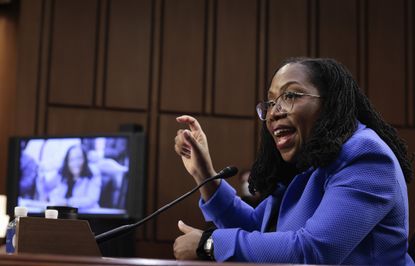 (Image credit: Anna Moneymaker/Getty Images)
1. Biden calls for expelling Russia from G-20
President Biden on Thursday called for expelling Russia from the Group of 20 industrialized nations to further isolate Moscow for invading Ukraine. If the group's members don't agree, he said Ukraine should be invited to participate. In 2014, the world's largest economies kicked Russia out of what was then called the Group of 8 as punishment for invading and annexing Ukraine's Crimean Peninsula. Biden, who arrived in Europe on Wednesday, met with NATO and European Union leaders, calling for "total, complete unity" in the crisis. U.S., NATO, and European leaders announced new economic sanctions against Russia, as well as the deployment of more forces to NATO countries in Eastern Europe to keep Russia from expanding its Ukraine war.
2. Ketanji Brown Jackson's Supreme Court confirmation hearings end
The Senate Judiciary Committee on Thursday held its fourth and final day of confirmation hearings for Supreme Court nominee Ketanji Brown Jackson, with outside witnesses called by Democrats and Republicans providing conflicting views of the judge. Representatives of the American Bar Association called Jackson, a former public defender and now a federal appeals court judge, a "great jurist" with "impeccable" credentials. Witnesses invited by Republicans objected to Jackson's judicial philosophy. Republicans could block a committee vote on recommending confirmation by boycotting, but several said they wouldn't do that. Jackson is expected to be confirmed next month as the first Black woman to serve on the Supreme Court. Senate Minority Leader Mitch McConnell (R-Ky.) said he wouldn't support Jackson's confirmation.
Subscribe to The Week
Escape your echo chamber. Get the facts behind the news, plus analysis from multiple perspectives.
SUBSCRIBE & SAVE
Sign up for The Week's Free Newsletters
From our morning news briefing to a weekly Good News Newsletter, get the best of The Week delivered directly to your inbox.
From our morning news briefing to a weekly Good News Newsletter, get the best of The Week delivered directly to your inbox.
3. Biden says U.S. will take in 100,000 Ukrainian refugees
President Biden said Thursday in Brussels that the United States would welcome 100,000 Ukrainian refugees and provide more than $1 billion in humanitarian assistance to people suffering due to Russia's invasion of Ukraine. The White House will give priority to Ukrainians trying to reunite with relatives in the U.S., LGBTQ people, journalists, and dissidents. The Ukraine crisis has sparked Europe's fastest-growing refugee crisis since World War II. More than 3.6 million people have fled Ukraine since the war started a month ago. French President Emmanuel Macron warned that the prolonged fighting could result in an "unprecedented food crisis."
4. Arizona House backs 15-week abortion ban
The Arizona House on Thursday voted to outlaw abortion after 15 weeks of pregnancy, bringing the Legislature in line with a growing number of Republican-led states passing "aggressive" anti-abortion measures, The Associated Press reported Thursday. The state Senate had already passed the bill, which closely resembles the Mississippi law currently being considered by the Supreme Court. It will now make its way to Gov. Doug Ducey (R), an abortion opponent expected to sign the bill into law. The Arizona bill contains no exceptions for rape, incest, or medical emergency. The state already has some of the most restrictive abortion laws in the United States, including one that would automatically outlaw the procedure if the Supreme Court overturns the 1973 Roe v. Wade decision that established abortion rights nationwide.
5. WHO said BA.2 Omicron subvariant now dominant strain worldwide
The World Health Organization said Thursday that the fast-spreading BA.2 Omicron coronavirus subvariant has become the dominant strain worldwide. BA.2 accounted for 86 percent of global COVID-19 cases reported to the organization in the last month. The highly contagious subvariant has been spreading in parts of Africa, Asia, Europe, and the Middle East since late 2021. It is already dominant in the Americas. A third of new cases in the United States are BA.2, according to Centers for Disease Control and Prevention Director Dr. Rochelle Walensky. U.S. officials say they expect BA.2 to cause an increase in case numbers, but not a major COVID-19 surge.
6. U.S., South Korea, and Japan condemn North Korea long-range missile test
The United States, South Korea, and Japan on Thursday condemned North Korea's latest intercontinental ballistic missile (ICBM) test. The U.S. and South Korea had been monitoring for the test, which came early Thursday, after Pyongyang tested parts of the system earlier this month, claiming it was testing space satellite technology. The missile landed in the sea in Japan's exclusive economic zone, about 100 miles from its coast. Japanese Prime Minister Fumio Kishida called it "reckless" and "unacceptable." North Korea confirmed the test, its 12th missile launch this year. South Korea's Joint Chiefs of Staff said this missile traveled 671 miles at a maximum altitude, apparently an upgrade from an ICBM North Korea launched in 2017 that could reach the continental U.S.
7. Virginia Thomas pressed then-Trump staff chief to fight to overturn election result
Conservative activist Virginia "Ginni" Thomas, who is married to Supreme Court Justice Clarence Thomas, texted then-White House Chief of Staff Mark Meadows repeatedly following the 2020 election, urging him to fight to overturn former President Donald Trump's loss to President Biden. According to copies of 29 messages obtained by The Washington Post and CBS News, Thomas told Meadows that "Biden and the Left is attempting the greatest Heist of our History." On Nov. 24, Meadows texted Thomas saying, "This is a fight of good versus evil." Thomas wrote back thanking Meadows and saying: "I will try to keep holding on. America is worth it!" The messages were among 2,320 that Meadows handed over to the House select committee investigating the Jan. 6, 2021, Capitol attack by a mob of Trump supporters trying to prevent Congress from certifying Biden's win.
8. Initial jobless claims drop to lowest level in more than 50 years
Initial jobless claims fell to 187,000 last week, the lowest level since Sept. 6, 1969, the Labor Department reported Thursday. The latest figure, for the week ending March 19, marked a drop of 28,000 from the previous week's level, which was revised up to 215,000 from the initial 214,000. The less volatile four-week average was 211,750, down 11,500 from the previous week's revised average, the Labor Department said. Continuing claims, which run a week behind the headline number, meanwhile, dropped below 1.4 million, reaching their lowest level since January 1970. "U.S. businesses are not laying off workers because they know the enormous challenges they're facing in filling open positions," said Ryan Sweet, a senior economist at Moody's Analytics.
9. Uber agrees to list all NYC taxis on ride-hailing app
Uber has reached a deal to list all New York City taxis on its ride-hailing app, The Wall Street Journal reported Thursday. The agreement could help Uber address a driver shortage and curb fare increases while giving more customers to traditional cab drivers hit hard by competition from ride-sharing apps and the coronavirus pandemic. Uber has tried partnering with taxi drivers in some markets overseas, but the alliance in New York City, one of Uber's most lucrative markets, is its first citywide tie-up in the United States. "It's bigger and bolder than anything we've done," said Uber global mobility chief Andrew Macdonald. Uber plans to launch the service later in the spring. Uber shares jumped 5 percent on Thursday.
10. GOP Rep. Jeff Fortenberry convicted of lying to FBI about foreign donation
Rep. Jeff Fortenberry (R-Neb.) was found guilty Thursday of lying to federal investigators about an illegal contribution made to his campaign by a foreign billionaire. The nine-term congressman faces up to five years in prison on each count, in addition to fines. His sentencing is set for June 28. Prosecutors said Gilbert Chagoury, a Lebanese-Nigerian businessman living in France, contributed $30,000 through intermediaries at a 2016 fundraiser for Fortenberry in Glendale, California. Fortenberry, the prosecutors alleged, later lied to FBI officials about it, claiming he never knew about the donation. Fortenberry's defense attorney argued that his client might not have had clear cellphone reception when the fundraiser's organizer, Elias Ayoub, called him in 2018 and named Chagoury as the source of the money.

Continue reading for free
We hope you're enjoying The Week's refreshingly open-minded journalism.
Subscribed to The Week? Register your account with the same email as your subscription.