10 things you need to know today: June 9, 2023
A Miami grand jury indicts Trump over his handling of classified documents, Ukraine assault appears to be the start of its long-awaited counteroffensive, and more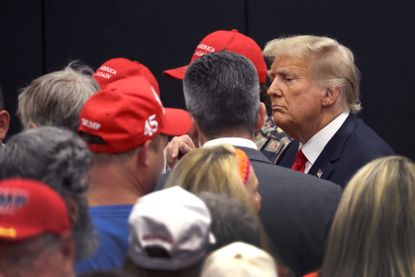 (Image credit: Scott Olson / Getty Images)
Sign up to our 10 Things You Need to Know Today newsletter
A free daily digest of the biggest news stories of the day - and the best features from our website
Thank you for signing up to TheWeek. You will receive a verification email shortly.
There was a problem. Please refresh the page and try again.
1. Trump indicted over handling of Mar-a-Lago documents
Former President Donald Trump said Thursday night he had been indicted over his handling of classified documents found at his Mar-a-Lago estate in Florida. Trump, the first U.S. president in history to face criminal charges, said on social media that he is innocent, and referred to the case as the "Boxes Hoax" in a post on Truth Social, his social media platform. Trump, the front-runner for the 2024 Republican presidential nomination, is scheduled to make his first appearance in a Miami federal court on Tuesday. A grand jury in Miami returned the historic indictment, which reportedly charges Trump with obstruction of justice and willful retention of national defense secrets in violation of the Espionage Act.
The Miami Herald The Washington Post
2. Ukraine assault in Zaporizhzhia appears to launch counteroffensive
Ukrainian forces launched a major assault in the southern region of Zaporizhzhia Thursday in what appeared to be part of Ukraine's long-awaited counteroffensive to reclaim territory seized by Russia. A U.S. official said some of Ukraine's troops were among those the United States and other allies trained and furnished with advanced equipment, including German Leopard 2 tanks and U.S. Bradley fighting vehicles. The use of these forces and armored vehicles "indicates the counteroffensive is underway," Rob Lee, a senior fellow with the Foreign Policy Research Institute, told The New York Times. "Ukrainian forces have made some tactical gains and sustained losses." Moscow said its forces had inflicted heavy casualties.
Subscribe to The Week
Escape your echo chamber. Get the facts behind the news, plus analysis from multiple perspectives.
SUBSCRIBE & SAVE
Sign up for The Week's Free Newsletters
From our morning news briefing to a weekly Good News Newsletter, get the best of The Week delivered directly to your inbox.
From our morning news briefing to a weekly Good News Newsletter, get the best of The Week delivered directly to your inbox.
3. Supreme Court rejects Alabama congressional map
The Supreme Court on Thursday struck down an Alabama congressional map drawn by the state's Republican-dominated legislature after the 2020 census, ruling it diluted the power of Black voters in violation of the Voting Rights Act. Chief Justice John Roberts and Justice Brett Kavanaugh split with the court's conservative super-majority, siding with the court's three liberal justices in the 5-4 decision. The Alabama map favored Republicans, giving Black voters a majority in just one of the state's seven congressional districts, even though the state is 27 percent Black. Attorney General Merrick Garland said the ruling "rejects efforts to further erode fundamental voting rights protections." Justice Clarence Thomas said in his dissent the ruling would make race a factor "in virtually every redistricting."
4. Canada wildfire smoke continues to choke Eastern U.S.
About 75 million people in the Eastern United States on Thursday continued to face dangerously poor air quality due to smoke wafting down from wildfires in Canada. Authorities urged people to stay indoors and mask up to stay safe as dense smoke enveloped New York, Philadelphia, Washington, D.C., and other cities. The smoke is expected to linger for days but conditions are improving slowly. New York City this week endured a day of its worst air quality on record, but Mayor Eric Adams said the city could see "significant improvement" by early Friday. Flights nationwide were delayed 34 minutes on average because of the poor visibility, the Federal Aviation Administration said.
5. FBI arrests developer central to Texas attorney general's impeachment
The FBI on Thursday arrested Nate Paul, an Austin real estate developer at the center of suspended Texas Attorney General Ken Paxton's legal and political troubles. Paxton was impeached by the Republican-led House in May, and most of the 20 articles center on allegations Paxton corruptly used his office to aide Paul, a major donor. Paul, 36, was booked in a Travis County jail Thursday afternoon on a federal warrant for unspecified felony charges. The FBI has been investigating Paul at least since it raided his home and business offices in 2019 alongside Treasury Department agents. The FBI started investigating Paxton after some of his employees told agents he was using his office to run legal interference for Paul.
6. China secures deal for electronic eavesdropping facility in Cuba
China and Cuba have secretly made a deal for China to set up an electronic eavesdropping station on the communist-run Caribbean island that would pose an unprecedented security threat. The facility in Cuba, just 100 miles from Florida, would give Chinese intelligence agencies a vantage point allowing them to monitor ship traffic and capture electronic communications in the U.S. Southeast, which has numerous military bases. John Kirby, spokesperson for the National Security Council, said he couldn't address the report specifically, but that the U.S. is aware of China's efforts to enhance its military spying capabilities overseas. He said the U.S. monitors China's spying and takes "steps to counter it."
7. U.S. suspends food aid to Ethiopia over theft scheme
The U.S. Agency for International Development said Thursday it was suspending food aid to Ethiopia after an investigation found that donated food was being stolen. Donors shared leaked documents with The Washington Post indicating that the scheme involved people within Ethiopia's national and regional governments. "After a country-wide review, USAID determined, in coordination with the Government of Ethiopia, that a widespread and coordinated campaign is diverting food assistance," USAID said in a statement to The Post. "We cannot move forward with distribution of food assistance until reforms are in place." The investigation found that officials have diverted aid from millions of needy people to feed soldiers and ex-combatants, and selling flour to people who sold it abroad.
8. Suspect in Natalee Holloway disappearance extradited to face extortion charges
Joran van der Sloot, the last person seen with Alabama teen Natalee Holloway before she disappeared in Aruba 18 years ago, was extradited from Peru to the United States on Thursday to face charges that he extorted money from Holloway's mother by promising to tell her where her daughter's body was. Van der Sloot, who was imprisoned in Peru for murdering a woman there, was taken to a Birmingham, Alabama, jail. He was indicted in 2010 on extortion and wire fraud charges for allegedly promising information on Holloway's remains in exchange for $250,000. Beth Holloway gave him a total of $25,000. He then provided information on where Holloway's remains were hidden that turned out to be false.
9. 4 children stable after knife attack in France
An attacker with a knife stabbed four young children Thursday in a park near Lake Annecy in southeastern France. Police overpowered the suspect, identified as a 31-year-old Syrian with refugee status in Sweden, and arrested him. The children, all 3 years old or younger, were in stable condition. One is British, another Dutch. An adult also was critically wounded. Regional deputy Antoine Armand called the attack "abominable." Video footage of the attack showed a normal playground scene that erupted in screams as a man arrives wielding a knife. One of the victims was in a stroller. French Prime Minister Élisabeth Borne said the suspect has a child roughly the same age as the victims.
10. Christian broadcaster Pat Robertson dies at 93
Conservative religious broadcaster Pat Robertson, founder of the Christian Coalition and host of the "700 Club" TV show, died Thursday. He was 93. Robertson turned a small Virginia television station into the Christian Broadcasting Network, which he founded in 1960. He used the visibility his TV reach provided to make religion a key part of Republican Party politics, leading to a run for the GOP presidential nomination in 1988. He started the Christian Coalition the next year to keep his movement going, and it helped mobilize conservative voters in the 1990s. In his later years, Robertson clashed with liberals with pronouncements blaming natural disasters on gay people and feminists, and calling Black Lives Matter demonstrators anti-Christian, according to The Associated Press.
USA Today The Associated Press
Continue reading for free
We hope you're enjoying The Week's refreshingly open-minded journalism.
Subscribed to The Week? Register your account with the same email as your subscription.
Sign up to our 10 Things You Need to Know Today newsletter
A free daily digest of the biggest news stories of the day - and the best features from our website
Harold Maass is a contributing editor at TheWeek.com. He has been writing for The Week since the 2001 launch of the U.S. print edition. Harold has worked for a variety of news outlets, including The Miami Herald, Fox News, and ABC News. For several years, he wrote a daily round-up of financial news for The Week and Yahoo Finance. He lives in North Carolina with his wife and two sons.