The daily gossip: Ben Affleck says he felt trapped in marriage to Jennifer Garner, RuPaul doesn't get Spider-Man 'because I'm gay,' and more
Today's top entertainment and celebrity news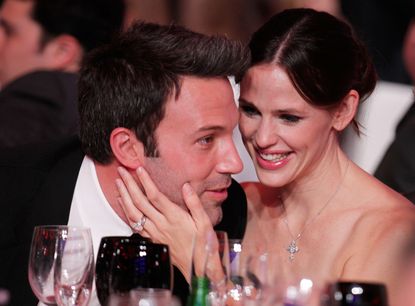 (Image credit: Christopher Polk/Getty Images for VH1)
1. Ben Affleck says he'd 'still be drinking' if he didn't get divorced
Ben Affleck set off a bit of a Twitter stir on Wednesday with some brutally honest comments about his marriage to Jennifer Garner. The actor spoke on The Howard Stern Show about their divorce, explaining, "We grew apart. We had a marriage that didn't work. This happens, with somebody I love and respect, but to whom I shouldn't be married any longer." He also claimed he would "probably still be drinking" if they didn't get divorced. "Part of why I started drinking alcohol was I was trapped," Affleck said. "I was like, 'I can't leave because of my kids, but I'm not happy, what do I do?' And what I did was drink a bottle of scotch and fall asleep on the couch, which turned out not to be the solution." Affleck found himself trending on Twitter for all the wrong reasons over the comments, with Roxane Gay writing that "to blame his drinking on his marriage to Jennifer Garner is so silly."
2. RuPaul has 'never gotten' Spider-Man 'because I'm gay'
Don't expect to see RuPaul hooting and hollering in a Spider-Man: No Way Home screening this weekend. The RuPaul's Drag Race host offered some hot takes on superheroes on Jimmy Kimmel Live, revealing he "never got" Spider-Man. "I get Superman," he said. "I get Wonder Woman. I've never gotten Spider-Man." When Kimmel asked why, RuPaul declared, "You know, I think because I'm gay. I think that's probably it." He gets Superman, he said, because it's "the story of Christ," and he represents "the hidden specialness and uniqueness that each of us has." But what's the "hidden meaning" behind Spider-Man, RuPaul asked? Kimmel argued that the fact that Spider-Man is a kid is key to his appeal, and he seems more real than other heroes like Superman. On the other hand, RuPaul shot back, "Clark Kent is hot!" Um, have you seen Andrew Garfield lately?
Subscribe to The Week
Escape your echo chamber. Get the facts behind the news, plus analysis from multiple perspectives.
SUBSCRIBE & SAVE
Sign up for The Week's Free Newsletters
From our morning news briefing to a weekly Good News Newsletter, get the best of The Week delivered directly to your inbox.
From our morning news briefing to a weekly Good News Newsletter, get the best of The Week delivered directly to your inbox.
3. Lady Gaga had a psychiatric nurse with her while making 'House of Gucci'
Lady Gaga has revealed even more details about her intense acting process. Gaga told Variety that not only was she "always Patrizia," her House of Gucci character, while filming, but she "brought the darkness with me home," and she even "had a psychiatric nurse with me" near the end of filming. "I sort of felt like I had to," Gaga said. "I felt that it was safer for me." She said, though, she wasn't disclosing this to "glorify" her acting process, saying she actually doesn't think "any actor should push themselves to that limit" and isn't even sure why she does. "I think that the best answer I could give you is I have a sort of romantic relationship with suffering for your art that I developed as a young girl, and it just sometimes goes too far," she said. After a series of pretty intense roles, though, maybe it's time for something lighter, as Gaga said, "I'd love to do a romantic comedy."
4. Aubrey Plaza had a spontaneous wedding after being 'bored' in lockdown
Aubrey Plaza's actual wedding may have come together even more quickly than April and Andy's on Parks and Recreation. On The Ellen DeGeneres Show, Plaza detailed her wedding to Jeff Baena, which happened rather spontaneously during COVID-19 lockdown. "We got a little bored one night," she said. It was their 10-year anniversary, Plaza explained, and she randomly suggested they "do something" like "get an ice cream cone" — or, she jokingly suggested, get married. The joke soon became real, though, as Plaza hit up Google and came across 1hourmarriage.com. "We didn't tell anybody we were doing it," she said, adding that Jeff nearly "missed the wedding" because he had to go pick up food they had already ordered. Perhaps she channeled Andy Dwyer by declaring, "I cannot emphasize how little we thought about this!"
5. Javier Bardem tried to quit 'Being the Ricardos' along with Nicole Kidman
It's not often you see a press tour for a movie where the stars repeatedly discuss how much they wanted to quit. Being the Ricardos star Nicole Kidman previously revealed she attempted to back out of the movie, in which she plays Lucille Ball, after her casting sparked backlash. But there was a lot of that going around, as The Hollywood Reporter revealed Javier Bardem, who plays Desi Arnaz, also wanted to back out. "I wasn't aware of how big it was," Bardem said, referring to I Love Lucy. "The more I knew how iconic [the show] was … it was like, 'S---.'" Kidman concurred, recalling thinking, "S---, what did we do?" This wasn't just a fleeting thought — both of them reportedly told their agents to get them out of the project, and then "begged" Sorkin to delay the movie. Instead, they learned the movie would start shooting the following month. "So then it was like, 'Oh, no. Oh, no.'" Kidman said. "We actually have to do this." And on that note, see our new movie, everyone!
The Hollywood Reporter The AV Club

Continue reading for free
We hope you're enjoying The Week's refreshingly open-minded journalism.
Subscribed to The Week? Register your account with the same email as your subscription.