The daily gossip: Sarah Jessica Parker opens up about Kim Cattrall rift, a bunch of celebrities liked Johnny Depp's victory post, and more
Today's top entertainment and celebrity news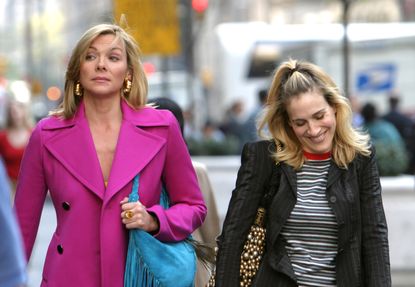 (Image credit: James Devaney/WireImage)
1. Sarah Jessica Parker opens up about Kim Cattrall rift
Sarah Jessica Parker couldn't help but wonder, can we move on from the whole Kim Cattrall feud thing? On The Hollywood Reporter's Awards Chatter podcast, Parker opened up about Cattrall's infamous absence from the Sex and the City revival And Just Like That, asking everyone to stop saying they're in a public fight. "There is not a fight going on," she said — because there's only "been one person talking." Parker described what went down from her perspective, saying Cattrall declined to return for a third Sex and the City movie after the studio wouldn't meet her demands (Cattrall has said she didn't like her character's storyline). So when they were making the revival, no one asked Cattrall to be involved, as it was clear she'd say no and it "no longer felt comfortable for us." Calling the whole situation "painful," Parker said "there just isn't anyone else who's ever talked about me this way."
2. A bunch of celebrities liked Johnny Depp's victory post
It looks like a whole crew of celebrities have quietly been on Johnny Depp's side during his defamation trial. After Depp won his lawsuit against his ex-wife Amber Heard, he posted a statement on Instagram celebrating that "the jury gave me my life back," and many celebrities "liked" the post, as BuzzFeed News noted. Among them were Jennifer Aniston, Zoe Saldaña, Taika Waititi, Hailey Bieber, Emma Roberts, Vanessa Hudgens, Lucy Hale, LaKeith Stanfield, Paris Hilton, Bella Hadid, Gemma Chan, and Halle Bailey. Perhaps most notably, Heard's own Aquaman co-star Jason Momoa also liked Depp's post — though he's apparently playing both sides considering he also liked Heard's statement, in which she said she's "heartbroken" by the verdict. But compared to the numerous famous Depp fans, BuzzFeed's list of stars who liked Heard's post consisted of just three people: Momoa, Sarah Steele, and Selma Blair.
Subscribe to The Week
Escape your echo chamber. Get the facts behind the news, plus analysis from multiple perspectives.
SUBSCRIBE & SAVE
Sign up for The Week's Free Newsletters
From our morning news briefing to a weekly Good News Newsletter, get the best of The Week delivered directly to your inbox.
From our morning news briefing to a weekly Good News Newsletter, get the best of The Week delivered directly to your inbox.
3. Kim Kardashian breaks down how she ended up with Pete Davidson
Kim Kardashian has made some slightly TMI comments about being DTF due to BDE. On Hulu's The Kardashians, Kardashian broke down how she and Pete Davidson started dating, revealing she called an SNL producer to ask for his number after they kissed on the show. "I wasn't even thinking like, 'Oh my god, I'm gonna be in a relationship with him,'" she said. "I was just thinking, 'Heard about this BDE.'" For those fortunate enough to not know what that means, BDE stands for "big d--k energy." Kardashian said she texted Davidson because she was "basically DTF" — meaning "down to f--k" — and she implied she's now having the "best sex" of her life. According to her account, Davidson actually asked Megan Fox for Kardashian's number months earlier. But Fox never gave it to him, believing the odds of the two dating were lower than "me and [Machine Gun Kelly] getting eaten by crocodiles." So, they might want to stay out of the water for a while.
4. Liam Payne says Zayn Malik 'is my brother' despite admitting to disliking him
Liam Payne would like to clarify that just because he publicly stated he dislikes Zayn Malik, that doesn't mean he's not "my brother," apparently. In a recent podcast with Logan Paul, Payne admitted there are "many reasons why I dislike" Malik, his former One Direction bandmate — though he did add there are also "many reasons why I'll always, always be on his side." At one point seemingly alluding to Malik being accused of shoving Gigi Hadid's mom, Payne said, "I don't agree with any of his actions. I can't commend some of the things that he's done. I can't be on his side for that." Fans didn't react too well to the entire podcast, and Payne now says that "maybe I didn't articulate myself as well as I could have," tweeting he meant to say that "there will always be things we disagree" on but that Malik "is my brother." With brothers like these, who needs enemies?
5. Warner Bros. 'barreling ahead' with 'The Flash' after Ezra Miller arrests
Warner Bros. can't just drop Ezra Miller in a flash, as much as they might want to. Miller, who plays the title character in DC's upcoming superhero flick The Flash, has been arrested for disorderly conduct multiple times this year alone, bringing the actor's future with the franchise into question. But The Flash has already been fully shot, and Variety reports that "barring unforeseen developments," Warner Bros. is "barreling ahead" with the film's release. Insiders said replacing Miller would essentially require just reshooting the entire movie, since they're in virtually every scene, and scrapping the project would be incredibly expensive. For now, then, the studio reportedly still plans to give the movie a full-fledged theatrical release, rather than quietly drop it on HBO Max because of the bad press — though Variety does note that Miller will need to "be on their best behavior" until then. The "Ezra Miller stay out of jail until June 2023 challenge" is officially on.

Continue reading for free
We hope you're enjoying The Week's refreshingly open-minded journalism.
Subscribed to The Week? Register your account with the same email as your subscription.