The daily gossip: James Franco cast as Fidel Castro, Doja Cat shaves her head because 'I don't like having hair,' and more
Today's top entertainment and celebrity news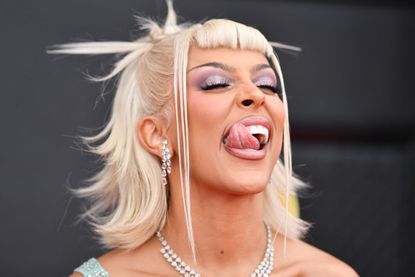 (Image credit: ANGELA WEISS/AFP via Getty Images)
1. James Franco cast as Fidel Castro
Well, this is certainly A Choice. Supposedly canceled actor James Franco is set to play Cuban leader Fidel Castro in a new movie called Alina of Cuba, according to Deadline. Wait a minute, you might be thinking ... was there really not one single Cuban actor in Hollywood available for the role? Well, in an absurdly lengthy statement, producer John Martinez O'Felan defended the decision, saying his team conducted an extensive search "to find someone who has a similar facial structure" as Castro and determined Franco "had the closest facial likeness of our industry's leading actors." If you say so! The news faced significant pushback, and John Leguizamo slammed Franco's casting because "he ain't Latino!" — perhaps only feeding into the actor's elaborate plot to create an all-new type of backlash that might overshadow the fact that he also still faces multiple sexual misconduct allegations. Is Franco's new publicist Nathan Fielder, or what?
2. Doja Cat shaves her head because 'I don't like having hair'
Somewhere, Chris Rock is struggling to resist making a G.I. Jane 3 joke, as Doja Cat has decided to completely shave her head. The rapper took to Instagram to explain her new look, telling fans, "I was never supposed to have hair anyway. I don't like having hair. I never liked having hair. I cannot tell you one time since the beginning of my life that I've ever been like, 'This is cool.'" She went on to describe what an enormous hassle it's been to wear wigs in the past, to the point that she "can't believe that it took me this long to be like, 'Shave your f--king head.'" While she was at it, she went ahead and shaved her eyebrows off right there live on Instagram — leading her make-up artist to text, "I'm driving the f--k over." Hmm, are we positive this isn't the first step toward her entering the witness protection program to escape the wrath of Noah Schnapp stans?
Subscribe to The Week
Escape your echo chamber. Get the facts behind the news, plus analysis from multiple perspectives.
SUBSCRIBE & SAVE
Sign up for The Week's Free Newsletters
From our morning news briefing to a weekly Good News Newsletter, get the best of The Week delivered directly to your inbox.
From our morning news briefing to a weekly Good News Newsletter, get the best of The Week delivered directly to your inbox.
3. People are mad at Simu Liu for joking about the 'Batgirl' disaster
Too soon, man! Marvel star Simu Liu has sparked a bit of social media backlash for a light joke about the chaos unfolding over at DC. "I'm sorry to inform you guys that Disney has decided to scrap the Shang-Chi Holiday Special due to quality control concerns," he joked on Twitter. "I had already filmed the entire thing. I even designed an all-gingerbread Ta Lo." Liu was, of course, just having some fun in reference to the nearly complete DC Batgirl movie being scrapped this week, but some of his followers reacted as if he had made light of Pearl Harbor or 9/11. "Please delete this, it's not a pleasant situation for the entire creative team behind these projects at Warner," one fan wrote in a reply that earned over 1,000 likes, demanding an "apology video immediately." Remind us again why any celebrity tweets anything, ever?
4. Kylie Jenner denies violating lab sanitation protocols for Instagram photos
Kylie Jenner isn't keeping up with lab sanitation protocols in her quest for Instagram clout, one makeup artist says. The Kylie Cosmetics founder recently shared photos of herself "in the lab creating new magic for you guys." But award-winning makeup artist Kevin James Bennett questioned who "let her stage this photo-op in their lab" given she seemed to be completely ignoring sanitation protocols by not wearing a hair net, shoe covers, a mask, or even gloves, and he accused her of "gaslighting her followers into thinking she is creating cosmetics." Well, Jenner insisted she'd "never bypass sanitary protocols" and clarified the photos were taken in a "small personal space," where she was "creating my own fun samples and taking pictures for content nowhere near the mass manufacturing." Bennett wasn't satisfied, though, arguing "celebrities should not be allowed to bypass sanitation protocols for a photo-op just because they're rich or famous." How dare an expert in the field try to get between Kylie and her Content?
5. 'House of the Dragon' has 'slightly too much' sex, Matt Smith says
Yep, Game of Thrones is gonna Game of Thrones. In an interview with Rolling Stone, Matt Smith suggests the upcoming prequel House of the Dragon will adhere to the franchise's grand tradition of being almost unbearably awkward to watch with your family. "You do find yourself asking, 'Do we need another sex scene?'" Smith said. "And they're like, 'Yeah, we do.'" The actor, who plays the king's brother in the prequel, did argue it's the show's job "to represent the books truthfully and honestly, as they were written." But when asked if he personally has a lot of sex scenes in the show, he said, "Yeah — slightly too much, if you ask me." And that sound you hear is everyone who ran a Doctor Who-themed Tumblr circa 2011 trampling over one another to buy an HBO Max subscription — though in terms of pure sex appeal, Smith's shirtless dancing scene in Morbius is surely impossible to top.
Rolling Stone Entertainment Weekly

Continue reading for free
We hope you're enjoying The Week's refreshingly open-minded journalism.
Subscribed to The Week? Register your account with the same email as your subscription.