The week's good news: June 9, 2022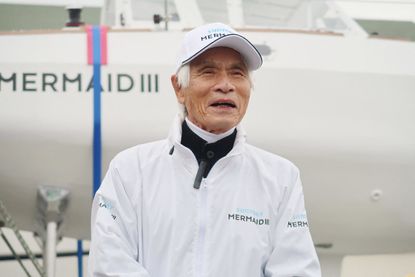 (Image credit: STR/JIJI PRESS/AFP via Getty Images)
1. Pediatric nurse uses music to help his patients heal
Manny Remilus has found that music can also be medicine. A pediatric nurse at Cohen Children's Medical Center in New York, Remilus was hospitalized several times as a kid, and remembers how the nurses who took care of him "really made me feel like family, really made me feel like I was at home," he told CBS News. He became a pediatric nurse so he could give the same comfort and feeling of security to kids, and uses music to connect, calling it "a very powerful tool that we have in our arsenal to really help put people at ease." Remilus says even just three minutes of singing and dancing helps, and he'll perform any song requested. He gets plenty of practice as part of the Northwell Health Nurses Choir, which recently made it to the America's Got Talent finals, and he encourages others to follow their joy. "Because we are all going through tough times, so whatever it is that you find that helps restore you and to help bring you back 100 percent, find that thing and do it," he said.
2. Tunisian women set out on their own to produce in-demand harissa
Seven years ago, Najwa Dhaflawi launched a cooperative that is now providing 164 women with safe, well-paying jobs. The cooperative, called Errim, is in the Menzel Mehiri village in central Tunisia, and produces harissa, a hot chili pepper paste that is a staple in the country. Before starting Errim, Dhaflawi and many other women in Menzel Mehiri were waking up before dawn to harvest chili peppers, before making the dangerous drive to Tunis to drop them off. "We were tired of being taken advantage of," Dhaflawi told The Christian Science Monitor. "We wanted to work in a safe environment, to protect one another. And to be paid fair wages." The women do it all, from planting and harvesting the peppers to making the harissa. "The key to our success is local," Dhaflawi said, adding, "the objective of the project is to give value to simple, natural products, and bring back value to the community. It's a chain — the benefits reach each person in the process." The cooperative produces more than 400 pounds of harissa every day, which is sent to stores and restaurants in France, Switzerland, and along the Tunisian coast.
Subscribe to The Week
Escape your echo chamber. Get the facts behind the news, plus analysis from multiple perspectives.
SUBSCRIBE & SAVE
Sign up for The Week's Free Newsletters
From our morning news briefing to a weekly Good News Newsletter, get the best of The Week delivered directly to your inbox.
From our morning news briefing to a weekly Good News Newsletter, get the best of The Week delivered directly to your inbox.
3. Goodbye Spot, hello Cindy Pawper — creative names help get rescue dogs adopted
Animal rescues across the United States are using a little creativity to help their dogs find new homes. Austin Pets Alive! in Texas is just one organization that has found by giving dogs out-of-the-ordinary names, they get adopted faster; six puppies the group rescued from a kill shelter were named after the hosts of Today, and each one was quickly snatched up. "Pet adoption is serious — it saves millions of lives every year — and it's inspiring to see more shelter pet marketers having fun with the concept because really, what we're doing is marketing among the most desirable commodities in the world: unconditional love," Lisa Lane Cardin of the nonprofit Petco Love told Today. Some of the names that stand out include a dog named Crayon, who gave birth to puppies named Atomic Tangerine, Wild Blue Yonder, and Purple Mountain Majesty; Cindy Pawper; Taylor Snift; and a bonded pair named Ravioli and Side Salad. "Usually cute, creative names and a good picture help get the animals adopted," Stacie Voss of Farmington Regional Animal Shelter in New Mexico told Today.
4. 83-year-old adventurer becomes oldest person to sail solo across the Pacific
Kenichi Horie has made history, becoming the oldest person to ever sail solo across the Pacific Ocean. It took 69 days for the 83-year-old Japanese adventurer to travel from San Francisco to the Kii Strait off the western coast of Japan. He arrived on Saturday, and said the last several days of his journey were hard, thanks to a strong tide. Still, he isn't stopping with this feat. "It was my great joy to have been able to make a challenge as a real goal and safely achieve it, instead of just holding onto it as a dream," Horie said. "I want to be a challenger as long as I live." It was a full-circle trip; in 1962, Horie became the first person in the world to finish a solo sail across the Pacific from Japan to San Francisco. His other accomplishments include sailing solo around the world in 1974 and on a wave-powered boat from Hawaii to Japan in 2008.
5. Participants in small experimental cancer drug trial see tumors vanish
All 14 participants of a recent experimental drug trial saw their colorectal cancer vanish, researchers revealed in a new study published Sunday in the New England Journal of Medicine. The results are astonishing, and while researchers cautioned that they need to be replicated in other trials, this is still leaving patients and health care providers hopeful. "I don't think anyone has seen this before, where every single patient has had the tumor disappear," Andrea Cercek, an oncologist at Memorial Sloan Kettering Cancer Center in New York and lead author of the study, told The Washington Post. The patients had all been recently diagnosed with early-stage rectal cancer, had mismatch-repair deficiency, and had not yet received any treatment. As part of the trial, they were given nine doses of a drug called intravenous dostarlimab, which is designed to block a specific cancer cell protein. The participants did not report any major complications from the drug, and six months later, their scans, biopsies, and physical exams showed no signs of cancer. "All 14 patients? The odds are exceedingly low and really unheard of in oncology," Cercek said.

Continue reading for free
We hope you're enjoying The Week's refreshingly open-minded journalism.
Subscribed to The Week? Register your account with the same email as your subscription.