The week's best parenting advice: November 9, 2021
Parenting's true effects on happiness, exploring downsides of masks for kids, and more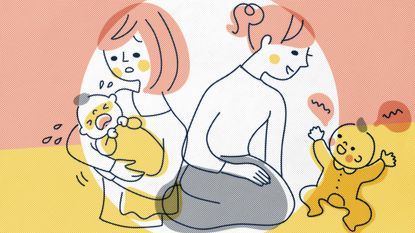 (Image credit: Illustrated | iStock)
1. Does parenting make people miserable?
Plenty of research suggests parenting makes people unhappy, but its true impact on life may be more complicated, argues Paul Bloom in The Atlantic. While studies have shown happiness and marital satisfaction drop after people have kids, the effects vary by age, gender, and country. And even though parenting seems to dent quality of life, most parents don't regret having kids. Perhaps, Bloom suggests, there's more to a good life than being "happy" all the time. Research backs this up: One study found "the more time people spent taking care of children, the more meaningful they said their life was — even though they reported that their life was no happier." In other words, while parenting isn't always pleasurable, it may "connect to other aspects of a life well lived, satisfying our hunger for attachment, and for meaning and purpose."
2. How to assess the value of masks for kids
"Are there any downsides to mask wearing for kids in school or child care?" That's the question statistician Emily Oster weighs in a new issue of her parenting newsletter. Oster examines the issue from three angles: respiratory effects, social and intellectual development effects, and effects for kids with disabilities. On the first point, Oster says, "while you can certainly find anecdotal evidence of people claiming their child cannot breathe wearing a mask, this isn't a claim that is well supported in the data." Emotional and intellectual development is a different story, and there are "a lot of theoretical reasons to think that masking could be somewhat detrimental to social learning and intellectual progress." Likewise, children with some disabilities, like hearing impairments, may experience additional downsides to long-term mask use. "If your child is in school with a mask, you shouldn't panic," Oster concludes, but it's time to look for off-ramps.
Subscribe to The Week
Escape your echo chamber. Get the facts behind the news, plus analysis from multiple perspectives.
SUBSCRIBE & SAVE
Sign up for The Week's Free Newsletters
From our morning news briefing to a weekly Good News Newsletter, get the best of The Week delivered directly to your inbox.
From our morning news briefing to a weekly Good News Newsletter, get the best of The Week delivered directly to your inbox.
3. Why books are great for little kids processing sadness
Children experience sadness just like adults, of course, but they may not display or communicate it the same way, making it difficult for parents to help their kids cope. "Especially with little kids, people will say things like, 'Well, that child doesn't look depressed,' but a lot of times kids don't show sadness like that," Jill Emanuele, senior director of the Mood Disorders Center at the Child Mind Institute, told The Washington Post. "You have to keep in mind what your child's ability to talk about their emotions is." Books can be a useful tool here, a way to introduce new vocabulary to express emotions and share stories that relate to children's lives and struggles. Keeping around a few volumes with age-appropriate stories about sadness can provide an opening when your children need to talk about this feeling.
4. How to motivate kids like a preschool teacher
When it comes to getting a stubborn or distracted child to brush his teeth or put away her shoes, nagging can feel like a necessary evil — which makes it all the more impressive that preschool teachers do so little of it, writes Connal Hanna in The Guardian. "Somehow they manage to coerce not just one but 20 small children to carry out their wishes," he marvels. Vicki Schaefer, a preschool teacher of 22 years, told Hanna that the key to motivating little children is to speak to them at their eye-level, using sentences that clearly state what you'd like them to do (rather than what you don't want them to do) in five words or fewer, if possible. Sometimes it can be helpful to offer them options, but no more than two. And when conflict arises, remember to pause and breath before responding.
5. Supply chain woes for Christmas? Try a thrift store
Headlines about supply chain snarl-ups — and resultant shortages and delays for this holiday season — have abounded for weeks and show no sign of abating. If you're worried about getting all your deliveries from online shopping in time for Christmas, however, there's another option: Don't order that stuff at all. Check out your local thrift store, which is probably still overflowing with donations from pandemic-prompted household purges, as well as other secondhand options. There are treasures to be found "all around us," writes Annaliese Griffin at The New York Times, "in thrift stores, yard sales, vintage boutiques, online resale sites, and Buy Nothing groups." They're affordable, often unique, and, crucially, insulated from supply chain woes.

Continue reading for free
We hope you're enjoying The Week's refreshingly open-minded journalism.
Subscribed to The Week? Register your account with the same email as your subscription.