The week's best parenting advice: December 14, 2021
How to raise a forgiving child, the downside of popularity, and more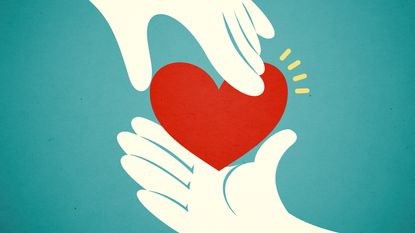 (Image credit: Illustrated | iStock)
1. How to raise a forgiving child
The key to raising a forgiving child is to teach them to understand other people's perspectives, a new study suggests. Investigating what makes children more likely to forgive others, researchers from North Carolina State University conducted in-depth interviews with 185 children to collect background information and assess each child's "theory of mind" skills — the ability to understand that someone else's beliefs, intentions, and desires are different from your own. Then they led each child through a series of scenarios in which other kids left them out of a game or activity. "The more advanced a child's theory of mind skills are, the more likely they are to forgive others," Science Daily reports. In which case, teaching children to inhabit other people's perspectives is probably a good idea.
2. The downside of popularity
Is it possible for a child to be too popular? It depends on what you mean by "popular," writes Stephen Johnson in Lifehacker. There are two kinds of popularity: status, which is characterized by power, dominance, and influence, and likability, which is characterized by being, well, liked. Research indicates that kids who are "cool" (though not necessarily well-liked) in middle and high school lose their social dominance as adults. "The things that make a 13-year-old socially desirable and admirable — risk-taking behavior, seeking social status through friendships with other popular people — gradually seem less desirable to others as they get older," Johnson explains. And by their early twenties, cool kids are more likely to have drug or alcohol problems and criminal convictions than their uncool peers. Meanwhile, likeability, which is usually achieved by being inclusive, empathic, and kind, has been linked to a variety of positive life outcomes.
Subscribe to The Week
Escape your echo chamber. Get the facts behind the news, plus analysis from multiple perspectives.
SUBSCRIBE & SAVE
Sign up for The Week's Free Newsletters
From our morning news briefing to a weekly Good News Newsletter, get the best of The Week delivered directly to your inbox.
From our morning news briefing to a weekly Good News Newsletter, get the best of The Week delivered directly to your inbox.
3. What to do when your kid says 'I hate you'
When your kid says "I hate you," they don't actually mean they hate you, writes Melinda Wenner Moyer at Is My Kid the A--hole? So it's important not to get angry, which will only reinforce the behavior you're hoping to eliminate. And while it may be tempting to dismiss the statement ("you don't mean that") or focus on how it made you feel ("that hurts my feelings"), doing so will only make the child feel invisible or ashamed. Instead, identify the child's underlying feeling and mirror it back to them by saying something like, "I know you're so angry that I won't let you have another cookie." Then, when everyone's calmed down, talk about how they can better communicate anger. "You want your kids to know that anger is natural, it's healthy, it's normal — but that there are strategies for communicating and managing that anger appropriately," Moyer says.
4. Baby talk is good, actually
Parents are sometimes discouraged from engaging in baby talk with their infants, but a new study from the University of Florida suggests that so-called "infant-directed speech" could be a key component in helping babies learn to talk. By mimicking the sound of a smaller vocal tract, the way we instinctively speak to babies — higher pitch, slower speed, exaggerated pronunciation — may help clue babies into how words should sound coming out of their own mouths. "It seems to stimulate motor production of speech, not just the perception of speech," said Matthew Masapollo, a co-author of the study. "It's not just goo-goo ga-ga."
5. Why your child behaves at home but not at school
Lots of parents report that their children are angels at school and monsters at home, but what if it's the other way around? According to clinical psychologist Emily Edlynn, there could be any number of explanations. For example, it could simply be the sign of a rebellious spirit, which isn't inherently bad. "Encourage the questioning of rules and norms, but practice how to do so in a respectful, curious way instead of disrespecting authority figures," Edlynn suggests. It could also be an indication that the classroom isn't a great fit, because the child is bored, falling behind, or struggling with a major transition (from preschool to kindergarten, for example), in which case a chat with the teacher is warranted. If that isn't it, take a closer look at your child's relationships, both at school and at home, which could be the source of emotions driving them to act out at school.

Continue reading for free
We hope you're enjoying The Week's refreshingly open-minded journalism.
Subscribed to The Week? Register your account with the same email as your subscription.