The week's best parenting advice: June 14, 2022
All kids are philosophers, feeding your child when you struggle to feed yourself, and more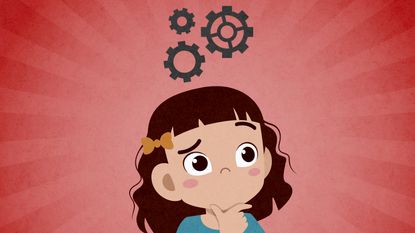 (Image credit: Illustrated | iStock)
1. All kids are philosophers
Not all adults enjoy the abstract thinking philosophy requires, but it comes naturally to children, writes Elissa Strauss in The Atlantic. To the fresh eyes of a child, every part of life is worth scrutinizing. "Humans are strange. Life is stranger. Kids, new as they are to the whole being alive thing, are sensitive to this strangeness in a way that makes them particularly attuned to the loose threads of logic and morality that most grown-ups ignore...They must tug because it is through this tugging that they understand the world and find their place in it," writes Strauss. Parenting, then, can be enlightening, opening our eyes to the inconsistencies in our worldviews. "Through caring for my kids, attempting to connect with them and understand the world through their eyes, I've become a far less certain person. And better for it," writes Strauss.
2. Feeding your child when you struggle to feed yourself
Parents with eating disorders are usually told to hide their struggles from their kids, but that advice isn't realistic, writes Margaret Wheeler Johnson in Romper. "If you are still struggling with an eating disorder, it's almost impossible to insulate your partner and children from it," writes Wheeler Johnson. And it's best to accept that. Plus, addressing the role that a parent's eating disorder plays in family life can improve household dynamics. Practicing the "division of responsibility" model for family meals — in which the parent decides what to eat and when, but the child serves themselves — can help ease the pressure of managing a child's diet. And while it's best to be open with your children about eating struggles, be sure not to "frighten your children or make them feel they need to take care of you."
Subscribe to The Week
Escape your echo chamber. Get the facts behind the news, plus analysis from multiple perspectives.
SUBSCRIBE & SAVE
Sign up for The Week's Free Newsletters
From our morning news briefing to a weekly Good News Newsletter, get the best of The Week delivered directly to your inbox.
From our morning news briefing to a weekly Good News Newsletter, get the best of The Week delivered directly to your inbox.
3. How to snap out of parenting fog
If you're struggling with brain fog, you could be depressed or have long COVID. You could also just be a parent, writes Aaron Stern in Fatherly. In which case, some "physical, psychological, and social tweaks" may help pull you out of your mental rut. Comb through your day, identify any stressors, and make a plan for handling them. Tap your spouse or nearby family to off-load some of the tasks that are dragging you down. Lower your expectations — for yourself as well as your children — to help reduce the strain of guilt. Force yourself to get more sleep and exercise, however incremental. Add some more protein, healthy oils and leafy greens to your diet, and seek out opportunities to socialize with other adults. And if you just can't shake your brain fog, then consult your doctor, because it might not just be parenting after all.
4. Why parents do more than they should
The woes of intensive parenting are well-established, but emerging research offers a compelling explanation for parents' tendency to do too much at their kids' expense. "It's human nature to tend to solve problems by adding, even when subtracting would provide an objectively better outcome," writes Elizabeth Chang in The Washington Post. That was the conclusion of a series of experiments conducted by researchers at the University of Virginia. Participants tasked with fixing a Lego structure or arranging a vacation itinerary routinely overlooked "subtractive" changes, such as removing a block or canceling a museum stop. And people operating under a heavier cognitive load were more likely to overlook subtractive changes, so it's no surprise that chronically overwhelmed parents are especially susceptible.
5. Prepping kids for sleepaway camp
Sleep away camp is a wonderful opportunity for children to build confidence and resilience, but it can be nerve-wracking, writes Emily Edlynn in Parents. "The more confident you are that your child will be fine at sleepaway camp, the more confident they will be," Edlynn writes. So chat with your kids about their worries without projecting your own. Depending on what they bring up, "target worries with information and planning when possible." If they are concerned about getting sick, for example, walk them through the camp's sick policy. If you can't entirely dispel their anxieties, that's okay — in fact, learning to sit with the discomfort of uncertainty is part of the beauty of camp. "Let your child know that new experiences can make us nervous and it's okay!"

Continue reading for free
We hope you're enjoying The Week's refreshingly open-minded journalism.
Subscribed to The Week? Register your account with the same email as your subscription.