AstraZeneca rejects 'final' £69bn offer from Pfizer
AstraZeneca claims £55-per-share bid undervalues the company and carries a 'big execution risk'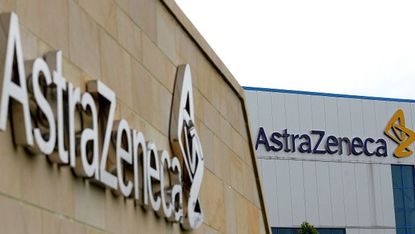 (Image credit: ANDREW YATES/AFP/Getty Images)
Pharmaceuticals company AstraZeneca has rejected a "final" takeover offer from its US rival Pfizer, claiming the new proposal undervalues the company. Pfizer offered £55 per share, raised from £50 two weeks ago, valuing AstraZeneca at around £69bn.
The potential deal roused much political concern, with many fearing it would damage future drugs research and lead to job cuts in the UK.
The two companies discussed the deal over the weekend, including a near two-hour video call on Sunday afternoon, reports the Financial Times.
Subscribe to The Week
Escape your echo chamber. Get the facts behind the news, plus analysis from multiple perspectives.
SUBSCRIBE & SAVE
Sign up for The Week's Free Newsletters
From our morning news briefing to a weekly Good News Newsletter, get the best of The Week delivered directly to your inbox.
From our morning news briefing to a weekly Good News Newsletter, get the best of The Week delivered directly to your inbox.
But AstraZeneca ultimately rejected the bid, saying it "undervalues the company and its attractive prospects". The company's chairman Leif Johansson claimed Pfizer's pursuit had been "fundamentally driven" by the corporate financial benefits and had failed to make a "compelling strategic, business or value case".
Pfizer planned to create the world's largest drug company, with its headquarters in New York, but based in the UK for tax purposes. This would mean it could cut its corporate tax rate from 35 per cent in the US to 20 per cent in the UK.
Pfizer had said that its improved offer of £55 per share was "final" and would not be increased. It also promised not to mount a 'hostile takeover', meaning it would not approach AstraZeneca's shareholders without the involvement of its board.
Johansson told BBC Radio 4's Today programme that the board would only have accepted a bid that was at least ten per cent above the offer of £53.50 made by Pfizer on Friday.
He said that AstraZeneca could create better value for shareholders by remaining independent and that the deal carried a "big execution risk" and would have limited the company's ability to get drugs to market quickly. "It's obviously a controversial deal," he added.
AstraZeneca's shares fell 13 per cent to £41.60 in opening trade in London.
AstraZeneca bosses could pocket £60m in Pfizer deal
15 May
BOSSES at pharmaceuticals company AstraZeneca could pocket almost £60m if a takeover by US rival Pfizer goes ahead.
Pascal Soriot, the chief executive who is publicly resisting the deal, has shares and options worth £31m that could mature if the deal is sealed, depending on the small print of the agreement. A dozen of his senior colleagues also have more than 500,000 shares between them, each one worth nearly £50, according to The Times.
Expectations continue to mount that Pfizer will increase its £50-a-share offer for AstraZeneca within days, with the British company's shares rising by 12p to £46.54 yesterday.
Soriot told MPs on the science and technology select committee yesterday that he did not intend to surrender to the US company without a fight.
"This deal is not inevitable," he said. "We have complete confidence in our independent strategy and we are focused on delivering new drugs for patients, which will save lives and in turn will deliver real value for our shareholders."
However, he acknowledged that shareholders would expect the board to negotiate if the terms of any new offer were sufficiently attractive.
Pfizer made a cash-and-stock takeover approach on 2 May, which would create the world's largest drugs company, but Soriot declined the offer. The American firm, headed by Ian Read, has until 5pm on 26 May to table a formal offer or walk away.
Science Minister David Willetts has warned Pfizer that it needs to lengthen its five-year promise of jobs and investment in the UK if it wants to press ahead with the takeover, while AstraZeneca has claimed that a deal could cost lives by disrupting research on crucial medicines – a claim denied by Pfizer.
"There is absolutely no truth to any comment that some products of critical nature would be delayed getting to patients," Read told MPs. "If anything, we would accelerate that to patients."
Pfizer takeover could delay new drugs, MPs told
13 May
NEW drugs could be delayed if Pfizer succeeds in its bid to take over AstraZeneca, according to the chief executive of the British pharmaceutical company.
"Pascal Soriot told MPs that a takeover would create huge disruption and distraction as scientists worried about their futures rather than development," the BBC reports.
Soriot appeared in front of the Business Committee soon after Ian Read, the chief executive of Pfizer, which has offered £63bn for its British rival in what would be the largest foreign takeover of a British firm.
Read denied that his company would cut costs ruthlessly and vowed to protect jobs and investment at the UK plant. But he acknowledged that the merged company would spend less overall on research and development.
With opposition from many scientists and politicians, as well as AstraZeneca itself, the chances of Pfizer achieving a deal hang in the balance...
What has been proposed?Earlier this month, AstraZeneca rejected a takeover bid from Pfizer, which offered the equivalent of £50 a share, valuing the firm at £63bn. AstraZeneca claimed the offer undervalued it "significantly" and said it had a bright future as an independent business. Pfizer is widely expected to come back with a better offer later this week after the parliamentary hearings.
Why is a Pfizer/AstraZeneca deal so controversial?The Pfizer offer has caused a political storm, largely over concerns about the future of British science and long-term public health. AstraZeneca is considered vital for the provision of UK medicines and critical research and development, such as its pioneering research into respiratory conditions. Fears have been raised that, in foreign hands, those priorities could change. Many believe Pfizer's chief aim is to change its legal domicile to the UK to escape US taxes rather than boost the company's R&D arm. There is also concern for the future of AstraZeneca's 6,700 employees in the UK. Previous Pfizer takeovers have seen tens of thousands of employees lose their jobs, notes the New York Times.
What will Pfizer offer next?In written evidence to both select committees, Pfizer has given a five-year commitment to complete AstraZeneca's new research centre in Cambridge and retain a factory in Macclesfield. It will also promise to employ at least a fifth of its global R&D workforce in the UK. Under British takeover rules, Pfizer has to make a formal offer to AstraZeneca by 26 May or walk away for six months, reports The Guardian. If the AstraZeneca board refuses to negotiate, Pfizer could take its offer directly to shareholders.
Can the Pfizer/AstraZeneca deal be stopped?The UK's Enterprise Act 2002 contains a "public interest test", which is restricted to issues of national security but could potentially be extended to other areas such as the protection of long-term public health. This could be used to block the deal, but Business Minister Vince Cable today said that any such move would be tricky. "The framework which we have under the act, as you know, confines the public interest test quite narrowly," he told MPs. Ministers currently appear to be focused on trying to secure more commitments from Pfizer on jobs. In the US, two prominent Democratic senators have vowed to push for legislation to make it harder for multinationals such as Pfizer to redomicile overseas to escape US taxes – but so far it has not received enough Republican backing to imperil the deal. The size of the merger also means that it is likely to be reviewed by the European commission.
Who is for and against the Pfizer/AstraZeneca deal?Some of AstraZeneca's big shareholders are urging the company's board to engage with Pfizer – but top British scientists, trade unions, opposition politicians and the Welcome Trust have warned that a takeover could have disastrous consequences for British science. Prof Sir Paul Nurse, president of the Royal Society, a fellowship of distinguished scientists, has described Pfizer's latest commitments as "vague" with an "inappropriate timescale". Chuka Ummuna, the Labour shadow business secretary, has urged the government to expand its powers under the Enterprise Act, offering cross-party support for the move. But others have warned that a change in legislation could have dangerous precedents for future protectionism. The UK's Institute of Directors says that "excessive government intervention in the market would cost far more jobs than might be saved by efforts to politicise this particular deal".

Continue reading for free
We hope you're enjoying The Week's refreshingly open-minded journalism.
Subscribed to The Week? Register your account with the same email as your subscription.