How to finance an electric car purchase
The running costs of an electric car are relatively low, but the sticker price can be daunting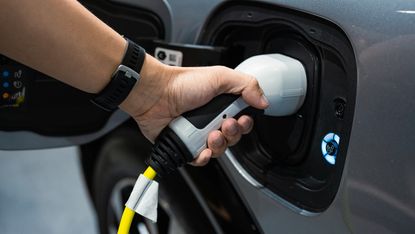 (Image credit: Getty Images/Jackyenjoyphotography)
High petrol costs and environmental concerns are contributing to a surge in electric car sales.
March 2023 was the biggest month on record for electric car sales, according to the Society of Motor Manufacturers and Traders (SMMT).
Electric vehicles (EVs) accounted for more than one in three registrations for the month. Additionally, electric cars represented almost 17% of sales last year, surpassing new diesel cars for the first time, the SMMT said.
Subscribe to The Week
Escape your echo chamber. Get the facts behind the news, plus analysis from multiple perspectives.
SUBSCRIBE & SAVE
Sign up for The Week's Free Newsletters
From our morning news briefing to a weekly Good News Newsletter, get the best of The Week delivered directly to your inbox.
From our morning news briefing to a weekly Good News Newsletter, get the best of The Week delivered directly to your inbox.
The rise in EV sales is "not surprising", said MoneySuperMarket, given the climate crisis. EVs have many advantages, added the comparison website, but low running costs and zero emissions are "the main selling points".
Still, "electric cars remain an expensive choice," said The AA. While you can pick up a new petrol car for less than £10,000, there are "few electric ones" for under £20,000. The average cost is £50,000, according to NimbleFins.
Is it worth getting an electric car?
The idea of owning an electric car seems appealing, said MoneyWeek. "You get to feel mildly smug about helping the environment and there are now many different models on the market, so you won't have to drive something clunky and ugly."
As well as being environmentally friendly, the financial website explained, an electric car should be cheaper to run than a normal one, factoring in fuel costs, government subsidies, and emissions penalties.
However, as a rule, EVs cost more upfront, plus many of the previously popular government subsidies have been cut. The Department for Transport previously paid a subsidy for plug-in hybrid and electric cars to reduce the purchase costs and encourage sales, but scrapped these incentives last year claiming it had "succeeded in creating a mature market for ultra-low emission vehicles".
Charging is another issue, especially when it comes to powering up in public. EV owners who have a charger at home have the benefit of being able to charge their vehicles overnight when electricity rates are lower. This can save them up to £130 for every 1,000 miles, reported The Times. However, "savings reduce to £40 for those drivers using public chargers."
The DfT also historically helped fund the purchase of home chargers, but this is now only available to landlords, those who rent or own a flat, or those setting up chargers for a workplace. Support is instead now focused on taxis, motorcycles, vans and trucks, and wheelchair-accessible vehicles and public charging points.
Ministers are being urged to address this discrepancy with VAT, the newspaper added, with motorists charging at home paying 5% domestic VAT while those using public chargers pay 20%.
Leasing an EV
As with petrol and diesel vehicles it is possible to hire an EV through leasing, personal contract hire, or hire purchase. By leasing an EV, said The AA, you can pay less over a term, with monthly payments and a small initial payment helping to spread the cost.
Leasing is currently the most popular option for financing an electric car, added The RAC. It's likely to be the most affordable form of EV finance, the breakdown provider explained, "not least because you're essentially renting the car from the leasing company". Some deals can be as low as £200 per month.
When you lease a car, warned MoneySuperMarket, you don't own it and will face restrictions, such as a mileage limit. You also won't be able to modify it.
Business owners and employees can also lease an electric car through a salary sacrifice scheme. The employer leases the electric vehicle through a finance company, explained DriveElectric, and offers the scheme to their employees as a perk. The employee pays for the car with a portion of their monthly salary before tax, which cuts their tax contributions each month.
Users still need to pay a benefit in kind (BIK) tax charge but one of the reasons EV salary sacrifice is so appealing, added Drive Electric, is because BIK is very low at 2% currently. The UK government has confirmed that BIK rates will slowly rise, "but remain very low compared to internal combustion engine vehicles until at least 2028".
Personal contract vs hire purchase
Drivers can also get an electric car on a personal contract purchase (PCP) deal, said MoneySuperMarket, where they pay an initial deposit and borrow towards some of the car's remaining value. Once the contract ends you can make a final larger payment to keep the car, or just hand it back.
An alternative is a hire purchase (HP) agreement, where you spread the cost of a new electric car over a fixed period and own it at the end.
While PCP generally offers lower monthly payments than HP, added MoneySuperMarket, the balance on your finance will reduce more slowly with a PCP – "so you end up paying more interest overall compared to an HP deal at the same rate."
An HP agreement might not be the best option for an EV though, warned the RAC, because "the rate of development in the field of battery technology is such that you could find that your EV is slightly outdated and outmoded by the end of the contract."
If you want to own the vehicle, another option is to get a car loan. "You'll own the car outright from when you take out the loan, paying back the debt in monthly payments," explained MoneySuperMarket.
There are also electric car subscription schemes run by brands such as Volvo and Hyundai. These work much in the same way as a lease, explained Parkers, in that you're essentially renting the car and will never own it. The difference is that subscription schemes bundle the cost of a car and most other services such as maintenance, breakdown cover, and tax into one fixed monthly cost. Contracts typically last from one to 24 months.
Many of these finance deals are "complex transactions", Maria McCarthy warned in the Evening Standard, involving not just the car itself but other aspects such as mileage allowances, fees for vehicle damage, insurance, a charge for additional drivers, maintenance, fees if you want to end a lease early and delivery charges.
Make sure you spend time number-crunching and studying the small print, she said, and "ask family and friends and visit electric vehicle forums on social media for advice and personal recommendations."
Marc Shoffman is an award-winning freelance journalist, specialising in business, property and personal finance. He has a master's degree in financial journalism from City University and has previously written for FTAdviser, ThisIsMoney, The Mail on Sunday and MoneyWeek.

Continue reading for free
We hope you're enjoying The Week's refreshingly open-minded journalism.
Subscribed to The Week? Register your account with the same email as your subscription.