How a Florida teenage romance ended in a violent suicide pact
Brandon Goode and Alex Hollinghurst shared a hatred of their mothers – and have left their families in torment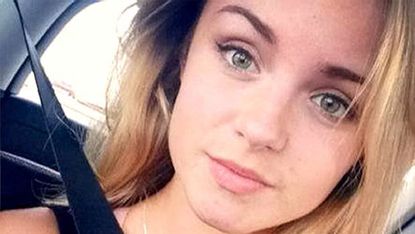 Sign up to our 10 Things You Need to Know Today newsletter
A free daily digest of the biggest news stories of the day - and the best features from our website
Thank you for signing up to TheWeek. You will receive a verification email shortly.
There was a problem. Please refresh the page and try again.
IT WAS 4am last Saturday when a Florida police officer, Robert German, radioed for back-up after noticing a suspicious car in a wealthy suburb of Windermere in Orlando.
On approaching the teenage couple in the car, Officer German was shot in the head. When the back-up arrived, they found him dead on the ground.
Two more gunshots exploded in the distance and the officers took cover. After a search of the area, the bodies of the two teenagers - Brandon Goode, 18, and his British-born girlfriend, Alex Hollinghurst, 17 – were found a hundred yards away in the bushes with a .45 revolver, the same one that had been used to kill Officer German.
Subscribe to The Week
Escape your echo chamber. Get the facts behind the news, plus analysis from multiple perspectives.
SUBSCRIBE & SAVE
Sign up for The Week's Free Newsletters
From our morning news briefing to a weekly Good News Newsletter, get the best of The Week delivered directly to your inbox.
From our morning news briefing to a weekly Good News Newsletter, get the best of The Week delivered directly to your inbox.
Police believe that Goode shot Hollinghurst and then himself.
The lethal violence that erupted that morning had been preceded by a series of offences committed by the teenage pair the day before. Alerted by suicide notes left by both Hollinghurst and Goode at their family homes, the police had tried to stop their car on Friday morning as Goode was driving out of a pharmacy parking lot in nearby Kissimmee.
When Officer Edward Martinez walked towards the car with his gun "drawn low and ready", Goode admitted his identity and explained that he and girlfriend were in town trying to sell jewellery for cash. As Officer Martinez motioned for his partner to come and take Hollinghurst out of the car while he prepared to apprehend Goode, the young man started the ignition.
Martinez said, "I jumped back as the vehicle lurched forward nearly striking me." He and his partner watched as Goode sped out of the parking lot: the young couple were now truly on the run.
Alex Hollinghurst, once a straight-A student, was originally from Manchester. She had moved to Florida with her parents and younger sister, Hannah, in 2011.
She was working in Disney World and in a shoe shop until, according to her grandmother, "she met Goode and it all went". She began stealing shoes and her parents "didn't know what she was going to do next".
Her family disapproved of her relationship with Goode and tried to prevent her from seeing him. But whenever they kept them apart, Alex threatened to harm herself. Conflict with her family became so intense that Alex moved out to live with Goode at his mother's house until police returned her home under strict curfew because she was a minor.
Alex's family had good reason to want to keep their daughter away from Brandon Goode. He was involved in drugs – he and Alex were arrested last month for possessing marijuana – and he had a record of violence.
In 2011 Brandon shot at someone, without injury, who he claimed had tried to crash into him with his car. A year later, he attacked his 47-year-old mother with an axe and was arrested for aggravated battery.
At the heart of this attack was his mother's refusal to accept his father's divorce settlement. It is possible to imagine that Brandon had been provoked into a murderous frenzy by a mother who he felt could only think of herself with no concern for him or his father. Whatever the problem with his mother, Brandon had clearly had enough.
The Italian poet, Cesare Pavese, who himself committed suicide, wrote, "Every suicide is a shy homicide."
Despite having threatened to axe his mother to death, Brandon's suicide note professes a sickly love for both his parents, negating any signs of hatred – and reality:
"I love you with all my heart. Please don't be sad, this is what I want now. I get to die peacefully with the woman of my dreams, my fiancé (yes we are engaged!). I miss you both so much already. I love you mom, I love you dad."
Alex's suicide note, on the other hand, leaves little doubt that her intention was to destroy herself as a way of destroying her mother. She wrote:
"I could write to you for days, but I know nothing would actually make a difference to you. You are much too ignorant and self concerned to even attempt to listen or understand, everyone knows that.
"Thank you, for trying to talk and understand me. After me being honest, after trying to fix things, thank you for turning a conversation about depression and suicide into something all about you.
"Please understand that when people compare us, I vomit on the inside.
"And thank you for accusing me of being anorexic, FOR YEARS. I'm so sorry for being skinny. If I were, your BITCHY comments that I'm assuming were your attempt to help, wouldn't have.
"If I had stayed another minute I would have painted the walls and stained the carpets with my blood, so you could clean it up. You are a waste of space, ignorant, and a rotten (_). I wish I were never born."
While Alex's delinquent behaviour is attributed by her parents to Brandon's influence over her, it is clear from her note that she had had considerable conflicts with her mother for some time. In contrast, her letters to her father and her sister were apologetic and loving.
Brandon and Alex established an immediate passion for one another that was undoubtedly fuelled, unconsciously, by their disturbed family relationships and, specifically, by their mutual hatred of their mothers.
They formed a delinquent gang of two, defiant of the law and reality, sharing a fantasy that they could be a couple who had no need for parents (and certainly no need for a mother), living in a self-enclosed world of their own, a timeless present with no past. Discussing a plan to elope to Panama, Brandon wrote to Alex: "We could live on the beach, just me and you forever in our small little cosy house."
Tragically, the fact that they both left suicide notes well before they actually killed themselves raises the question of whether they were in fact enacting a dramatic fantasy of revenge against their mothers that would result ultimately in their rescue and vindication or whether they truly wanted to commit suicide. We will never know.
Brandon's vision of "me and you forever" has in some way come true. United in death, they have left their families tormented for life.
Coline Covington is a London-based Jungian analyst. 'Shrinking the News', a collection of her articles for The Week, was published recently by Karnac Books.
Continue reading for free
We hope you're enjoying The Week's refreshingly open-minded journalism.
Subscribed to The Week? Register your account with the same email as your subscription.
Sign up to our 10 Things You Need to Know Today newsletter
A free daily digest of the biggest news stories of the day - and the best features from our website
is a Jungian analyst in private practice in London. She is former Chair of the British Psychoanalytic Council and a Training Analyst of the Society of Analytical Psychology, of the British Association of Psychotherapists, and of the London Centre for Psychotherapy. She is co-editor with Barbara Wharton of Sabina Spielrein: Forgotten Pioneer of Psychoanalysis, published by Routledge in 2003 and co-editor with Paul Williams, Jean Arundale and Jean Knox of Terrorism and War: Unconscious Dynamics of Political Violence, published by Karnac in 2002.