Slender Man stabbing: court examines disturbing evidence
Two girls accused of stabbing their 12-year-old friend 19 times after fixation on fictional character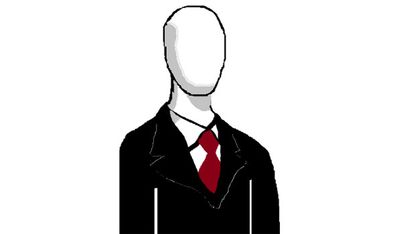 (Image credit: Slender Man Wikipedia page (labelled for reuse) )
Sign up to our 10 Things You Need to Know Today newsletter
A free daily digest of the biggest news stories of the day - and the best features from our website
Thank you for signing up to TheWeek. You will receive a verification email shortly.
There was a problem. Please refresh the page and try again.
Disturbing evidence has been revealed in the case against two young girls accused of stabbing their friend 19 times after developing an obsession with the mythical online character Slender Man.
A hearing was held this week to determine whether the girls, from Waukesha, Wisconsin, now aged 12 and 13, should be tried as adults.They are accused of luring their 12-year-old victim into a wooded area to carry out the attack during a sleepover in May last year. The victim has since recovered enough to return to school.One of the suspects told police at the time that if they had not carried out the attack, her family would have been killed by Slender Man, an imaginary monster first created on a comedy internet forum and often portrayed as a tall, thin figure with a blank face and tentacles protruding from his back.The judge was presented with a notebook, containing 60 pictures of Slender Man, and six dolls with red marks drawn on their bodies, all belonging to the younger suspect.Annotations in the notebook included "You are strange child it will be of my use [sic]" and "He still sees you". There was also a list of supplies, including pepper spray, map of forest, camera, cheesecake, "the will to live", flashlights and "weapons (kitchen knife)".One picture showed a scythe-wielding girl standing over a dead body with a speech bubble that read "I love killing people".The evidence was put forward by the suspect's defence lawyer in a bid to show that she was convinced that Slender Man posed a threat, reports the Milwaukee Journal Sentinel.Clinical psychologist Dr Deborah Collins said the suspect had an "enduring belief in the reality of Slender Man", as well as a belief in Vulcan mind control and Harry Potter characters.Collins said the only time the 12-year-old expressed sadness was when she believed her visits from Lord Voldemort would be taken away by medication.
Who is Slender Man? Second attack linked to online monster
10 June
Subscribe to The Week
Escape your echo chamber. Get the facts behind the news, plus analysis from multiple perspectives.
SUBSCRIBE & SAVE
Sign up for The Week's Free Newsletters
From our morning news briefing to a weekly Good News Newsletter, get the best of The Week delivered directly to your inbox.
From our morning news briefing to a weekly Good News Newsletter, get the best of The Week delivered directly to your inbox.
The fictional internet character Slender Man has been linked to a second stabbing, in which a 13-year-old allegedly attacked her mother while wearing a white mask. The girl is being held by police in Cincinnati, Ohio, and claims she cannot remember anything from the incident. Her mother was left with minor cuts to her neck and face and puncture wounds to her back.
"I came home one night from work and she was in the kitchen waiting for me and she was wearing a mask, a white mask," the woman told Cincinnati's WLWT5 station. "She had her hood up and had her hands covered with her sleeves and the mask." She says her daughter, who has a mental health disorder, had developed an interest in Slender Man. She had reportedly been writing about the character, as well as demons and killing, and had made a world for Slender Man on the popular building game Minecraft.
The Ohio attack comes less than two weeks after two 12-year-old girls from Waukesha, Wisconsin allegedly stabbed their friend 19 times after developing an obsession with the mythical online character. The victim is recovering in hospital, while her attackers have been charged as adults with first-degree attempted murder. The attack shocked the suburb where they live, prompted debate about internet restrictions for children and left people across the world wondering who or what a Slender Man is...
What happened in Wisconsin?
On Friday 30 May, the two suspects allegedly invited their victim to a sleepover at one of their houses and lured her to a nearby park the next day to "play hide and seek". One of the girls allegedly told the other to "go ballistic, go crazy" while the victim was stabbed repeatedly in the arms, legs and torso. She was found by a passing cyclist after crawling out of the woods and onto the road. The girl is currently in a stable condition in hospital, despite one of the stab wounds missing a major artery by a "millimetre".
What did the girls tell the police?The suspects are believed to have told detectives that Slender Man would come to kill their families if they did not murder their friend. They allegedly began plotting to murder their victim in February in a bid to appease him. One of the suspects told detectives they were trying to become "proxies" of Slender Man. The other allegedly said she sees Slender Man in her dreams, and claims he can read her mind and teleport. The girls said they had first heard about him on Creepypasta Wiki, a website that compiles short paranormal and horror stories.
Who is Slender Man?Slender Man was initially the creation of a web user called Eric Knudsen. He entered a 'paranormal pictures' Photoshop contest on a comedy internet forum called Something Awful in June 2009. Participants had to turn ordinary photographs into creepy looking images, which were later passed off as authentic photos on a number of paranormal forums, reports Know Your Meme. After Knudsen created Slender Man, describing him as a mysterious creature who stalked children, other Something Awful users began creating their own versions of Slender Man and these spread onto other sites, appearing in fan art, short stories, videos, video games and other media all over the web. He is usually portrayed as a blank-faced, tall, thin figure in a suit, with tentacles protruding from his back. Depending on the interpretations of the myth, he can cause memory loss, paranoia and coughing fits (known as "slendersickness"), and can teleport at will.
Has an attack like this ever happened before?Several violent attacks have taken place after the assailant was egged on by another internet user. A former New York police officer was convicted last year of plotting to kidnap, cook and eat women after being "mentored" in cannibalism by a British man via the internet. But in the Slender Man case, the so-called "mentor" was fictional. Horror movies, including Scream and Saw, have been accused of "inspiring" a handful of copycat murders in the past. "But this feels different," says the Washington Post, "because it is the first time it's happened with a story that doesn't really exist offline."
So is the internet to blame?Waukesha police chief Russell P Jack has warned parents to take control of their children's internet usage. "Unmonitored and unrestricted access to the internet by children is a growing and alarming problem," he said. But several commentators have pointed out that the internet is not where horror stories were invented. "You can make something that isn't real come true, in some way, by believing in it. But that's not an internet thing," says the Washington Post. "That's not a Slender Man thing. That's tales, always, as long as we've been telling them." Condemning the attack, Creepypasta Wiki has pointed out that it is an "isolated incident" that does not represent its community. "There is a line between fiction and reality, and it is up to you to realise where the line is," it warned readers. "We are a literature site, not a crazy satanic cult."
Continue reading for free
We hope you're enjoying The Week's refreshingly open-minded journalism.
Subscribed to The Week? Register your account with the same email as your subscription.
Sign up to our 10 Things You Need to Know Today newsletter
A free daily digest of the biggest news stories of the day - and the best features from our website