The 9 best Halloween-themed movies to watch this season
Get in a festive mood with the help of these great horror films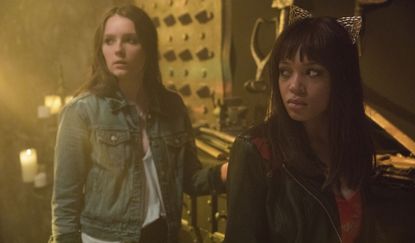 (Image credit: Lionsgate)
Spooky season is here, and nothing will get you in a festive mood like a great horror film where the characters themselves are celebrating Halloween. From slashers to anthologies to a controversial British broadcast, these are some of the best horror movies that take place on or around Oct. 31.
'Hell Fest' (2018)
A masked killer hides in plain sight to target Halloween carnival attendees who think he's part of the experience in this underrated slasher. "Hell Fest" captures the fun of walking through a haunted house while laughing along with friends, and excellent production design makes it ideal for throwing on at a Halloween party. If it only featured a more memorable mask design for the killer, the movie might have become a cult classic.
'Haunt' (2019)
"Haunt" would pair perfectly with "Hell Fest" for a double feature, as it shares a similar plot following a group of friends who go to an extreme haunted house and slowly realize their lives are actually in danger. It's not quite as festive as "Hell Fest," but better characters and scares make "Haunt" stronger overall.
Subscribe to The Week
Escape your echo chamber. Get the facts behind the news, plus analysis from multiple perspectives.
SUBSCRIBE & SAVE
Sign up for The Week's Free Newsletters
From our morning news briefing to a weekly Good News Newsletter, get the best of The Week delivered directly to your inbox.
From our morning news briefing to a weekly Good News Newsletter, get the best of The Week delivered directly to your inbox.
'Terrifier 2' (2022)
"Terrifier 2," which sees a killer clown commit a series of insanely graphic murders on Halloween, is the modern equivalent of a sleazy grindhouse film from the 1970s. It's a trashy, repulsive, flawed, and perversely enjoyable slasher, with seriously impressive practical gore effects for the budget. But viewers who can't stomach extreme gore should stay away, as this might be the most sadistically bloody horror film ever made.
'Tales of Halloween' (2015)
Ten spooky stories, each directed by a different filmmaker, unfold in the same town on Halloween in this breezy anthology. Like any anthology, some segments are better than others. But almost all are solid, and there are enough that even if you're not vibing with one, another you might like better will start before you know it.
'Hell House LLC' (2015)
Some of the creepiest scenes in found-footage horror history can be seen in "Hell House LLC," a faux documentary about a tragedy that occurred on the opening of a fictional haunted house. The movie does a lot with a little, relying on simplistic scares that usually don't need music or loud stingers to be effective. It also utilizes the mockumentary format in a smart way, leading to a creative, and haunting, final reveal.
'Ghostwatch' (1992)
This legendary British horror film is sort of a '90s version of "The War of the Worlds." It aired on BBC1 on Halloween 1992 and is presented as a live investigation of a haunted house. But a real television presenter and journalist, Michael Parkinson, stars as himself, which is part of what led many viewers to believe it was real. As a result, the film sparked so many complaints that it was never aired in the UK again. If you can make yourself forget that "Ghostwatch" is scripted, it's a chilling experience.
'WNUF Halloween Special' (2013)
Similar to "Ghostwatch," "WNUF Halloween Special" is meant to look like a live news broadcast where a journalist explores a haunted house on Halloween 1987. But what sets it apart is that the action is broken up by lengthy breaks for fake commercials, all of which are stunningly faithful to what local news ads would look like at the time. This adds to the authenticity and creates a delightfully festive atmosphere. "WNUF" is more nostalgic and fun than it is scary, but what fun it is.
'Halloween' (1978)
It's an obvious pick for a reason, as no Halloween season would be complete without a rewatch of John Carpenter's 1978 classic. It remains the greatest slasher of all time, and what not all its sequels understood was that Carpenter's restraint, both in regards to the gore and to its villain's unknowable motives, made it that much scarier.
'Trick 'r Treat' (2009)
The best Halloween movie is undoubtedly "Trick 'r Treat," a pitch-perfect anthology that doesn't simply take place on Oct. 31. No, the movie is about Halloween more fundamentally, exploring the traditions that define the holiday and what it means in our lives at various ages. It's everything that makes Halloween special distilled into a tight, highly rewatchable package.

Continue reading for free
We hope you're enjoying The Week's refreshingly open-minded journalism.
Subscribed to The Week? Register your account with the same email as your subscription.