Why the Roman Empire is suddenly everywhere online
It fell more than 1,500 years ago — so why is it dominating social media?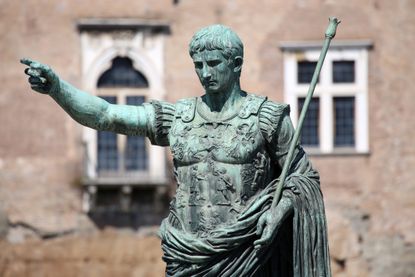 (Image credit: Stock Photo via Getty Images)
More than 1,500 years after its collapse in A.D. 476, the Roman Empire has seen a resurgence in the unlikeliest of settings — social media. Online users, predominantly on the video-sharing app TikTok, have been abuzz over the ancient domain thanks to a claim that men are, for some reason obsessed, with the Roman Empire.
Accuracy of the perception aside, the trend has gone viral. Across countless videos, men have admitted that they think about the Roman Empire constantly, with some of them claiming that thoughts of gladiators and plumed helmets enter their minds multiple times per day.
But why is this trend suddenly dominating internet discourse? Is it just another online gag, or are men's minds genuinely consumed with thoughts of the Roman Empire?
Subscribe to The Week
Escape your echo chamber. Get the facts behind the news, plus analysis from multiple perspectives.
SUBSCRIBE & SAVE
Sign up for The Week's Free Newsletters
From our morning news briefing to a weekly Good News Newsletter, get the best of The Week delivered directly to your inbox.
From our morning news briefing to a weekly Good News Newsletter, get the best of The Week delivered directly to your inbox.
What is the crux of the trend?
It involves women recording interactions with men "in which they ask them how often they think about the Roman Empire or to share the last time they thought about it," Time reported. As most of the answers on social media show, "if you haven't been thinking about the Roman Empire as frequently as every day or at least three to four times a month, you're doing it wrong," Time added, noting that most men in these videos appeared serious about their responses.
One man answered the question by stating he thinks about the Roman Empire "every other day," adding, "I thought about it yesterday. I thought about it today." Another said he thinks about it "three times a day" because the Roman Empire had "so much to think about!" A third answered the question by showing off a full-scale replica of the Roman Colosseum he built using the video game "Minecraft."
The trend may have originated with Roman Empire cosplayer Artur Hulu, who posted an Instagram video this past August noting that many women "do not realize how often men think about the Roman Empire." The video eventually went viral on multiple social media sites.
Are these viral videos joking or serious?
It's hard to say for sure, but some people seem to think the trend is more realistic than you might think. There are "any number of specific reasons why men might think a lot about the Roman Empire, to be sure, but in my experience, lots of people spend a lot of time thinking about history," historian David Perry wrote for CNN. "People like history."
"History is enthralling, and while access to sources is unequal for many reasons (what survives, what gets translated, what gets published cheaply), you can find fascinating stories from any place, time or topic," Perry added. He noted that "every time a stranger finds out that I'm a historian ... they start telling me about their favorite history."
Why do these men seem so enthused with the Roman Empire?
It could have something to do with the historical emphasis placed on the Roman Empire, much of which has survived into the modern day.
When most people think of the Roman Empire, they see "an image of the Roman legion, the imperial eagle and that sort of military aspect — along with gladiators, which has a long association with masculinity and power," historian Hannah Cornwell told The Washington Post. This type of worldview is typically considered stereotypically "cool" by most men, the Post noted.
The battle-centric history of Ancient Rome also probably plays a factor. "A lot of it probably can come back to a Roman history becoming equivalent to military history, and military history is definitely something that is always going to be more of interest to men than women, just on a practical level," Mike Duncan, host of the "History of Rome" podcast, told Rolling Stone.
Duncan also noted, though, that the image of the Roman Empire portrayed in popular culture isn't a reflection of most people who lived during the time. "A lot of the people who try to romanticize what the Roman Empire was ... imagine themselves being, you know, the senator in the fine toga laying on the side, being hand-fed grapes," he said. The reality, though, is that most people "would have died at the age of 28 because of an undiagnosed kidney stone while they were trying to plow their lands."

Continue reading for free
We hope you're enjoying The Week's refreshingly open-minded journalism.
Subscribed to The Week? Register your account with the same email as your subscription.