The daily gossip: Sean 'Diddy' Combs accused of rape and abuse, Dana Carvey mourns the death of his son, and more
Today's top entertainment and celebrity news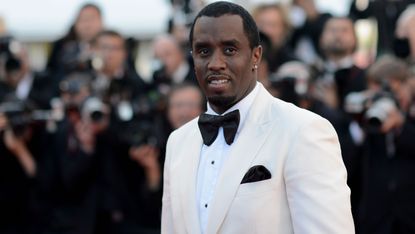 (Image credit: Gareth Cattermole / Getty Images)
1. Sean 'Diddy' Combs accused of rape and abuse by Cassie
Sean "Diddy" Combs' ex-girlfriend Casandra Ventura, a.k.a. Cassie, has sued the rapper in federal court and accused him of rape and abuse. Ventura, the singer who dated Combs from 2007 to 2018, "endured over a decade of his violent behavior and disturbed demands" and was trapped "in a cycle of abuse, violence, and sex trafficking," the lawsuit alleged. Combs is accused of raping Ventura, physically assaulting her "often," and forcing her to engage in sex acts with male sex workers while he masturbated and filmed them, among other "violent and unlawful acts." The lawsuit also alleged Combs threatened to blow up Kid Cudi's car because of Ventura's relationship with the rapper, and "around that time, Kid Cudi's car exploded in his driveway." Ventura met Combs in 2005 when she was 19 and Combs, then 37, signed her to his label. A lawyer for Combs said he "vehemently denies these offensive and outrageous allegations" and accused Ventura of "blatant blackmail." The New York Times, Deadline
2. Dex Carvey, son of Dana Carvey, dies at 32
Dana Carvey's family has experienced an unthinkable tragedy. The "Saturday Night Live" alum and his wife, Paula, shared in a statement that their eldest son, Dex Carvey, has died from an accidental drug overdose. He was 32. "Dex packed a lot into those 32 years," they said. "He was extremely talented at so many things — music, art, film making, comedy — and pursued all of them passionately." Dex was also a comedian, and he opened for his dad in the 2016 Netflix special "Straight White Male, 60." "My brother's a comic," Dex said in his set. "I'm a comic. My dad, Dana Carvey, is also a comic. We are basically the von Trapps of comedy." The Carveys wrote that it's "not an exaggeration to say that Dex loved life," and "when you were with him, you loved life too." They ended by telling fans who may be struggling with addiction or love someone who is, "You are in our hearts and prayers." Instagram
3. Golden Globe Awards to air on CBS in 2024
The Golden Globes have a new home. The annual awards ceremony will officially air on CBS, not NBC, in January 2024. NBC had aired the Globes for years, but the network dropped the ceremony in 2022 after backlash over the Hollywood Foreign Press Association's lack of diversity and alleged ethical lapses. The Globes returned on NBC in 2023, but the HFPA has since shuttered entirely, as Dick Clark Productions acquired the rights to the show. In August, Puck reported Dick Clark Productions rejected a "lowball offer" from NBC to air the Globes in 2024, leaving it unclear where it would be broadcast. With less than two months to go, CBS has now volunteered as tribute, and the Globes will also stream on Paramount+ on Jan. 7. CBS CEO George Cheeks said the awards ceremony will add "an exciting new dimension to our first quarter schedule this year." In spite of constant scandal and mockery, the Globes somehow continue to spin. CBS
Subscribe to The Week
Escape your echo chamber. Get the facts behind the news, plus analysis from multiple perspectives.
SUBSCRIBE & SAVE
Sign up for The Week's Free Newsletters
From our morning news briefing to a weekly Good News Newsletter, get the best of The Week delivered directly to your inbox.
From our morning news briefing to a weekly Good News Newsletter, get the best of The Week delivered directly to your inbox.
4. Steven Yeun's MCU role seemingly spoiled by 'Invincible' creator
Robert Kirkman just … tweeted it out. The creator of Steven Yeun's show "Invincible" appeared to casually drop a big Marvel spoiler during a livestream by revealing the role the actor will play in the franchise. "My good friend Steven Yeun is playing the Sentry in a movie," Kirkman said. Yeun was cast in Marvel's "Thunderbolts" earlier this year, but his part has never been confirmed. In the comics, the Sentry is a superhero who has the power of a million exploding suns. "[Yeun] called me, and he said, 'I just came back from a costume fitting for the Sentry,'" Kirkman disclosed. Although Kirkman said he didn't believe this is "a spoiler or anything that will get anybody in trouble," he didn't sound concerned either way. "I don't know, maybe, we'll see," he said. "I don't care. I don't work for Marvel. What are they gonna do to me?" As the Disney snipers get into position, we'll soon find out. David Finch
5. Paul Mescal calls out actor who fell asleep and snored during his play
Who's the mystery snorer? On "Jimmy Kimmel Live!," Paul Mescal said he was "furious" after an unnamed fellow actor came to see him on stage in London and snored loudly during the show. The Oscar-nominated "Aftersun" star was performing in "A Streetcar Named Desire" when the incident occurred. "We had some inebriated audience members," Mescal said. "We had one guy who's actually kind of a famous actor, and I will not name his name, but he fell asleep and was snoring, like fully comatose." According to Mescal, the ushers came in and told the actor to quiet down, but he wouldn't admit fault. "He woke up and refused to acknowledge that it was him," he said. "He was fully like, 'It's this guy besides me.'" Kimmel immediately started guessing possibilities, but Mescal confirmed it wasn't Benedict Cumberbatch or Judi Dench. He also somewhat narrowed things down by saying it was someone young. You have your homework for the weekend, internet sleuths. Jimmy Kimmel Live!

Continue reading for free
We hope you're enjoying The Week's refreshingly open-minded journalism.
Subscribed to The Week? Register your account with the same email as your subscription.