Are the Tokyo Olympics ready for Gen Z?
The summer games are about to get very, very online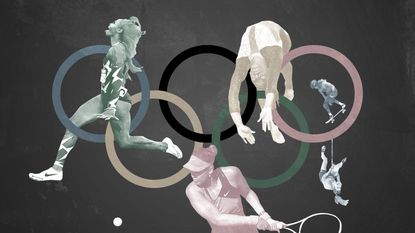 (Image credit: Illustrated | Getty Images, iStock)
NBC's producers are going to want to keep their fingers on the "mute" button at the Olympic Games in Tokyo this summer.
"...D--n, it was f--king sick!" the 22-year-old skateboarding champion, future Olympian, and Team USA Ralph Lauren uniform model Heimana Reynolds raved of the opportunity to skate in an empty water park for a photo feature for the magazine Confusion this spring, leaving to the imagination how he might sum up the "larger-than-standard" course in Tokyo after competing for gold. The 21-year-old sprinter Sha'Carri Richardson screamed "I'm a f---king Olympian!" at the NBC TV cameras after making the cut for the team at the U.S. Track and Field trials in Eugene, Oregon, this past weekend.
But while the crop of Gen Z athletes at this year's Games might raise the eyebrows of the increasingly older viewers of the Olympics — well, it's frankly about f---king time. Endearingly unpolished, irreverent, and infectiously excited about their opportunity to compete on the world stage, the youngest athletes of the world are what is going to make the Olympics worth watching this summer.
Subscribe to The Week
Escape your echo chamber. Get the facts behind the news, plus analysis from multiple perspectives.
SUBSCRIBE & SAVE
Sign up for The Week's Free Newsletters
From our morning news briefing to a weekly Good News Newsletter, get the best of The Week delivered directly to your inbox.
From our morning news briefing to a weekly Good News Newsletter, get the best of The Week delivered directly to your inbox.
Call it the stomach grumble heard 'round the world, but Gen Z's fresh approach to the Games first started to emerge in 2018, at the Winter Olympics in Pyeongchang. "Wish I finished my breakfast sandwich but my stubborn self decided not to and now I'm getting hangry," then-17-year-old snowboarder Chloe Kim tweeted in the middle of her halfpipe competition, before going on to post the highest score of the day. (Asked why she was tweeting during the competition, Kim later told a reporter, "Like, what else are you supposed to do?"). Fellow 17-year-old snowboarder Redmond "Red" Gerard was similarly unfazed by the grandeur of the Olympics; he admitted he didn't "really know" what the Olympics were as a kid, and confessed to oversleeping and having to borrow his roommate's jacket because he lost his the morning of his gold-medal-winning run. (NBC still somehow failed to mute his "holy f--k, dude!" afterward, despite running on delay; Vanity Fair dubbed him the "swearing Olympian"). Asked what he planned to do with his gold medal, Gerard said, "Look at it for quite some time? I don't know."
It was not only hilarious, it was refreshing. Too often Olympic athletes in the past haven't had the chance to be the kids that they are, shouldered with the expectation of "representing" their country at the Games. But the stolen teenagehood of high-level athletes can run even deeper, from their intense training that begins at a young age to scandals involving abusive coaches. It was about time, then, for the irreverent Gen Z shakeup.
What started in 2018 among the Games' youngest athletes is being solidified in 2021. Some of the biggest personalities in Tokyo will be media-savvy teenagers and young adults, like Nevin Harrison, a 17-year-old sprint canoeist influencer (!?), or Miho Nonaka, the Japanese boulderer who's sponsored by Beats by Dre, or Sky Brown, the 12-year-old British skateboarder who geeks out over being featured in Thrasher — while still not being quite old enough to join TikTok; her Instagram is "managed by mom."
Hobbs Kessler, a high school runner who demolished a 20-year men's 1,500-meter national record while qualifying for the Olympic trials and is set to compete for his ticket to Tokyo later this week, is currently busy posting Mario Kart videos on his Instagram.
Even more than bringing their own flavor to the games, though, Gen Z is competing on their own terms too. Simone Biles, an elder member of the generation at the ripe old age of 24, has no reservations about owning her accomplishments, even wearing leotards bedazzled in goats. "We're not allowed to acknowledge the good work that we do," she told Vice last year. "And we've put in so many hours, so I don't understand why we're not allowed to acknowledge it." Biles' Rio 2016 teammate, Laurie Hernandez, also nodded the way her generation might seem markedly different to older onlookers: "When [Gen Z is] coming out with content, there's always a little bit of truth to it — in the sense that maybe it's talking about mental health or voting, but there's still something in there that makes you laugh and think hard on it," she told ESPN. "That's why a lot of people are like, 'Ah, Gen Z's sense of humor is a little different. The language is a little different.'"
Vulnerability might be the most laudable hallmark of her generation. Twenty-three-year-old tennis superstar Naomi Osaka used Instagram to tell her fans about her struggles with depression and anxiety, and that she needed to step away from the court to protect herself. She will compete at the Tokyo Olympics, where the IOC has emphasized that she will not be required to talk with the press. Simone Manuel, the returning 24-year-old gold medalist swimmer, has also openly discussed the pressures of the sport on her mental and physical health; after securing a spot on the 2020 Olympic team, she shared a heartfelt post on social media, thanking God, her family, and her coaches. She ended it more casually: "Lol. And I'm ready to finally get some sleep."
The honesty and humor might not be appreciated by everyone, though, including veteran Olympic athletes and Olympic viewers, both of whom skew older than ever. Between the London Olympics in 2012 and the Rio de Janeiro Olympics in 2016, there was "a 30 percent drop in TV viewers between the ages of 18 and 34," The New Republic reports ("using an antenna" being one of the recommended viewing methods probably didn't help, either).
Considering the stuffy pageantry of the Games and all the earnest nationalism, going to Tokyo might even, at this point, be somewhat un-cool. The IOC's decision to include a skateboarding competition in 2020, for example, has the slightly desperate tinge of "how do you do, fellow kids?"; one online petition in 2015, signed by thousands of skateboarding fans, even protested that "we do not want skateboarding exploited and transformed to fit into the Olympic program," going as far as to claim "we feel that Olympic involvement will change the face of skateboarding and its individuality and freedoms forever."
Instead of letting the Olympics dictate what the Games look like, though, Gen Z is poised to reshape it in their image. And if the teens and young adults ruffle some feathers on their way to the top of the podium, well, the Olympics was overdue for a revamping anyway. I, for one, welcome the humor, vulnerability, and (let's face it) really good posts from our newest generation of competitors.
Bring on the uncensored celebrations.

Continue reading for free
We hope you're enjoying The Week's refreshingly open-minded journalism.
Subscribed to The Week? Register your account with the same email as your subscription.