10 things you need to know today: October 26, 2023
House elects Trump ally Mike Johnson as speaker, police hunt for gunman after deadly Maine shootings, and more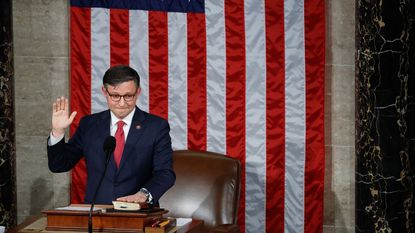 (Image credit: Ting Shen / Bloomberg via Getty Images)
1. Trump ally Mike Johnson elected House speaker
The House on Wednesday elected staunch conservative Rep. Mike Johnson (R-La.) to be the next House speaker, ending a weeks-long stalemate that followed the ouster of Rep. Kevin McCarthy (R-Calif.) by a small group of hard-right Republicans. Johnson, who worked to keep former President Donald Trump in office after 2020 and voted against certifying President Biden's victory, was elected in a party-line vote after three better-known GOP nominees failed to win approval, leaving Congress unable to pass laws. "Democracy is messy sometimes," Johnson said. Far-right Rep. Matt Gaetz (R-Fla.), who led the push to take down McCarthy, said the elevation of the lesser-known "MAGA Mike Johnson" showed that "the swamp," a reference to the GOP establishment, "is on the run." The Hill, The Washington Post
2. At least 16 die in Lewiston, Maine, shootings
A gunman opened fire at a bowling alley and a restaurant in Lewiston, Maine, on Wednesday night, killing at least 16 people and injuring dozens more. The attacker shot multiple people at Sparetime Recreation, where panicked bowlers ran down lanes and hid behind pins, then moved on to Schemengees Bar and Grill on the other side of town and continued the rampage. The gunman then fled, sparking a manhunt. Police identified Robert Card, a 40-year-old firearms instructor believed to be in the Army Reserve, as a person of interest in the shootings. They said Card "should be considered armed and dangerous." CNN, The Associated Press
3. Judge fines Trump $10,000 for violating gag order
New York Judge Arthur Engoron, who is presiding over Donald Trump's civil fraud trial, accused the former president of violating a gag order on Wednesday and fined him $10,000. The order bars Trump from disparaging court staff. It was imposed after he previously criticized Engoron's clerk. During a break in the proceedings Wednesday, Trump called Engoron partisan and claimed he had "a person who's very partisan sitting alongside him." Trump told the court he was talking about his former lawyer Michael Cohen, who testified for a second day Wednesday. Engoron rejected Trump's claim he wasn't referring to the clerk, imposed the fine, and told Trump if he does it again "it will be worse." The New York Times, Reuters
Subscribe to The Week
Escape your echo chamber. Get the facts behind the news, plus analysis from multiple perspectives.
SUBSCRIBE & SAVE
Sign up for The Week's Free Newsletters
From our morning news briefing to a weekly Good News Newsletter, get the best of The Week delivered directly to your inbox.
From our morning news briefing to a weekly Good News Newsletter, get the best of The Week delivered directly to your inbox.
4. Netanyahu: 'Ground incursion' into Gaza near
Israeli Prime Minister Benjamin Netanyahu said Wednesday that Israel was close to launching "a ground incursion" into the Gaza Strip as part of an offensive aiming to decimate Hamas in response to its Oct. 7 surprise attacks, which killed 1,400 people in southern Israel. The Hamas-run Gaza health ministry says Israeli attacks have killed more than 6,500 people in the besieged Palestinian territory. President Biden reiterated America's support for Israel's right to defend itself, and said it was important to prepare "a pathway for a permanent peace" after the conflict. The Wall Street Journal, citing people familiar with intelligence, reported Wednesday that about 500 Palestinian militants participated in Iran-led drills weeks before the attack. The Washington Post, The Wall Street Journal
5. UAW reaches tentative deal with Ford to end strike
The United Auto Workers reached a tentative deal with Ford on Wednesday night to end the union's targeted six-week strike against the automaker. The UAW was still negotiating with General Motors and Chrysler's Stellantis. The agreement with Ford, which still has to be ratified by union members, includes a 25% wage hike over the course of a four-year contract that will bring the top wage for assembly workers to $40 an hour. Ford, Stellantis and General Motors — Detroit's Big Three automakers — previously offered 23%. The agreement was expected to increase the odds of ending the UAW's unprecedented simultaneous partial strikes at all three automakers. The Wall Street Journal, The Associated Press
6. Turkey's president says Hamas is not a terrorist group
In a sign of spreading animosity over the Gaza war, Turkish President Recep Tayyip Erdogan said Wednesday that Hamas is not a terrorist organization but a "liberation group" fighting to free the Palestinians. Turkey, a NATO member, has condemned Hamas' brutal Oct. 7 surprise attack that killed 1,400 people in southern Israel, but also called for Israel to respond with restraint. Erdogan criticized Western leaders for supporting Israel's bombing of Gaza. He called for an immediate cease-fire and safe deliveries of humanitarian aid for Gazans. He also canceled a previously planned trip to Israel. Reuters
7. Hurricane Otis slams Acapulco after record-fast intensification
Hurricane Otis tore through Mexico's Pacific beach resort town of Acapulco on Wednesday after strengthening from a tropical storm to a Category 5 hurricane in about 12 hours, faster than any storm ever in the Pacific. Otis hit Acapulco with top sustained winds of 165 miles per hour. Such "explosive intensification" ahead of a strike on a major urban area is among the "nightmare weather scenarios becoming more likely in a warming #climate," UCLA climate scientist Daniel Swain posted on social media. The storm caused landslides, power outages and damage to hotels and other buildings, then quickly dissipated. The full extent of the damage was unclear because all communications were cut. SFGate, The Weather Channel
8. Clarence Thomas' RV loan forgiven, Senate Democrats report
Supreme Court Justice Clarence Thomas borrowed $267,230 from a wealthy friend to by his 40-foot luxury RV and failed to pay a "significant portion," if any, of the principal before the lender forgave the loan, according to a report by Democratic Senate Finance Committee members. Thomas did make an undetermined number of interest payments. The Senate investigated after The New York Times reported in August that Thomas bought a Prevost Marathon Le Mirage XL, like those used by touring rock bands, from longtime friend Anthony Welters, a health care tycoon, but did not report the "discharge of indebtedness" as income, as ethics rules and the Internal Revenue Service require. Thomas did not immediately respond to the Times' requests for comment. The New York Times
9. Russia rehearses 'massive' nuclear strike
Russia has rehearsed a "massive" nuclear strike to test its capability to deliver a "response to an enemy nuclear strike," the country's defense minister, Sergei Shoigu, said. Russian state TV broadcast video of Shoigu briefing President Vladimir Putin about the drill. The exercise came immediately after Russia's parliament on Wednesday rescinded its ratification of a nuclear test ban treaty signed in 1996. The treaty bans testing of nuclear warheads, but the drill was the kind of nuclear readiness simulation that Russia and the United States conduct regularly. Moscow usually holds its tests in late October. This year, the exercises included "practical launches of ballistic and cruise missiles," the Kremlin said. BBC News, Newser
10. Nashville police chief's son, wanted in police shootings, dies
John Drake Jr., the estranged son of Nashville Police Chief John Drake, was found dead of a self-inflicted gunshot wound Wednesday after he allegedly fled pursuing officers in a stolen car. The younger Drake was wanted on suspicion of shooting and wounding two police officers in nearby La Vergne on Saturday. Chief Drake said he was "heartbroken and saddened" by the loss of his son. "It was my prayer that no harm would come to him or anyone else," he said. A Nashville police spokesperson said the younger Drake stole a car at gunpoint from a home near downtown late Tuesday after the residents refused to give him a ride. Officers spotted and chased him. He crashed and ran to a shed, where he reportedly shot himself. The Associated Press

Continue reading for free
We hope you're enjoying The Week's refreshingly open-minded journalism.
Subscribed to The Week? Register your account with the same email as your subscription.