10 things you need to know today: September 26, 2023
Congress returns to work with shutdown looming, Ukraine says it killed Russia's Black Sea Fleet commander, and more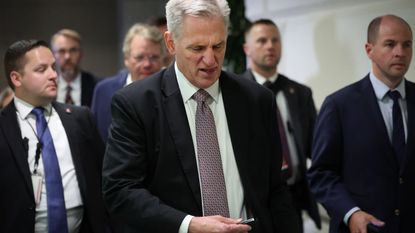 (Image credit: Kevin Dietsch / Getty Images)
1. Congress returns with shutdown looming
Congress returns to work Tuesday with a potential government shutdown days away. The Democratic-controlled Senate will work on a short-term proposal to keep federal agencies open after funding runs out Sept. 30. The Republican-controlled House will consider annual funding bills with deep spending cuts that far-right lawmakers are demanding but stand no chance of passing. By week's end, House Speaker Kevin McCarthy (R-Calif.) could have to decide between holding a vote on a bipartisan Senate stopgap bill, risking his speakership, or appeasing hardliners in the conservative House Freedom Caucus by allowing a shutdown, several lawmakers told The Washington Post. The Washington Post
2. Ukraine says it killed Russia's Black Sea Fleet commander
Ukraine's military said Monday it killed Russia's Black Sea Fleet commander in Crimea. If confirmed, the attack would be among the most damaging since Ukraine sank Russia's Black Sea flagship last year, The New York Times reported. The strike reportedly hit a meeting of Russian commanders, killing Adm. Viktor Sokolov and 33 other officers and wounding 105 people. Ukraine has recently increased attacks in Crimea, a peninsula Russia illegally annexed in 2014 and uses as a military logistics and staging hub since invading Ukraine last year. In another morale booster for Ukrainian forces, President Volodymyr Zelenskyy announced Monday that Ukraine had received its first U.S.-made M1 Abrams advanced tanks. The New York Times, The Wall Street Journal
3. Menendez says cash at house was from savings, not bribes
Sen. Bob Menendez (D-N.J.) on Monday repeated his refusal to resign over federal corruption charges, saying the roughly $500,000 investigators found at his house was savings from lawful income, not bribes. He said he kept the stash for emergencies. Menendez, the powerful chair of the Senate Foreign Relations Committee, said he recognized he faced "the biggest fight yet" but would "be exonerated" of the charges he illegally accepted cash and gold in exchange for helping Egypt and New Jersey business associates. Prosecutors say Menendez shared non-public information with Egyptian military and intelligence officials and ghostwrote a letter urging colleagues to release $300 million in aid to Egypt. The Associated Press
Subscribe to The Week
Escape your echo chamber. Get the facts behind the news, plus analysis from multiple perspectives.
SUBSCRIBE & SAVE
Sign up for The Week's Free Newsletters
From our morning news briefing to a weekly Good News Newsletter, get the best of The Week delivered directly to your inbox.
From our morning news briefing to a weekly Good News Newsletter, get the best of The Week delivered directly to your inbox.
4. Ford stops work at $3.5 billion EV plant
Ford on Monday halted work on a $3.5 billion electric vehicle battery plant that CEO Jim Farley and Michigan Gov. Gretchen Whitmer (D) said last year would create 2,500 jobs. Whitmer, state lawmakers and local officials promised $1.7 billion in public subsidies for the project, which aimed to produce low-cost batteries. But some local residents objected, and Republicans criticized the project because Ford planned to use Chinese technology. The automaker did not say why it was pausing the project, which comes as Ford, Stellantis and General Motors contend with a limited, unpredictable United Auto Workers strike. Ford spokesperson T.R. Reid told the Detroit Free Press the company remained confident it could "competitively operate the plant." Detroit Free Press, Politico
5. Newsom signs 3 LGBTQ support bills after controversial veto
California Gov. Gavin Newsom (D) signed three bills intended to support LGBTQ youths a day after his controversial veto of a measure that would have required judges in custody disputes to consider whether parents have affirmed their children's gender identity. The three bills he signed set implementation timelines for public school staff to get LGBTQ cultural competency training, establish a task force to identify LGBTQ students' needs, and require courts to keep gender identifier changes confidential. "These measures will help protect vulnerable youth, promote acceptance and create more supportive environments in our schools and communities," Newsom said. The Hill
6. 1st Lahaina residents return to homes burned in Maui wildfire
Residents of Lahaina, the historic Maui town destroyed by a deadly Aug. 8 wildfire, were able to start returning to their homes Monday. The first group of 23 property owners who picked up permits to go back were those with property above Wahikuli Wayside Park, one of the first neighborhoods cleared of toxic debris after the fire raced through the coastal town, killing at least 97 people. The area is near the Lahaina Civic Center, where President Biden talked with survivors on his Aug. 21 visit to Hawaii. Darryl Oliveira, interim administrator of the Maui Emergency Management Agency, said authorities hope to let more people return soon, but the Environmental Protection Agency has final say. Honolulu Star-Advertiser
7. Work begins to raise Mississippi saltwater barrier
Crews started work Monday to raise a saltwater barrier in the lower Mississippi River to slow saltwater pushing into water supplies around New Orleans. The goal is to elevate the earthen barrier in Plaquemines Parish by 25 feet above the height the Army Corps of Engineers built it to in July, corps officials said Monday. But experts warned that the earthen sill, which serves as an underwater dam, is only slowing the progress of saltwater upriver, and it could reach freshwater intakes in Belle Chasse, Louisiana, by mid-October. The water supply of about 8,000 Plaquemines residents has already been infused with saltwater, Plaquemines council member Mitch Jurisich said. "It's been a horrible experience." Nola.com
8. Canada House speaker faces calls to resign
Canadian opposition politicians on Monday called on Anthony Rota to resign as speaker of the House of Commons for inviting a man who fought for a Nazi World War II military unit to a speech by Ukrainian President Volodymyr Zelenskyy. Canada's House of Commons issued an apology on Sunday for giving the man, 98-year-old Yaroslav Hunka, a standing ovation when Rota called attention to him, calling him a "hero," immediately following a Friday address by Zelenskyy in the chamber. Prime Minister Justin Trudeau said the incident was "extremely upsetting" and "deeply embarrassing" to Parliament and all Canadians. Rota apologized twice but has not indicated he will step down. The Associated Press
9. Report: Antarctica sea ice levels hit record low
Sea ice levels around Antarctica hit record lows this winter, the U.S. National Snow and Ice Data Center (NSIDC) said Monday. Antarctic sea ice covered 6.55 million square miles when it peaked on Sept. 10, about 385,000 square miles less than the previous record and the lowest winter maximum since satellite records began in 1979, according to the NSIDC. "It's not just a record-breaking year, it's an extreme record-breaking year," said NSIDC senior scientist Walt Meier. Researchers warned that the decline could hurt animals like penguins, who breed and raise their young on sea ice. It will also reduce the reflection by white ice of sunlight back into space, contributing to global warming. Reuters
10. Costco offers members online health care
Costco on Monday started offering members online health checkups and other outpatient care through a partnership with the health care marketplace Sesame. Members will be able to get an online primary care visit for $29, a checkup with a lab panel and provider follow-up for $72, or an online mental health visit for $79. Sesame doesn't accept health insurance. It caters to people without coverage or those with high deductibles who would rather pay cash for basic care. Costco is one of several major retailers, including Amazon, offering customers health care as a way to "tap into the $4.3 trillion U.S. health care market to broaden their revenue and deepen relationships with customers," Bloomberg reported. CNN, Bloomberg

Continue reading for free
We hope you're enjoying The Week's refreshingly open-minded journalism.
Subscribed to The Week? Register your account with the same email as your subscription.