The Trump Dictionary: Silver-tongued wordsmith or 'mentally deranged dotard'?
Although labelled with a peculiar 14th century insult, the President is more than capable of wielding his own baffling vocabulary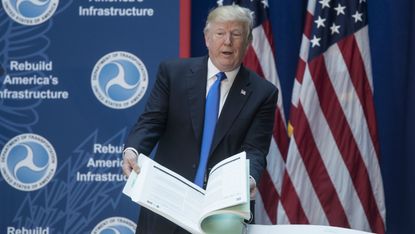 (Image credit: Michael Reynolds / Getty Images)
Sign up to our 10 Things You Need to Know Today newsletter
A free daily digest of the biggest news stories of the day - and the best features from our website
Thank you for signing up to TheWeek. You will receive a verification email shortly.
There was a problem. Please refresh the page and try again.
After Donald Trump's fiery and "weird" address to the UN on Tuesday in which he threatened to "totally destroy" the North Korean regime, Kim Jong-un has hit back with a rather stark rebuttal, promosing to "surely and definitely tame the mentally deranged US dotard with fire".
Either a wondrously audacious effort to showcase Kim Jong Un's propensity for 14th century insults or just a slightly errant mistranslation, the usage of the word "dotard" - meaning "an old person, especially one who has become weak or senile" - has left the media both confused and fascinated.
However, it is possible that Kim Jong Un's accidental eloquence has left him one step ahead of Trump in the rhetoric game, considering the US president has a rather unfortunate habit of using speeches and tweets to make up words. Here are some of his most notable:
Subscribe to The Week
Escape your echo chamber. Get the facts behind the news, plus analysis from multiple perspectives.
SUBSCRIBE & SAVE
Sign up for The Week's Free Newsletters
From our morning news briefing to a weekly Good News Newsletter, get the best of The Week delivered directly to your inbox.
From our morning news briefing to a weekly Good News Newsletter, get the best of The Week delivered directly to your inbox.
Bigly
Way back before Trump's shock election victory, the media took aim at Trump after a campaign speech in May 2016, in which Trump said: "We're not going to lose. We are going to start winning again and we're going to win bigly."
Trump is alleged to have repeated the phrase during a particularly hostile leaders debate versus Hillary Clinton in September the same year. "I'm going to cut taxes bigly, and you're going to raise taxes bigly," Trump supposedly said.
However, others are not so sure, attesting that Trump may have been saying "big league", meaning "at the top level", rather than "bigly".
Some are also convinced that "bigly" is a legitimate word, but others claim it is highly archaic and appears in too few dictionaries to be considered usable.
Braggadocious
Unfortunately for all the Trump afficionados who felt a deep sense of pride in his usage of a word longer than three syllables, "braggadocious", a term that popped up in the same Trump vs Clinton debate as "bigly", is not a word.
"I wrote the Art of the Deal. I say that not in a braggadocious way," said Trump, bristling with braggadocio, the word Merriam-Webster Dictionary claims he was looking for:
Braggadocio is "the annoying or exaggerated talk of someone who is trying to sound very proud or brave", but it is a noun, and Trump's clumsy usage of an adjective form of the word was enough to prompt an entire written statement from Merriam-Webster.
"Donald Trump has used braggadocious previously, in earlier debates," the statement read. "The word is not common enough to merit an entry in our dictionary."
Nambia
This week, the proud citizens of Nambia will surely be pleased with Trump's public approval of their country's "increasingly self-sufficient" healthcare system on Wednesday. Or perhaps they would be if they existed.
The most recent entry in our list, "Nambia" reared its head during a speech at a lunch for a delegation of African leaders at the United Nations in New York City.
Commentators and the public alike traded words over which country he had actually meant to refer to, the shortlist of which included Namibia, Zambia, The Gambia, or perhaps Narnia.
Those who claimed that it was a forgivable slip of the tongue were left with their heads in their hands - John Kelly style - after Trump then repeated the name of the made-up country a couple of minutes later, before unironically telling African leaders that he has "so many friends who are going to your countries to get rich".
The White House press team later published a transcript of the speech, which showed Trump had meant to say Namibia.
Unpresidented
In December, Trump sent out a rather provocative tweet accusing China of stealing US military equipment. However, rather than being concerned at the lack of diplomatic decorum, most people were instead drawn to a particular word Trump had used.
"China steals United States Navy research drone in international waters," he tweeted. "Rips it out of water and takes it to China in unpresidented act."
"Unpresidented" - a misspelling of "unprecedented" - is a far cry from finding its way into any dictionaries, but, as many pointed out, the error was rather apt.
Nominated as the site's "Word of the Year" for 2016, The Guardian listed a few possible definitions for "unpresidented", such as:
"An instance of someone being prepared to say what most of us are thinking, but actually saying things most of us are not thinking."
"Feeling of loss when a president who has neither the temperament nor the knowledge to actually be president is elected president, causing one to wonder who will actually be running the country and triggering feelings of malaise and dread."
"An irrecoverable act of folly committed by a president."
Trump's tweet was later deleted and replaced with a revision containing the correct spelling of "unprecedented".
Covfefe
No list of this nature would be complete without the most famous - and perhaps the most baffling - Trumpism to date.
On 31 May this year, Trump published a tweet saying, in its entirety: "Despite the constant negative press covfefe."
Though the tweet was deleted a few hours later, its brief time in the public eye was more than enough, and "covfefe" became an internet sensation as users scrambled to make sense of this cryptic tweet:
The following day, then-White House press secretary Sean Spicer claimed that "the president and a small group of people know exactly what he meant" by the tweet. Despite the rather outlandish claim by Spicer regarding what was almost certainly a simple typo, journalists present at the time appeared concerned that Spicer was not actually joking.
Later that day, Trump exhibited a rare moment of self-deprication by publishing a followup tweet:
The true meaning of "covfefe" remains a mystery.
Continue reading for free
We hope you're enjoying The Week's refreshingly open-minded journalism.
Subscribed to The Week? Register your account with the same email as your subscription.
Sign up to our 10 Things You Need to Know Today newsletter
A free daily digest of the biggest news stories of the day - and the best features from our website