Tenet reviews and trailers: what the critics think of Christopher Nolan's new blockbuster
Can the £155m sci-fi spy film save the cinema industry?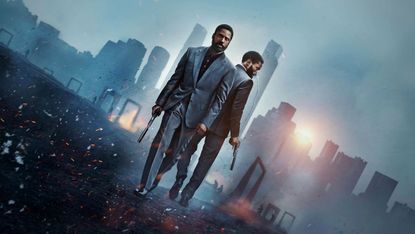 (Image credit: Warner Bros. Pictures)
When Tenet is released in UK cinemas on Wednesday, writer and director Christopher Nolan won't be the only one wishing for box office success.
Nolan's new blockbuster, which cost a reported £155m to make, is being billed as the film that could "save cinema in 2020", says BBC News.
After the coronavirus delayed its release, Tenet will be the first major film to come out since lockdown. With an industry expecting its "worst year at the box office in three decades", the Daily Mail says all eyes will now be on Britain's deserted cinemas.
Subscribe to The Week
Escape your echo chamber. Get the facts behind the news, plus analysis from multiple perspectives.
SUBSCRIBE & SAVE
Sign up for The Week's Free Newsletters
From our morning news briefing to a weekly Good News Newsletter, get the best of The Week delivered directly to your inbox.
From our morning news briefing to a weekly Good News Newsletter, get the best of The Week delivered directly to your inbox.
Nolan's previous smash hits including The Dark Knight, Inception, Interstellar and Dunkirk. Can his new thriller entice film fans back into the cinema?
Tenet: all the details
Written and directed by: Christopher Nolan
Starring: John David Washington, Robert Pattinson, Elizabeth Debicki, Dimple Kapadia, Michael Caine, Kenneth Branagh
UK cinema release date: Wednesday 26 August
Distributed by: Warner Bros. Pictures
Running time: 150 minutes
The storyline
"John David Washington is the new Protagonist in Christopher Nolan's original sci-fi action spectacle Tenet. Armed with only one word - Tenet - and fighting for the survival of the entire world, the Protagonist journeys through a twilight world of international espionage on a mission that will unfold in something beyond real time. Not time travel. Inversion." (Warner Bros. Pictures)
Tenet reviews: what the critics think…
'Bond without the baggage'
Alex Godfrey, Empire: "Just as with Indiana Jones, for which George Lucas persuaded Bond fan Steven Spielberg they could create their own hero instead of piggybacking on someone else's, Nolan has made his own Bond film here, borrowing everything he likes about it, binning everything he doesn't, then Nolaning it all up (ie: mucking about with the fabric of time). And while Washington - never not magnetic, every second of this film - isn't a suave playboy in the slightest, he has the swagger - and the odd wisecrack."
'Frankly, there's a lot to get your head around'
Will Gompertz, BBC: "In terms of spectacle, Tenet delivers. The stunts, the camera work and the scale are impressive. As is Nolan's appetite to use blockbuster entertainment as a platform to seriously consider existential threats, the unconscious mind, and cutting-edge physics."
'Nolan's thriller is a palindromic dud'
Catherine Shoard, The Guardian: "Tenet is not a movie it's worth the nervous braving a trip to the big screen to see, no matter how safe it is. I'm not even sure that, in five years' time, it'd be worth staying up to catch on telly. To say so is sad, perhaps heretical. But for audiences to abandon their living rooms in the long term, the first carrot had better not leave a bad taste. If the long-awaited sci-fi from the Inception director restarts the summer of cinema it will go down as his finest hour. But Tenet is far from his finest work."
'It's hard to work out what's happening. It's harder still to care'
Donald Clarke, Irish Times: "As ever, Nolan foreswears digital trickery for meaty effects using physical objects with mass and velocity. When a 747 crashes into an airport terminal you can count on it being an actual jet (not even a model). All this delicious incident has the makings of a gung-ho entertainment - Ian Fleming as mounted by Nasa. Unfortunately that's not what we get. Even if we were brave enough to try, we would not be capable of spoiling a plot so wilfully obtuse it demands repeat viewings to disentangle."
'An original and mind-bending take on a spy movie'
Ian Sandwell, DigitalSpy: "Tenet is the big-budget canary in the coalmine and there's no doubt its release is a gamble. But before that discussion about cinema's future can even begin (or the debate about whether people should even be going to the cinema right now), there's another question that needs to be answered: is Tenet actually good? The short answer is yes, even if it's not Nolan's all-time best movie. Nolan has crafted a hell of a ride. Without getting into specifics, the action sequences are remarkable, with each one taking a classic spy situation - a heist, for instance - and putting a fresh spin on it. This is absolutely Nolan delivering his James Bond movie, only Bond never had to deal with inverted bullets."
'A bewildering assault on the senses - but it's a must-see'
Jamie East, The Sun: "It's a spectacle that deserves to be seen in the best place possible (if you have an Imax near you, book it). But it's on a basic creative level that the film starts to fall apart. Admittedly, this could be Nolan's masterstroke - make Tenet so damned confusing and difficult to follow, you have no choice but to watch it more than once - but I doubt even he would take that risk."
'Killing time'
Matt Purslow, IGN: "It's when Tenet brings the camera close to its subjects, though, that its ideas really manifest into something special. One sequence involves leading man John David Wahsington fighting hand-to-hand, but his assailant is moving in reverse. This creates an oddly unsettling effect; the enemy combatant writhes and jerks in unnatural ways, making for something that's almost a militarised Twin Peaks scene. It's in sequences like this that Tenet's time concept is most impressive, rather than its reversed car crashes or time-synced explosions."
'Don't try to understand it, feel it'
Jessica Kiang, The New York Times: "For once, spoiler sensitivity might be the reviewer's luckiest break, absolving me of even attempting an explanation of a plot so contorted it's best not to worry about it. Even the scientist played by Clémence Poésy, here exclusively to deliver exposition, eventually cops out. 'Don't try to understand it, feel it' is the best advice anyone offers."
'Almost impossible to love'
Leslie Felperin, The Hollywood Reporter: "If it seems like this review is shying away from describing the plot, that's not just out of concern to avoid spoilers. I watched the movie twice for this review, and still feel very confused about what is supposed to be going on and why. Altogether, it makes for a chilly, cerebral film - easy to admire, especially since it's so rich in audacity and originality, but almost impossible to love, lacking as it is in a certain humanity."

Continue reading for free
We hope you're enjoying The Week's refreshingly open-minded journalism.
Subscribed to The Week? Register your account with the same email as your subscription.