F1 Chinese GP reactions: Hamilton and Bottas secure another Mercedes one-two
Silver Arrows dominate the drivers' and constructors' standings after three races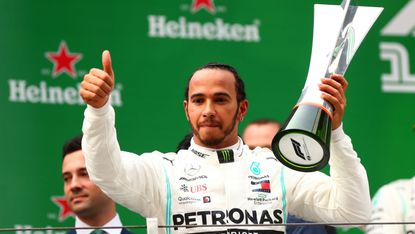 (Image credit: Dan Istitene/Getty Images)
Lewis Hamilton took the chequered flag at the Formula 1 Chinese Grand Prix as Mercedes secured their third successive one-two from the opening three races of the 2019 season.
Hamilton finished ahead of Mercedes team-mate Valtteri Bottas at the Shanghai International Circuit on Sunday in F1's 1,000th world championship race.
Ferrari's Sebastian Vettel was third in China, Red Bull's Max Verstappen was fourth and Vettel's team-mate Charles Leclerc was fifth. When in third place on lap 11 Leclerc was ordered by his Ferrari bosses to let Vettel pass.
Subscribe to The Week
Escape your echo chamber. Get the facts behind the news, plus analysis from multiple perspectives.
SUBSCRIBE & SAVE
Sign up for The Week's Free Newsletters
From our morning news briefing to a weekly Good News Newsletter, get the best of The Week delivered directly to your inbox.
From our morning news briefing to a weekly Good News Newsletter, get the best of The Week delivered directly to your inbox.
In Shanghai Pierre Gasly was sixth for Red Bull and also secured the extra point for the fastest lap. Renault's Daniel Ricciardo was seventh - the Australian's first finish of the season for his new team. Despite starting from the pit lane Toro Rosso's Alex Albon finished tenth.
British star Hamilton, the reigning F1 world champion, now leads the 2019 drivers' standings with 68 points. Bottas has 62 and Red Bull's Verstappen is third on 39. Ferrari duo Vettel and Leclerc have 37 and 36 points respectively.
In the constructors' championship Mercedes have 130 points from three races. Second-placed Ferrari are on 73 points and third-placed Red Bull have 52.
Chinese GP top ten
1. Lewis Hamilton (Mercedes)
2. Valtteri Bottas (Mercedes)
3. Sebastian Vettel (Ferrari)
4. Max Verstappen (Red Bull)
5. Charles Leclerc (Ferrari)
6. Pierre Gasly (Red Bull)
7. Daniel Ricciardo (Renault)
8. Sergio Perez (Racing Point)
9. Kimi Raikkonen (Alfa Romeo)
10. Alex Albon (Toro Rosso)
Chinese GP reactions
What the drivers said in Shanghai
Lewis Hamilton, Mercedes, P1: "It's not been the most straightforward of weekends but what a fantastic result for the team. Everyone has worked so hard. We didn't know where we would stand with the Ferraris, they were so quick in the last race. Valtteri was quick all weekend, he did a great job, and to have a one-two together is really special on the 1,000th GP."
Valtteri Bottas, Mercedes, P2: "I lost it at the start. The car was feeling OK and otherwise the pace was similar. In the dirty air I couldn't follow. Shame about the start, I got some wheel spin when I went over the start-finish line and I lost it there. It's early days in the season, things are looking good for the team. It's not a nice feeling, I'm coming back."
Sebastian Vettel, Ferrari, P3: "I'm happy to be on the podium. We tried to stick with them but we couldn't, they were too quick right from the start. I had a bit of a race with Max which was good fun. But the objective was to chase Mercedes down but they were just too quick. We'd have loved to be a bit faster. I felt I could go faster [than Charles] but it was a bit difficult for me to find a rhythm and locked up, losing the advantage I gained. I think it's fair if you see the whole race that we were just not able to stick with Mercedes. It's a shame he couldn't catch Max at the end. Plenty of homework for us. It's a good result but not a great result."
Max Verstappen, Red Bull, P4: "I think there was not much in it. I was pushing hard to stay with them. As a team we did well to undercut a Ferrari so we maximised the result. So far every weekend has been a bit of a guess on how you are doing and what is going on. I had a good battle with Seb but after that we didn't have the pace to fight so I settled for fourth."
Charles Leclerc, Ferrari, P5: "I had a good start then it went a bit messy. I need to understand the full picture with Seb and spend some time with the engineers - there must be a good reason behind this decision. Overall I've not been as strong as I wanted this weekend, today was not a good day but we will come back stronger. I need to look at the data and speak with the engineers, I don't want to make any silly comments. If you look at my own race we pitted early, if you look at the team race we pitted at the right time to slow Mercedes down."
Pierre Gasly, Red Bull, P6: "I'm happy to get my first fastest lap. We had a free pitstop and decided to go for it. Slowly the feeling is improving inside the car."
Daniel Ricciardo, Renault, P7: "It's good to get on the board, finish the race and have my first points with the team. We'll take the positives from that. It might have looked a simple seventh, but it wasn't easy. It was a bit of a lonely race, I didn't have so many battles but I was being pushed hard from the cars behind all the way to the end. It's a strong result and the best we can ask for; at least for today. We want to push on from this over the next couple of races and keep working from here."
Sergio Perez, Racing Point, P8: "I'm very happy to score four points today. The start was fantastic: I saw a gap, went for it and it paid off. Our race pace was good: we were able to maintain the pace and manage the tyres well. It wasn't an easy race, though, because I was under pressure from Kimi [Raikkonen] for most of the second stint, which made it more difficult to look after the tyres and keep up the pace. It was the same with Daniel [Ricciardo] ahead of me - I think he was working hard to manage his tyres because every time I got close to him he found the pace to pull away again. This was never going to be our strongest track so it's important to take opportunities such as today and keep scoring points. I think we have the potential to be stronger at the next race in Baku."
Lance Stroll, Racing Point, P12: "Today could have been better. We were in front of [Alex] Albon before the first stop and then he undercut us by one lap and finished in the points, so it's a bit of a shame. We could have been more proactive, because we didn't have anyone immediately in front of us. I think it was Sergio [Perez] or [Kimi] Raikkonen ahead at the time, about five seconds up the road, so we weren't really fighting anyone in front and we had Albon three seconds behind. It was just a classic undercut. It's disappointing, because once that happened we were in his dirty air and it was tough to overtake. We tried an extra stop at the end and got past [Kevin] Magnussen to finish P12, but it could have been more. Our race pace was not bad but we just need to look at the strategy, because I think we may have been able to pick up a point today."
George Russell, Williams, P16: "The pace was slightly better than expected, we were battling in the opening couple of laps and we managed to stay with the pack. Once things settled down, the gaps started to open, and it was a fairly lonely race for me. We were struggling with the tyres in the middle stint of the race, and the lap times were dropping off, so it was the right choice to pit for a second time. At the end of the day this is where we are at the moment, we must keep pushing and keep working."
Robert Kubica, Williams, P17: "There was not a lot to say today to be honest. The most exciting moment of the race for me was when I spun on the formation lap. I tried to put heat into the tyres and I lost the car going slow in turn six. I then had a good start and I went to the inside line but honestly, I didn't want to risk anything. I was close to one of the Racing Points and I was on the inside and I didn't know if he would tighten the line, so I left enough space and lost two places there. It is difficult to risk something when you know the pace will be what it will be."
Lando Norris, McLaren, did not finish: "My first DNF in Formula 1... it was disappointing but it would've been nice to do another race. Not what we liked or hoped for but the only positive was looking at Carlos' pace after the incident, so the potential pace is there to hope for. It was a lonely race so I would've liked to have had a bit more fun."
Nico Hülkenberg, Renault, did not finish: "It's clearly a very disappointing race for us today. It was a difficult start to the race, I lost a position and it was tough following cars ahead. We pitted and came out in some traffic, but then I felt a loss of power. We tried our best to fix it out there as it looked like a software issue, but it wasn't possible and we had to park up. We're looking into the issue, but it looks like an MGU-K related problem. We have things to work on ahead of the next race, but we will look at everything in detail and come back stronger."
Team principal reactions
Toto Wolff, Mercedes: "It took us by surprise, even pace on the Friday we didn't think it was possible to control it in that way. I'm very proud and very happy for the team. Their [Ferrari] power is superior on the straight. Our car is maybe a bit draggier than theirs so on the power we need to leave no stone unturned. But in terms of managing tyres, downforce helps. You'd rather get out fast than not run behind. We have some good stuff coming on the cars, we believe the development direction is right. It's a very special win and it feels special."
Mattia Binotto, Ferrari: "Mercedes have been fast all weekend, and they proved to be faster today. From one race to another the situation changes and it seems each single race is different. We don't have an idea as to why we can't replicate their speed but we need to get back to Marinello and look at the data. I understand the feeling for Charles but at that point in the race Mercedes were faster and we tried to give Seb the best opportunity. It wasn't to give one driver an advantage. If Charles is upset he is right to be upset and we should accept it."
Christian Horner, Red Bull: "Good strategy, managed to nick a place ahead of Ferrari. They were probably a bit quicker in the race but I think strategy got us that position. Max has driven the wheels off the car all afternoon and good to nick fastest lap off Sebastian right at the end with Pierre. Points mean prizes. At the end of the year they all add up. It was a free stop. Pierre still had to deliver it and it was a good lap."
Cyril Abiteboul, Renault: "We can be pleased that Daniel opened his points-scoring account with us this weekend. He drove an intelligent race to conserve the tyres on a one-stop strategy, which we had to adopt to maintain position despite the challenge of starting on the soft tyres. Nico, unfortunately, retired with an MGU-K related problem that we will investigate further after this weekend. We will look at the weekend as a whole and our focus switches to the next race."
The next F1 GP takes place on Sunday 28 April in Azerbaijan. The race at the Baku street circuit will start at 1.10pm (UK time).

Continue reading for free
We hope you're enjoying The Week's refreshingly open-minded journalism.
Subscribed to The Week? Register your account with the same email as your subscription.