The week's good news: March 14, 2019
It wasn't all bad!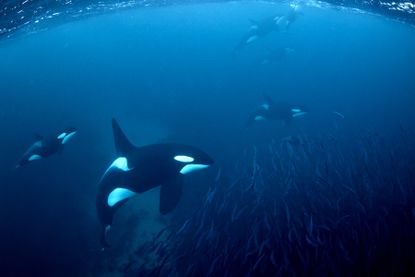 (Image credit: Rasmus-Raahauge/iStock)
1. Scientists believe they found a new species of orca
For the first time ever, scientists found and studied the mysterious Type D killer whale in the wild. Robert Pitman with the National Oceanic and Atmospheric Administration told National Geographic it's "highly likely" these animals, spotted in January in the stormy waters off the coast of Cape Horn, Chile, are a new species of orca. Type D killer whales have proven elusive; experts had never seen any live and had to rely on amateur photos and descriptions from fishermen. They studied a pod of roughly 25 Type D killer whales, and using a safe method, took a small piece of blubber and skin from one of the animals to test its DNA. Pitman says these orcas have been hard to study because they live in subantarctic waters. "If you're a large animal trying to hide from science, that's exactly where you'd want to do it," he said.
2. The 'Trashtag Challenge' encourages people to pick up litter wherever they go
It doesn't matter if you're walking through your neighborhood or at the beach on vacation — the "Trashtag Challenge" can be done anywhere, at any time. The challenge is simple: Armed with garbage bags, people choose a spot and get to work picking up litter from the area. Once they're done, they upload before-and-after photos on social media, using the hashtag #trashtag. Over the weekend, the challenge went viral, with users from around the world showing the massive amounts of trash they cleaned up from parks, beaches, hiking trails, roads, and schools. Some said they did it as part of their birthday celebrations, others while they were on road trips or just looking for something to do.
Subscribe to The Week
Escape your echo chamber. Get the facts behind the news, plus analysis from multiple perspectives.
SUBSCRIBE & SAVE
Sign up for The Week's Free Newsletters
From our morning news briefing to a weekly Good News Newsletter, get the best of The Week delivered directly to your inbox.
From our morning news briefing to a weekly Good News Newsletter, get the best of The Week delivered directly to your inbox.
3. Dad gets a sweet surprise after son tweets about his new doughnut shop
A proud son has turned his father's small Texas doughnut shop into a worldwide sensation. Satharith By opened Billy's Donuts in Missouri City earlier this month. On Saturday, the shop was empty, and his son Billy By decided to send a tweet to drum up some business from family and friends. "My dad is sad cause no one is coming to his new donut shop," he wrote, adding a crying emoji. Almost immediately, people began responding, promising to come down as quickly as possible. Customers were soon lining up to buy doughnuts and kolaches, pastries filled with fruit or cheese, and Billy's Donuts has been selling out ever since. People from around the world have shared Billy By's message, and he tweeted his appreciation, saying: "You all are amazing. I can't thank everyone enough for coming out and supporting local businesses. This means so much to my family."
4. Man finally receives telegram congratulating him on his graduation — 50 years later
The telegram arrived on May 2, 1969 — one day too late. Robert Fink had just graduated from the University of Michigan, and friends Ben and Lillian Fischman sent a telegram congratulating him. Fink had moved out a day earlier, heading to New York for graduate school, and the telegram was placed in a filing cabinet. That cabinet is now owned by a marketing company in Ann Arbor, and an employee found the crumpled message. Thinking that Fisk saw the telegram 50 years ago and would like it back, she tracked him down. Now a psychologist, Fink told the Ann Arbor News he's "touched" the Fischman family thought to send their well wishes. He's recently heard from several people he lost touch with, and thinks "the theme for me has been that the long arm of the past is reaching out and grabbing me, and I should take it seriously."
5. Vermont town elects goat named Lincoln as its honorary mayor
Residents of Fair Haven, Vermont, weren't kidding when they elected a Nubian goat named Lincoln as mayor. With 13 votes, Lincoln eked out a victory over Sammie the dog, who received 10 votes. As the town's first honorary pet mayor, Lincoln will attend events throughout the year and already has plans to march in a parade on Memorial Day. Fair Haven is home to 2,500 people and does not have a human mayor. Town Manager Joseph Gunter heard about a town in Michigan that voted for an honorary pet mayor, and he thought it would be fun to do the same thing. For $5, residents could enter their pets in the race, with every dollar going toward the building of a community playground. Not only was $100 raised, Gunter told The Associated Press, but it was also "a great way to introduce the elementary school kids to local government."

Continue reading for free
We hope you're enjoying The Week's refreshingly open-minded journalism.
Subscribed to The Week? Register your account with the same email as your subscription.