Instant Opinion: PM suffers 'car crash' Supreme Court ruling
Your guide to the best columns and commentary on Tuesday 24 September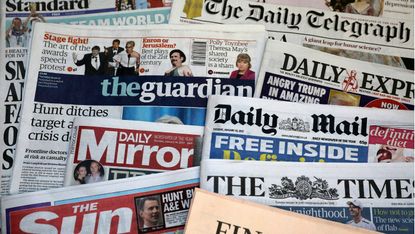 The Week's daily round-up highlights the five best opinion pieces from across the British and international media, with excerpts from each.
1. Daniel Finkelstein in The Times
on the Supreme Court dealing Boris Johnson a disastrous blow
Subscribe to The Week
Escape your echo chamber. Get the facts behind the news, plus analysis from multiple perspectives.
SUBSCRIBE & SAVE
Sign up for The Week's Free Newsletters
From our morning news briefing to a weekly Good News Newsletter, get the best of The Week delivered directly to your inbox.
From our morning news briefing to a weekly Good News Newsletter, get the best of The Week delivered directly to your inbox.
This is a car crash, not just a bump in the road
"The government may be tempted to see this judgment as a bump in the road, just a minor skirmish in a bigger battle. It should resist this temptation. This is a car crash not a bump, a rout not a skirmish. The government will have to accept the disciplines — the law and the parliamentary majority — that this case imposes on it. It will have to reconsider its plans on an extension and on leaving with no deal as a result. It may, of course, legally be able to prorogue again but it will no longer be able insouciantly to say that the law doesn't matter because there are always loopholes. And this — far more than anything parliament might do if it meets — will have its impact on the Brexit outcome."
2. Patima Tungpuchayakul in the South China Morning Post
on the unsustainable and deadly fishing industry in Southeast Asia
Slavery on the high seas: how Southeast Asia can end forced labour on fishing boats
"Firstly, we ask that companies establish an industry-wide no-slavery policy. Measures are under way in this direction, such as the Royal Thai government's efforts to ensure workers have available means of onshore contact and that a minimum age applies for all trawler workers, which have been acknowledged in the latest US Trafficking in Persons report. But we, as consumers and stakeholders, need greater transparency and accountability from companies in the sector, particularly the bigger ones who have greater influence and can lead the way. Secondly, we ask for support from donors to assist us in our work in freeing captured slaves and in helping them back into a normal life."
–––––––––––––––––––––––––––––––For a weekly round-up of the best articles and columns from the UK and abroad, try The Week magazine. Get your first six issues for £6–––––––––––––––––––––––––––––––
3. Jen Psaki in CNN
on a climate change activist taking the UN by storm
Greta Thunberg's unforgettable message
"She is not seeking fame or fortune, stating clearly at the beginning of her remarks, 'I shouldn't be up here. I should be back at school on the other side of the ocean.' She is angry and she wants action. Thunberg put a face and a voice to the generation who will suffer. She called on the world leaders sitting in the room and those watching to do better. 'The eyes of all future generations are upon you. And if you choose to fail us, I say we will never forgive you.' She was an important reminder of the power of one voice. We don't need to look further than the complete meltdowns of climate deniers to know she struck a nerve. But let's hope her words also encouraged those who see the evidence and know the truth to act now."
4. Anshel Pfeffer in The Atlantic
on the death of a once-blossoming bromance
Benjamin Netanyahu is no longer Israel's indispensable leader
"Netanyahu, having lost an election, was still arguing he was Israel's indispensable statesman. Trump did not call this time, and Netanyahu's office announced he would not be attending the UN General Assembly. Hours later, Trump told reporters in Los Angeles, "Look, our relationship is with Israel. We'll see what happens." Of all people, Trump had dumped Netanyahu's brand of personal politics. No more gestures would be coming. Many factors led to Israelis voting against Netanyahu last week. But when the story of his final days of leadership is written, it will be remembered that Netanyahu built his political strategy around whoever was in the Oval Office, and when Netanyahu needed the president's support most, he was abandoned."
5. Stefan Stern in The Guardian
on how inequality brought down a British institution
Yes, businesses fail. But Thomas Cook's bosses ignored the brutal facts
"The pain of liquidation will not be felt so severely by those Thomas Cook executives who have done rather well for themselves in the past few years. Almost £20m has been paid out in bonuses. The chief executive, Peter Fankhauser, has been paid more than £8m over the past five years, including a bonus of £2.9m four years ago. With hindsight, this 'performance related' bonus may have been a bit too generous and premature. Lots of things combined to bring the company down. An old business model, with expensive to run high-street branches, could not compete in the age of the internet – when customers try to find their own holidays online. A hot summer last year was blamed for putting off potential customers, and Brexit uncertainty may have encouraged many Brits to rediscover the joys of holidaying at home."

Continue reading for free
We hope you're enjoying The Week's refreshingly open-minded journalism.
Subscribed to The Week? Register your account with the same email as your subscription.