Instant Opinion: 'now is the time to defend Julian Assange'
Your guide to the best columns and commentary on Monday 24 February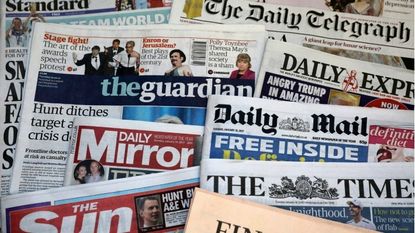 (Image credit: TOLGA AKMEN/AFP via Getty Images)
The Week's daily round-up highlights the five best opinion pieces from across the British and international media, with excerpts from each.
1. James Ball on Huffpost
on the need to defend the controversial WikiLeaks founder
Subscribe to The Week
Escape your echo chamber. Get the facts behind the news, plus analysis from multiple perspectives.
SUBSCRIBE & SAVE
Sign up for The Week's Free Newsletters
From our morning news briefing to a weekly Good News Newsletter, get the best of The Week delivered directly to your inbox.
From our morning news briefing to a weekly Good News Newsletter, get the best of The Week delivered directly to your inbox.
Now Is The Time To Defend Julian Assange. Even If You Don't Like Him
"Assange does not cut a sympathetic figure. He is easy to dismiss as a hacker, or an anti-US figure, or even as a 'Russian stooge', thanks to some of his associates and his willingness to work with the broadcaster Russia Today. But we do not get to pick our figureheads – and it's in cases exactly like this that our freedoms are challenged. The current US administration has shown time and again it is willing to bypass or potentially even break laws intended to hold it accountable and make sure government is in the interests of the people."
2. Nesrine Malik in The Guardian
on the Conservative's points-based immigration system
Immigrants built Britain. Now their Conservative children are disowning them
"That is the purpose of this new skills apartheid: it creates an arbitrary way of sifting people into 'good migrants' and 'bad migrants', so that an overtly punitive regime can become even more cruel. There is no good economic justification for it, only a political one. Alighting on 'skills' as the arbiter of who is worth admitting is a clever way to give a neutral technocratic veneer to what is fundamentally ideological. In this regard, it is consistent with Conservative attitudes toward class, work and race. Under the new immigration rules, there is no use for Javid senior – but his son, who made millions at Deutsche Bank, where he constructed precarious collateralised loan obligations using emerging market government debt, is absolutely welcome."
3. Michael T. Osterholm and Mark Olshaker in The New York Times
on the continued spread of the coronavirus
Is It a Pandemic Yet?
"As chilling as it is to imagine this scenario, what happened in Wuhan, the Chinese city at the epicenter of the outbreak, will likely play out elsewhere, too. Hospitals might have to turn away all but the people most seriously ill; their ability to handle their usual load of patients with heart attacks, critical injuries or cancers may be severely compromised. In a world ill-prepared for a potentially life-threatening, easily transmitted disease like Covid-19, the most effective way to mitigate the pandemic's impact is to focus on supporting health care systems that already are overburdened."
–––––––––––––––––––––––––––––––For a weekly round-up of the best articles and columns from the UK and abroad, try The Week magazine. Start your trial subscription today –––––––––––––––––––––––––––––––
4. Kate Andrews in The Spectator
on how the success of capitalism leads to success for women
Left-wing feminism is no ally of women
"It is impossible to separate the advancements of women from the advancements of capitalism if we put aside the ugly path contemporary feminism has followed. Feminism's roots lie in the right to vote, to speak our minds, to earn money, to spend money, and to do with our bodies what we deem fit. [...] Thanks to the wealth accumulated in liberal countries, funding for medicine means pregnancy and giving birth are no longer death sentences. And women have been given new choices that include where to work, what to buy and who to trade with. As living standards rise all over the world, women rise up too."
5. Una Mullally in The Irish Times
on what comes next after Sinn Fein's shock election performance
Fine Gael and Fianna Fail must ask 'what do we stand for?'
"Having spent a campaign attacking Sinn Fein – a tactic which completely backfired – Fine Gael and Fianna Fail politicians are now continuing that failed approach. So we know what they're against, but what are they for? When Sinn Fein was garnering support in working-class communities, when it was soaking up young, politicised people in universities, when it was getting the vote out in disadvantaged areas of Dublin, when it was organising groups of lads to head out and help Repeal canvassers, where were Fine Gael and Fianna Fail? Why didn't either party notice this, and think 'wow, we better make sure they don't capture our potential voters!' Could it be that neither party really cared enough about those demographics?"

Continue reading for free
We hope you're enjoying The Week's refreshingly open-minded journalism.
Subscribed to The Week? Register your account with the same email as your subscription.