'There are already many caveats on our freedoms in the name of collective safety'
Your digest of analysis and commentary from the British and international press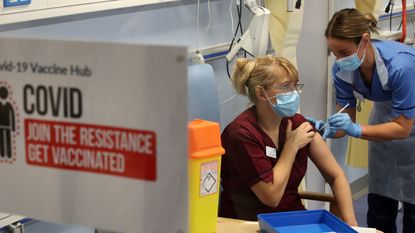 1. Vaccine certificates are vital step to freedom
Clare Foges in The Times
on post-pandemic life
The naysayers in the vaccine certificates debate "take as their motto Benjamin Franklin's line that 'those who would give up essential liberty to purchase a little temporary safety deserve neither liberty nor safety'", writes Clare Foges in The Times. But "libertarian bumper stickers are too neat to address the reality of balancing individual liberty with the public good". Foges points out that "there are already many caveats on our freedoms in the name of collective safety". For example, "you are free to drive, but only if you have a licence to show you are competent". "Being forced to do something and being excluded from opportunities for pleasure are very different things" and the latter "is hardly an assault on liberty", she concludes. "The civil libertarians' melodramatics need to be challenged, but the government has seemed a little hesitant."
Subscribe to The Week
Escape your echo chamber. Get the facts behind the news, plus analysis from multiple perspectives.
SUBSCRIBE & SAVE
Sign up for The Week's Free Newsletters
From our morning news briefing to a weekly Good News Newsletter, get the best of The Week delivered directly to your inbox.
From our morning news briefing to a weekly Good News Newsletter, get the best of The Week delivered directly to your inbox.
2. Trump's speech at CPAC was enough to haunt your most surreal fever dreams
Holly Baxter in The Independent
on the end of Trumpism
Donald Trump's speech at the Conservative Political Action Conference (CPAC) in Orlando yesterday "felt so much more like an end than a beginning, a push for the final album rather than a bold new direction", writes The Independent's Holly Baxter. As the former president babbled on about windmills and bragged that he is more popular than Ronald Reagan, "the last hardcore fans clung on until the end, their novelty hats from gigs long past perched on their heads and fraying, nodding along to the tunes they've come to know so well". And when Trump "finally wandered offstage to YMCA with a low-energy fist pump, I couldn't help but feel that CPAC was fan service at its peak for Donald", says Baxter. But now "the evangelical worshippers of the golden Donald calf" should just leave this 74-year-old man to retire in peace.
3. The culture war is a power struggle for institutions
Tim Stanley in The Daily Telegraph
on confected conflict
The culture war "isn't about free speech and never was", writes Tim Stanley in The Telegraph. "In reality, the war is about power. Who controls institutions and what they do with it. Unless you're willing to fight, and use every trick in the book to win, you'll get rolled over." As the row over free speech at universities rumbles on, Stanley admits that "frankly, I find the culture war boring, a bit confected and would prefer to ignore it". But "turning a blind eye doesn't stop it from happening, and I live in expectation of the day that the police come crashing through my front door because I was caught watching an episode of It Ain't Half Hot Mum".
4. To expand women's prisons is idiotic and inhumane. We should phase them out
Sonia Sodha in The Guardian
on petty criminals
"Prison sentences are most appropriate for dangerous and violent crimes," says Sonia Sodha in The Guardian, "and the vast majority of those - including murder and sex offences - are committed by men." By contrast, women's prisons are sustained "on a diet of petty crimes" including "shoplifting, fraud and minor drug offences". Far from housing career criminals, they are "filled with people who should not be there: not just abuse survivors, but those with serious mental health and addiction issues". Calling for the phasing out of women's prisons, Sohda writes that "I'd love to live in a world where we can treat men and women as people, and that's the end of it". But "the very nature of our patriarchal society, in which two women a week are killed by their violent male partners, means the feminist analysis that women must be treated as women - perhaps seen as old-fashioned by some - has never been more relevant".
5. SNP civil war is damaging Scotland's ability to deal with the Covid crisis
Christine Jardine, Lib Dem MP for Edinburgh West, in The Scotsman
on the wrong battle
Christine Jardine says she "should be sitting on a train this morning, heading to Westminster with nothing political on my mind but how to persuade the chancellor to put recovery first". But instead, Scottish politics is currently dominated by "infighting, allegations and counter allegations about the internal management of the Scottish National Party (SNP)", the Liberal Democrat MP writes in The Scotsman. While the SNP play out their civil war, Scotland has been left "holding its breath to discover just what exactly will be the next step in fighting the battle which, at the moment, should be the only one that really counts. Covid."

Continue reading for free
We hope you're enjoying The Week's refreshingly open-minded journalism.
Subscribed to The Week? Register your account with the same email as your subscription.