'The next campaign to save France should start today'
Your digest of analysis from the British and international press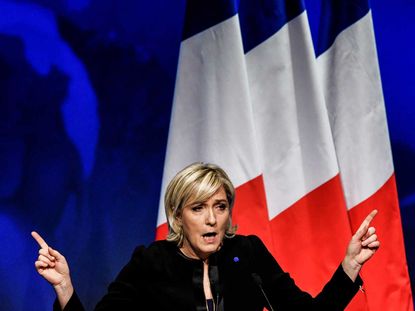 1. Four in 10 French voters wanting to make a neo-fascist their president is no cause for celebration
Sean O'Grady for The Independent
on a divided country
Emmanuel Macron has beaten Marine Le Pen to remain president of France, but "it's premature to dance on the grave of French neo-fascism", writes Sean O'Grady at The Independent. Le Pen "won the highest vote of any such candidate in French modern history" and so "we have to process and accept the fact that she is popular". As the "proud heiress of her father's antisemitic ideology, the Vichy regime, and various crackpot sects over the decades", Le Pen is "a woman who wanted to ban Muslim people from wearing culturally harmless headgear, and much else". Yet, "faced with a liberal man of the centre, she commanded the support of more than four in ten French voters". The "traditional mainstream parties of the left and Gaullist right have been smashed", with "no signs of them recovering", concludes O'Grady. With Macron unable to stand for president again, "the next campaign to save France should start today".
Subscribe to The Week
Escape your echo chamber. Get the facts behind the news, plus analysis from multiple perspectives.
SUBSCRIBE & SAVE
Sign up for The Week's Free Newsletters
From our morning news briefing to a weekly Good News Newsletter, get the best of The Week delivered directly to your inbox.
From our morning news briefing to a weekly Good News Newsletter, get the best of The Week delivered directly to your inbox.
2. Biden's decline is obvious to everyone but the press
Karol Markowicz for the New York Post
on a question of acumen
"Something is wrong with President Joe Biden, and everyone knows it," writes Karol Markowicz. Last week, she says, he started "rambling" when he was asked about a pandemic immigration restriction and it "turned out he was talking about mask mandates on airplanes". This isn't "simply misspeaking", Markowicz writes. "He seems fully out of it, and we're all watching quietly." After touching on other moments of awkwardness for Biden, she asks: "Is the president OK? He doesn't seem like it." During the Trump reign, the president's acumen was "full-on debated and often", says the New York Post columnist, "but now we're supposed to disregard what we see with our own eyes". Many of us have had our "own confused grandpa", who is "starting one story and finishing another or rambling from one topic to the next nonsensically", she writes. "The trouble is this confused grandpa has a bit more power than your own."
3. Why the Tories can't replace Boris with a Remainer
Patrick O'Flynn in The Specator
on a political deathwish
Jeremy Hunt has "assumed the mantle of favourite" to take over if and when Boris Johnson is moved on, writes Patrick O'Flynn, but this could be a "deathwish" for the Tory Party. "Imagine the smart and smooth Jeremy on a stool next to smart and smooth Keir, also from Surrey, and Ed, the wannabe-smoothie MP for Kingston-Upon-Thames, Surrey." The Spectator writer says that "peas in a pod comes to mind, and eminently forgettable ones at that". All three "energetically" backed Remain and appear to have no worries about the impact of immigration on social cohesion and access to public services. O'Flynn imagines Red Wall voters will be unimpressed if the Tories "dump the charismatic figure who won them over and present them instead with an identikit 'liberal' Conservative of the sort that had never won them over in the first place – a lower wattage version of David Cameron".
4. Angela Rayner's treatment shows that Westminster's women are still treated as objects of sexual speculation
Kate Maltby for The i
on crass bait
"We all know how unhealthy cycles of outrage on social media can be," says Kate Maltby, writing about the claim that Angela Rayner crosses and uncrosses her legs to distract Boris Johnson. "So why did so many women working in Westminster – myself included – rise this weekend to a crass bit of bait?" The i columnist explains that "the answer is that women in Westminster… are sick of working in an environment where they are routinely reduced to objects of sexual speculation". She adds that "walking into the House of Commons still feels like entering a 70s time-warp" because "the comments made about women's bodies – and about people of colour, or LGBT+ people – would have HR down on you like a ton of bricks in any other workplace". Turning her fire on the newspaper that published the claims about Rayner, Maltby says: "Women in our highest political assembly are more than their bodies – time the Mail on Sunday caught up."
5. WhatsApp is ruining our lives
Lucy Burton in The Telegraph
on constant chatter
"We all know we should spend less time on our phones, but few of us do it," writes Lucy Burton. Screen use has increased since the pandemic, with 54% of UK adults now using their screens more regularly, and employers are becoming "aggravated" that "more and more of their customers and staff are becoming phone zombies". For Burton, the employment editor of The Telegraph, WhatsApp is a particular culprit. A pub boss told her he is considering imposing a formal ban on staff WhatsApp group chats outside of certain hours, and members of a major teaching union said late-night WhatsApp messages from headteachers were "grinding down" morale. Meanwhile, she writes, bosses fear bankers can "too easily share potentially sensitive work information via the app" and a report from the Institute for Government said Whitehall "needs to 'get a grip' on how WhatsApp was being used by ministers". She writes that "businesses and individuals have clocked that our addiction to our phones and the instant, constant chatter inside them has come at a cost" and that "we have reached peak WhatsApp". The movement away from "excessive use" will "only get stronger from here on in", she writes.

Continue reading for free
We hope you're enjoying The Week's refreshingly open-minded journalism.
Subscribed to The Week? Register your account with the same email as your subscription.