Joe Biden: the verdicts on the president's first year
Covid-19, the economy and democracy have dominated 'tumultuous' twelve months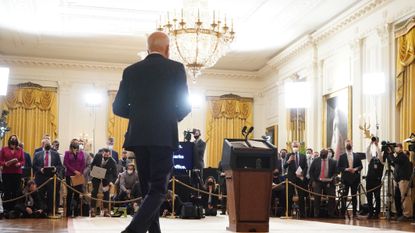 (Image credit: Mandel Ngan/AFP via Getty Images)
Joe Biden has vowed to pursue a scaled-back version of his domestic policy plan and defended his first year in office while blaming Republicans for undermining his administration.
During a two-hour press conference ahead of today's anniversary, the US leader "refused to accept criticism" of his handling of the Covid-19 pandemic and repeatedly accused the GOP of "abandoning any serious attempt to govern the country", reported The New York Times (NYT).
Despite his spirited defence, Biden enters the second year of his presidency "looking for a reset", said CNN, following a "tumultuous" first 12 months marked by a "depletion of the political capital and sense of confidence that followed him into office".
Subscribe to The Week
Escape your echo chamber. Get the facts behind the news, plus analysis from multiple perspectives.
SUBSCRIBE & SAVE
Sign up for The Week's Free Newsletters
From our morning news briefing to a weekly Good News Newsletter, get the best of The Week delivered directly to your inbox.
From our morning news briefing to a weekly Good News Newsletter, get the best of The Week delivered directly to your inbox.
Teething problems
After claiming victory in the 2020 presidential victory, Biden "presented himself as an antidote to his predecessor", said The Washington Post. The Democrat promised to deliver "what his own campaign ads called 'strong, steady, stable leadership' after four years of bedlam" under Donald Trump.
But the subsequent "tumult" surrounding the US withdrawal from Afghanistan instead provided "an early glimpse of the cascade of crises that have badly eroded Biden's image of restoring calm", the paper continued.
Biden now faces "intraparty Democratic disarray, stalled legislation, supply chain issues, worrying inflation, rising tensions with Russia and another highly transmissible coronavirus variant".
This downturn in fortunes is reflected in a slump in his approval ratings. According to latest figures from polls analysis site FiveThirtyEight. 52.5% of US voters disapproved of his performance in the Oval Office as of 19 January, compared with 41.9% who backed the president.
Biden is currently the second-least popular US president at this stage of an administration. Only Trump had a lower approval rating.
Addressing press on Wednesday, Biden sounded a "pessimistic" note about a key tenant of his election campaign. "It's going to be difficult. I make no bones about that," he admitted, just hours before Democrats' latest attempt to pass a voting rights bill was blocked.
He was more upbeat about his spending agenda, despite repeatedly being thwarted by Republicans on that issue too. "I think we can break the package up, get as much as we can now and come back and fight for the rest later," Biden said.
But the president made clear that tackling Covid-19 was "his top priority", said the BBC. The strategy pursued by the US leader, "who says he carries a card in his pocket with the number of Americans killed by the virus", has "rested on a widespread vaccination campaign and a massive increase in testing".
Yet while he surpassed his targets for mass vaccination, "the rise of variants and continued opposition to vaccines by some means the pandemic is far from over", the broadcaster continued.
Under his watch so far, "more than 850,000 Americans have died from Covid – the highest recorded national death toll from the global pandemic".
'Tale of two presidencies'
Biden has restored a "sense of normalcy" to the White House following Trump's "whiplash" presidency, said CNN. The Democrat leader has some "major victories" under his belt, including the "passage of trillions in new funding to combat the coronavirus pandemic and rebuild American's crumbling infrastructure through Congress".
But a "string of setbacks" on voting rights, spending policy and the pandemic have "eroded the air of competence that once surrounded" his administration, the news site continued, and "the country remains fractured and irritable".
Politico's White House bureau chief Jonathan Lemire described Biden's first year as "a tale of two presidencies". The track record of his administration so far is "almost evenly bifurcated between success and struggle", Lemire said.
"As shaky as the end of year one was," he continued, "the White House sees reasons for optimism as Biden begins his second in office." Biden's spending plans could "be revived" and "some economists believe that inflation will ease before voters head to the polls for November's midterm elections".
The economy has fared well under Biden to date, with "jobless claims at a 50-year low" and "a stock market smashing records", The Guardian reported. "Wages are also up" and "6.4m jobs have been added under Biden, the most of any first-year president in history".
But while the US economy is currently "among the fastest growing in the world", there are still 3.6m fewer US workers than before the pandemic, and "inflation climbed to 7% in 2021, the biggest 12-month gain for 40 years, while supply chain problems left some supermarket shelves bare", the paper added.
These significant setbacks have prompted "a barrage of Republican criticism and fed a feeling of economic malaise, whatever the reality".
According to Vanity Fair, the biggest overall issue facing the president is that "major goals remain unfulfilled – some because of errors by his administration, many because of the political realities in a divided Washington that have allowed extreme Republicans to obstruct him at every turn".
During yesterday's press conference, Biden "attempted to tell a different story of the past twelve months" and "pushed back against some of the bleak narratives that have taken hold over the White House".
But ever the realist, he remained "forthright about the challenges the country is facing, including with the pandemic and its economic side effects", the magazine added.
"Some Democrats take comfort in the knowledge that their party's last two presidents – Barack Obama and Bill Clinton – each struggled their first year only to win re-election," said Politico's Lemire.
But for others, that knowledge offers little consolation as "historic trends and current polling both favour Republicans this November", and Trump fuels talk of a 2024 comeback by launching "a return to the political stage".

Continue reading for free
We hope you're enjoying The Week's refreshingly open-minded journalism.
Subscribed to The Week? Register your account with the same email as your subscription.