What will Donald Trump do now?
A total of 78 separate criminal charges have now been laid before the former president in three jurisdictions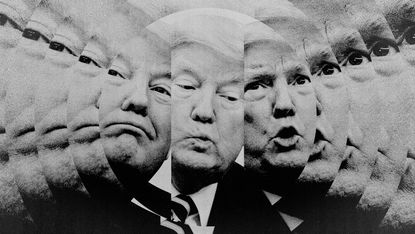 (Image credit: Illustrated / Getty Images)
Donald Trump made his third court appearance in four months last week when he was arraigned before a judge in Washington DC on charges related to his alleged attempt to subvert the 2020 election. He pleaded not guilty to all the charges.
Among those in the public gallery was Jack Smith, the special counsel leading the prosecution team. He argues that Trump conspired to interfere with and obstruct the transfer of power after the 2020 election in the full knowledge that his claims of ballot tampering were bogus.
Trump's lawyers say their defence will be that the former president truly believed his claims, and that his efforts to influence officials were therefore protected by the First Amendment right to free speech. Following the hearing, Trump took to social media, calling it a "very sad day for America" and warning: "IF YOU GO AFTER ME, I'M COMING AFTER YOU!"
Subscribe to The Week
Escape your echo chamber. Get the facts behind the news, plus analysis from multiple perspectives.
SUBSCRIBE & SAVE
Sign up for The Week's Free Newsletters
From our morning news briefing to a weekly Good News Newsletter, get the best of The Week delivered directly to your inbox.
From our morning news briefing to a weekly Good News Newsletter, get the best of The Week delivered directly to your inbox.
A total of 78 separate criminal charges have now been laid before Trump in three jurisdictions. He's facing a state trial in New York for allegedly falsifying business records to cover up hush-money payments to a porn actress and a federal trial in Miami for allegedly mishandling classified documents.
What did the papers say?
"To store all the accusations against Donald Trump would require a new wing of the Library of Congress," said The Economist. But those contained in the latest indictment are of a different order to the rest. They charge him with trying to steal an election, "the most serious political crime it is possible to commit in a democracy".
Trump claimed that there were 205,000 more votes than voters in Pennsylvania; that Michigan had seen a "suspicious vote dump"; over 30,000 non-citizens had voted in Arizona. None of this was true.
With appeals, the case could take years, said The Observer, and it is sure to exacerbate partisan tensions. But it's essential that Trump is made to answer for his conduct. Justice must be "seen to be done, impartially and objectively, without fear or favour".
Trump's "mendacious rhetoric" in the wake of the 2020 election as he sought to retain power was disgraceful, said National Review. It was, literally, "impeachable", and should have led to him being convicted in a senate impeachment trial and disqualified from holding future office.
Congress is the appropriate forum for checking "egregious executive misconduct". It's a mistake to seek to criminalise Trump's behaviour and get the Justice Department to hold him accountable "in a way the political system did not".
The problem with this latest indictment, said Gerard Baker in The Times, is that it rests on the assertion that Trump was aware the election wasn't stolen. Smith adduces some instances where the former president appears to acknowledge this. "You're too honest," Trump allegedly told Mike Pence at one point after his vice-president took issue with him.
Yet such is Trump's towering ego, and capacity for self-delusion, he almost certainly believes he did win. "He probably believes he discovered penicillin and wrote Chopin's Piano Concerto No. 1 for that matter."
Anyone who has had first-hand experience of Trump knows how hard it is to identify any coherent purpose, malign or not, from his scattergun remarks, said Michael Wolff in The New York Times. I suspect prosecutors "will soon run up against the epistemological challenges of explaining and convicting" a pathological self-promoter whose behaviour defies logic.
There is "a kind of insanity defence" that could apply to Trump's rhetoric, said Andrew Sullivan on Substack, but his lies aren't the key issue – his actions are. This case is about pressuring state officials to overturn legitimate election results; about telling swing state leaders that the Justice Department had found evidence of fraud when they hadn't; about demanding that his vice-president halt the certification of an election.
None of this stuff qualifies as protected speech, said Ian Millhiser on Vox. Even if Trump believed the election was stolen, "it is well established that soliciting another individual to commit a crime is not protected by the First Amendment".
Under the US constitution, the only offence that bars someone from presidential office is engaging in "insurrection or rebellion", said Mary Dejevsky in The Independent. The charges against Trump stop short of that, so even if he is imprisoned there's nothing to stop him running for, or serving as, president.
And with polls showing him way ahead of his Republican rivals, and level pegging with Joe Biden, that may happen. To win in 2024, Trump would have to attract a sizable chunk of new followers, while "dodging between rallies and court appearances", said Justin Webb in the Daily Mail. While that would be tricky, Biden is flagging. Could Trump win re-election and make his own legal troubles go away? It's all too possible.
What next?
A fourth Trump indictment is expected imminently, this time in Georgia. It will likely centre on a taped phone call to the state's election officials in which Trump insisted that they needed to search harder for evidence of "dishonesty" and talked of wanting to find more votes.
The Georgia case could yet prove the most problematic for Trump, says Mini Racker in Time. Were he to win re-election, Trump could potentially quash the federal cases in Washington and Miami by getting them dropped or by pardoning himself. And he could seek a pardon from New York's governor for the case there. In Georgia, however, the authority to grant pardons belongs to an independent state board.

Continue reading for free
We hope you're enjoying The Week's refreshingly open-minded journalism.
Subscribed to The Week? Register your account with the same email as your subscription.