Donald Trump's most serious legal challenges
Georgia trial to be televised and live-streamed as former president prepares for multiple court appearances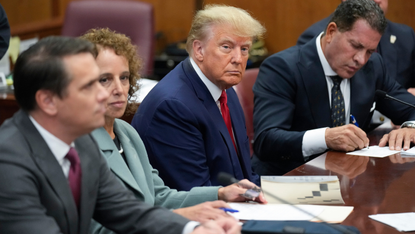 (Image credit: Seth Wenig-Pool/Getty Images)
Donald Trump's growing list of criminal indictments is putting his "time-honoured strategy of delay, denial and distraction to its ultimate test", said CNN. The former president, who is seeking re-election next year, will have to run his campaign while fighting "converging legal battles".
Some will play out in public. A judge in Georgia ruled this week that the trial of Trump and his co-defendants on election fraud charges will be televised and live-streamed on YouTube. It would be the first time cameras would be allowed to "capture full proceedings in one of the four criminal cases brought against Trump this year", said CBS News.
Election interference
The case: Fani Willis, a district attorney in Georgia, has indicted Trump, accusing him of engaging in a conspiracy to steal votes cast in 2020 for Democrat Joe Biden, and effectively overturn Biden's narrow victory in the state. There are 13 charges against Trump, who surrendered to Georgia officials and was booked on those charges.
Subscribe to The Week
Escape your echo chamber. Get the facts behind the news, plus analysis from multiple perspectives.
SUBSCRIBE & SAVE
Sign up for The Week's Free Newsletters
From our morning news briefing to a weekly Good News Newsletter, get the best of The Week delivered directly to your inbox.
From our morning news briefing to a weekly Good News Newsletter, get the best of The Week delivered directly to your inbox.
Trump, the outgoing president at the time, "came under heightened scrutiny" after he called Georgia's secretary of state, Brad Raffensperger, and asked that he "find" a further 11,780 votes to secure his win in the "coveted swing state", said Al Jazeera.
The indictments came after the state's Supreme Court "swiftly" rejected an appeal submitted by Trump's lawyers in an attempt to quash the criminal investigation and prevent the authorities from bringing charges against him, said The Hill. The nine judges delivered a unanimous decision, "dismissing his team's legal argument at every turn".
What happens next: Trump has pleaded not guilty to charges that he conspired and engaged in racketeering activity to overturn the results of the Georgia count, according to a court filing submitted by his lawyer in superior court in Atlanta.
Trump also waived formal arraignment, meaning he will not need to appear for the formal reading of the indictment next week. No trial date has yet been set for Trump, though the Fulton County district attorney, Fani Willis, has pressed for a 23 October start.
Amid attempts by both sides to alter the date and venue of the final trial, Trump's "overarching legal strategy has been to delay", said The Guardian. If he were to win re-election, he could "theoretically have the case frozen while he assumes the presidency".
Significance: "This is a huge case for a local prosecutor, even in a county as large as Fulton, to bring," said The Atlantic's David A. Graham. And Willis has a recording of the telephone call between Trump and Raffensperger; that piece of evidence is "close to a smoking gun".
The Fulton County probe could "present more acute legal threats" than some of the other challenges Trump is facing, said Politico. Willis told The Washington Post last year that "the allegations are very serious" and "if convicted, people are facing prison sentences".
6 January
The case: A number of lawsuits have been filed against Trump in relation to the violent insurrection that took place at the Capitol building in Washington on 6 January 2021. Police officers and Democrats in the House of Representatives are seeking compensation for the physical and emotional injury they suffered during the riot.
US Attorney General Merrick Garland appointed Jack Smith to lead the Justice Department's criminal investigations into Trump's attempts to overturn the 2020 presidential election results, including the events of 6 January.
After 18 months, the congressional select committee released its report into the insurrection on 22 December. It named Trump as the "central cause" of the violence that led to the riots, and referred the former president to the Department of Justice (DOJ) after accusing him of committing four federal crimes.
Smith, the DOJ special counsel, has indicted Trump over his alleged efforts to overturn the election. The 6 January attack on the Capitol was "fuelled by lies", said Smith. "Throughout the 45 detailed pages of this indictment that theme of dishonesty is repeated again and again," said Sarah Smith, the BBC's North America editor.
What happens next: Jack Smith is "pressing for a speedy trial", so it "could well be taking place right in the middle of the next presidential election", said the broadcaster.
The deadline for Trump to signal whether he would testify before the grand jury passed without the former president reporting to authorities. But he did post a "menacing new video" to Truth Social, said The Independent, in which he promised to "do things that have never been done before" to people who "f*** around with us".
Significance: Since the "unprecedented riot" in 2021, "an equally historic criminal investigation" has "played out less than a mile away from the Capitol grounds", said CBS News. The allegation that Trump incited violence that led to the 6 January riots is "perhaps most grave of all" the former president's current legal challenges, said Martha Kelner at Sky News.
More than 1,000 people have now been charged for their roles in the insurrection, including 107 defendants who face charges for using a dangerous weapon or causing serious bodily harm to an officer, said Axios.
Classified documents
The case: Jack Smith is also overseeing the federal investigation into the classified documents that the FBI removed from Trump's Mar-a-Lago residence in August last year. Dozens of agents removed 103 classified documents from the Florida estate, including 18 "top secret" and 54 "secret documents".
In June, the Justice Department released an indictment that charged Trump with 37 criminal counts relating to his "hoarding" of government documents after he left the White House, said The New York Times. The document included images of boxes of files apparently being stored in his Mar-a-Lago estate's ballroom and a bathroom.
He was arraigned in June, and pleaded not guilty to all the counts against him. His valet, Walt Nauta, has also been accused of trying to obstruct the FBI's investigation by moving the boxes. He too has pleaded not guilty.
What happens next: A federal judge has scheduled the trial to start on 20 May 2024. It will take place in Fort Pierce, Florida, ordered Judge Aileen Cannon. Trump's campaign team welcomed the date, with a spokesperson saying "the extensive schedule allows President Trump and his legal team to continue fighting this empty hoax".
When the federal trial takes place is "crucial", said NPR, because "it could coincide with the 2024 presidential election". It is significant that the case has been assigned to Cannon as she was a Trump appointee who has "previously faced criticism after ruling in Trump's favor in a separate legal dispute related to the classified records", said CNBC.
Significance: The classified documents case is "not as serious as Trump's attempts to overturn the election", said The Atlantic's Graham, "but it's probably a solid bronze medal" on the list of the most serious challenges against the former president. And it may be "the most open-and-shut case".
Hush money
The case: Manhattan District Attorney Alvin Bragg is investigating whether Trump broke campaign finance laws in connection to hush money that was allegedly paid to two women in 2016.
One of the women, former adult film star Stormy Daniels – whose real name is Stephanie Clifford – claims that Trump's former lawyer, Michael Cohen, paid her $130,000 "in exchange for her silence" about an alleged sexual encounter with the former president in 2006, said the BBC. Trump has denied ever having had sex with Daniels.
He was indicted on 30 March, and pleaded not guilty to 34 felony counts of falsifying business records.
What happens next: A criminal trial is scheduled to start on 25 March 2024. "An atypically near silent" Trump was "visibly taken aback" when the date was announced in May, said Deadline.
New York Judge Juan Merchan also issued the "loose-lipped defendant" with a protective order, prohibiting him from sharing any material he or his lawyers see during the discovery stage on "any news or social media platforms" without approval from the court.
If he's found guilty, Trump would face a maximum sentence of 136 years, four for each of the 34 charges. But "neither the indictment itself nor a conviction would prevent Trump from running for or winning the presidency in 2024", said The Associated Press.
Significance: Whatever happens next, this case will go down in history as the first time that a former US president had criminal charges brought against them. But whether it'll dampen his chances in another run for the presidency remains to be seen.
If anything, Trump's indictment "galvanised" his support base, "which believes this is a politically-motivated pursuit", said Kelner at Sky News.
Fraud allegations
The case: New York Attorney General Letitia James is suing 16 defendants, including Trump and his children Eric and Donald Jr, for allegedly overinflating the value of a number of the former president's properties and assets, including the Mar-a-Lago estate in Florida and Trump Tower in New York.
Court filings by lawyers for James, made public in August, allege that in 2014 Trump inflated his net worth by as much as $2.2 billion. The document claimed that corrections to financial statements for the 10-year period in question would reduce Trump's stated net worth by "17-39% in each year, or between $812 million to $2.2 billion, depending on the year", reported CNN.
Trump denies wrongdoing and has described the civil lawsuit as a "witch hunt". An appeals court in June dismissed the claims that had been brought against his daughter Ivanka.
What happens next: Trump's request to delay the 2 October trial was rejected in March. He was deposed on 13 April, in a session that sources told The New York Times was "neither overly combative nor polite".
If they are found guilty, the defendants could be required to pay back the estimated $250 million that they allegedly received in financial benefits from the fraudulent valuations. The Trumps could be prevented from serving as officers or directors of a New York corporation, and the former president could be blocked from purchasing any commercial property in New York state for a five-year period.
Significance: James's civil fraud allegations against the Trumps "could destroy the family dynasty", said indy100. She "is trying to banish Trump and his family from doing business in their longtime home state", which the former president will "doubtless" be "unhappy" about, said The New Yorker's John Cassidy. But "he's probably more worried about his other legal challenges".

Continue reading for free
We hope you're enjoying The Week's refreshingly open-minded journalism.
Subscribed to The Week? Register your account with the same email as your subscription.