What to know about Biden's new student loan plan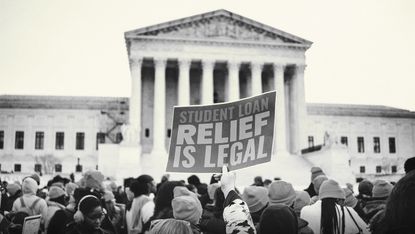 (Image credit: Kent Nishimura / Los Angeles Times via Getty Images)
Amid President Biden's ongoing battle to secure student loan forgiveness, his administration has unveiled another way to help student loan borrowers: the Saving on a Valuable Education (SAVE) plan. As a new repayment plan, SAVE may allow borrowers to significantly cut their monthly student loan payments, sometimes to as little as $0 per month.
While SAVE won't take full effect until next year, the beta application period is now open. Here's what you need to know.
How does the SAVE plan work?
SAVE is an income-driven repayment plan, meaning that borrowers' monthly payments are determined based on how much they earn rather than how much they owe in student loan debt. Additionally, there's a "forgiveness component" to income-driven repayment plans, CBS News stated, so after making a certain number of payments, a borrower's remaining balance gets "wiped away."
Subscribe to The Week
Escape your echo chamber. Get the facts behind the news, plus analysis from multiple perspectives.
SUBSCRIBE & SAVE
Sign up for The Week's Free Newsletters
From our morning news briefing to a weekly Good News Newsletter, get the best of The Week delivered directly to your inbox.
From our morning news briefing to a weekly Good News Newsletter, get the best of The Week delivered directly to your inbox.
SAVE is intended to replace the existing Revised Pay As You Earn (REPAYE) plan, but it will lower payments even further. As CNBC reported, "Instead of paying 10% of their discretionary income a month toward their undergraduate student debt under the previous Revised Pay As You Earn Repayment, or REPAYE, plan, borrowers will eventually be required to pay just 5% of their discretionary income under the SAVE plan." Further, for those "making $32,800 a year or less (which is roughly $15 an hour), your monthly payment will be $0," per the U.S. Department of Education.
Another perk of SAVE is that if borrowers make their full monthly loan payment, their loan balance will not grow due to unpaid interest. CBS News offers this example of why this could be so helpful over time: "If $50 in interest accumulates each month and a borrower has a $30 payment, the remaining $20 would not be charged."
And next July, when the full SAVE plan is rolled out, additional perks will become available. This includes the reduction of payments on undergraduate loans from 10% to 5% of borrowers' discretionary income. Meanwhile, borrowers with both undergrad and graduate loans will pay a "weighted average of between 5% and 10% of their income based upon the original principal balances of their loans," explained CBS News. Additionally, when the full SAVE plan benefits take effect next summer, borrowers will enjoy a shorter time to forgiveness, and those who are struggling to keep up with payments can get automatically enrolled in an income-driven plan.
How much could you pay each month?
Your payments under SAVE are determined based on your discretionary income as well as your family size, with "lower-income households with more family members paying the least," per CBS News. For instance, the Department of Education projects that someone earning $60,000 per year with a two-person family would pay $130 per month, whereas someone bringing in $50,000 with a two-person family would pay $47 per month.
Those bringing in less than $15 an hour (or roughly $32,800) won't pay anything each month. And according to the Department of Education, "[i]f you're making more than that, you will save at least $1,000 a year, compared to other IDR plans."
Who should consider it?
The SAVE plan is "available to borrowers with a direct loan in good standing," per CBS News. Those with Parent PLUS loans can apply only after they have consolidated their loans.
As for who might benefit most from the SAVE plan, according to Time, it could be "ideal for borrowers who are looking to make changes to their current repayment plan or are not currently enrolled in an income-driven repayment plan and are looking to decrease their monthly payments for student loans."
That said, SAVE isn't the only income-based repayment plan there is. Per Time, "[i]f a borrower is unsure whether SAVE is the best repayment plan for them, they can use the Education Department's Loan Simulator to calculate the best plan for them."
How can you apply for it?
For borrowers already enrolled in the REPAYE plan that SAVE will replace, they will "automatically be enrolled in the SAVE plan," Time reported. Other borrowers, however, will have to fill out an application to enroll in the SAVE plan.
To do so, borrowers need to fill out the income-driven repayment plan application provided on the Department of Education's website. (If you're looking for the application and not finding it, the Department of Education offers this note during the beta phase: "The application may be available on and off during this beta testing period. If the application is not available, try again later.")
To complete the application, borrowers will "typically need to provide your federal student aid ID, contact and financial information" to complete the application, per CNBC. The process is estimated to take just 10 minutes from start to finish.
As of summer 2023, the application available is only the beta version, as the process continues to get refined ahead of the full rollout of SAVE in July 2024. That said, for those who apply this summer, "your application will be processed in time for your first payment due date," per the Department of Education. Additionally, those who submit now won't need to resubmit at any point.
Becca Stanek has worked as an editor and writer in the personal finance space since 2017. She has previously served as the managing editor for investing and savings content at LendingTree, an editor at SmartAsset and a staff writer for The Week. This article is in part based on information first published on The Week's sister site, Kiplinger.com.

Continue reading for free
We hope you're enjoying The Week's refreshingly open-minded journalism.
Subscribed to The Week? Register your account with the same email as your subscription.