What happened to the Malaysia Airlines Flight 370
Mystery of missing plane has inspired an ever-growing range of conspiracy theories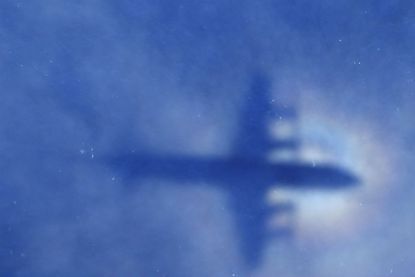 (Image credit: Getty Images News)
More than six years have passed since Malaysia Airlines Flight 370 vanished yet the mystery of what happened to the lost plane remains unsolved.
The Boeing 777 departed from Kuala Lumpur with 239 people on board on 8 March 2014, but 40 minutes into what should have been a six-hour flight to Beijing, the plane diverted from its scheduled route and flew towards the southern Indian Ocean.
The flight then simply disappeared from radars, sparking a multimillion dollar international search and salvage operation that was eventually called off in 2018 after no leads were found.
Subscribe to The Week
Escape your echo chamber. Get the facts behind the news, plus analysis from multiple perspectives.
SUBSCRIBE & SAVE
Sign up for The Week's Free Newsletters
From our morning news briefing to a weekly Good News Newsletter, get the best of The Week delivered directly to your inbox.
From our morning news briefing to a weekly Good News Newsletter, get the best of The Week delivered directly to your inbox.
Earlier this year, on the sixth anniversary of the plane's disappearance, families of the passengers on board called on authorities to revive search efforts.
"There are more questions than there are answers and that shouldn't be the case after six years," said Grace Nathan, a lawyer whose mother was on the flight.
While official investigations have failed, amateur sleuths and aviation specialists have offered a wide range of theories about the fate of Flight 370, from cyber hijacking to a CIA plot.
The parachute
One of the most imaginative stories doing the rounds is that one of the pilots, Captain Zaharie Ahmad Shah, parachuted out of the plane to meet his secret lover waiting on a boat. The theory was written about by journalist Ean Higgins is his book The Hunt for MH370, published last year.
Higgins was apparently told that the pilot wanted to leave his wife but feared it would be difficult because of his Muslim faith and therefore designed an elaborate plan to escape his marriage.
According to the "wild" theory, he took fake IDs to assume a new life, depressurised the aircraft to comatose or kill the passengers before jumping out at 3,000ft and let the plane crash into the sea, reports the Daily Express. The newspaper notes that the story has been branded "sensational" and "far-fetched".
Ghost plane
Another popular explanation also involves a sudden cabin depressurisation, but in this case it was thought to be an accident. Aviation expert Christine Negroni believes Captain Shah may have been on a break at the time, with co-pilot Fariq Abdul Hamid at the controls, meaning he was the only one left alive, flying the plane alone for hours before crashing.
"The sudden lack of oxygen would have killed all passengers and crew within 15 minutes; however, Hamid was insulated from its worst effects in the cockpit," says the Daily Mirror.
Negroni claimed that while still alive, Hamid's oxygen-starved brain would have led him to make a series of bizarre decisions, explaining the erratic route it took after losing contact, before finally ditching somewhere in the Indian Ocean.
Remote cyber hijacking
In his book Beneath Another Sky: A Global Journey into History, historian Norman Davies said technology designed to prevent another 9/11-style terror attack by allowing planes to be controlled remotely could have been exploited by cyber-spooks.
He suggests MH370, which was equipped with Boeing's Honeywell Un-interruptible Autopilot on-board computer, could have been hacked and then reprogrammed and flown to a secret location.
He told The Sunday Times the plane may have been carrying sensitive material or personnel to Beijing. "There are reports that the cargo detailed in the manifest didn't add up. I don't know what it might have been carrying but it may have been carrying something somebody didn't want to get to China," he said.
Cracks in the plane
Perhaps the most prosaic, yet also most believable, theory as to why the plane went down does not centre around a conspiracy at all, but well-documented faults with the plane that could have led to it crashing.
Six months before MH370 disappeared, the US aviation watchdog warned airlines of a problem with cracks in Boeing 777s that could lead to a mid-air break up or a catastrophic drop in pressure.
The Federal Aviation Administration (FAA) issued a final warning just two days before MH370 disappeared after one airline found a 15-inch crack in the fuselage of one of its planes.
However, the Daily Mirror says "Boeing said that the FAA alert did not apply to the missing jet because it did not have the same antenna as the rest of the Boeing 777s", further fuelling other conspiracy theories.
The Cambodia theory
In 2018, a British video producer claimed to have spotted the aircraft's remains in Cambodia, using images from Google Maps which were dated for that year.
Ian Wilson claimed to have found the remains deep in the Cambodian jungle, producing images that show what appears to be a plane about 70m long. The actual plane is officially measured as being 63.7m long.
Wilson told the Daily Mirror: "Measuring the Google sighting, you're looking at around 69 metres, but there looks to be a gap between the tail and the back of the plane. It's just slightly bigger, but there's a gap that would probably account for that."
Wilson said that he planned to visit the jungle in order to prove his theory.
The 'Asian' Bermuda Triangle
One of the most popular theories on social media is the idea that there could be a second Bermuda Triangle somewhere in the Indian Ocean, explaining MH370's sudden disappearance.
A number of planes and boats have gone missing in an area of the North Atlantic known as the Bermuda Triangle over the years, including five Torpedo bombers that mysteriously vanished there in 1945.
In a bid to back-up this hypothesis, some people – including one Malaysian minister – claimed that the area where MH370 vanished is on the exact opposite side of the globe to the Bermuda Triangle. This is, of course, untrue.
The pilot wanted to 'create the world's greatest mystery'
Former Australian prime minister Tony Abbott says he believes flight MH370 was brought down intentionally by a pilot who wanted to "create the world's greatest mystery".
Speaking ahead of the third anniversary of the plane's disappearance, he said: "I have always said the most plausible scenario was murder-suicide and if this guy wanted to create the world's greatest mystery why wouldn't he have piloted the thing to the very end and gone further south?"
Search teams considered murder-suicide early on in their investigations, "but there was little to no evidence uncovered to support it", the Adelaide Advertiser says.
North Korea took MH370
It didn't take long for the most secretive nation in the world to be dragged into the MH370 rumour mill. Shortly after the plane disappeared, several conspiracy theorists questioned whether North Korea might be the "missing link" in the mystery.
They pointed to South Korea's claim that North Korea nearly took out a Chinese plane carrying 220 passengers on 5 March 2014, with Chinese Southern Airlines reportedly passing through the trajectory of a North Korean missile just seven minutes after it was fired. Three days later, MH370 disappeared.
While some think Pyongyang shot down the plane, others think it might have hijacked it and diverted it to North Korea. One anonymous aviation worker told eTurboNews Group that somebody out there wanted "a really, really huge plane" and that they were most likely after the Boeing 777's technology.
Shot down
In March 2018, an Australian man made the sensational claim that he had found the wreckage of MH370 using Google Earth.
Peter McMahon, a mechanical engineer and amateur crash investigator, spent years combing the Indian Ocean on Google Earth looking for the plane. According to McMahon, the wreckage of the flight - which he claimed was riddled with bullet holes - was located just a few miles south of Round Island, which is governed by Mauritius, in an area of the ocean that had not been searched by crews, the Daily Mail reported.
McMahon "took his claims one step further", the newspaper added, by saying he also believed US officials were refusing to search the area, and were withholding information from the public.
Malaysian Transport Minister Liow Tiong Lai rubbished McMahon's claims, and said that the images he circulated had also been analysed by Civil Aviation Authority Malaysia (CAAM).
"CAAM has found McMahon's claims to be baseless," the New Straits Times reported. "Hence, the people should not be taken for a ride on the matter."
A French former airline director who has been investigating the disappearance of flight MH370 has separately claimed that the missing plane was shot down by American fighter jets who feared that it had been hijacked and was about to be used to attack the US military base on the Indian Ocean atoll of Diego Garcia.
Marc Dugain, who once ran French airline Proteus, said that he had been warned not to look too closely into the case of MH370 by a British intelligence officer who told him that he was taking "risks", according to France Inter.
The case of the murdered diplomat
Another conspiracy theory surrounds the death of a Malaysian diplomat who had spent years investigating the crash.
In August 2017, Zahid Raza, the honorary Malaysian consul in Madagascar, was shot dead in Madagascar's capital Antananarivo in an apparent assassination. Amateur US flight investigator Blaine Gibson, who worked with Raza in tracking down debris from the plane, told Malay Mail that the diplomat "appeared to have been specifically targeted" and claimed that he has also received death threats.
Dr Victor Iannello, an original member of the independent group of specialists that helped Australian investigators try to pinpoint the plane's crash site in the southern Indian Ocean, said the timing of Raza's assassination just days before he was due to deliver several new pieces of debris to the Malaysian Ministry of Transport, "makes a possible link to MH370 even more suspicious".
Others have sought to debunk and connection between Raza's death and his search for the missing plane.
French-language news website Zinfos 974 has suggested the diplomat was a marked man long before meeting Gibson and speculated he was killed as payback for alleged involvement in the 2009 abduction of several residents of Indo-Pakistani descent known collectively as Karens.
Life insurance scam
In March 2014, Malaysian police refused to rule out the possibility that the entire incident may have been a complicated insurance scam.
"Maybe somebody on the flight has bought a huge sum of insurance, who wants family to gain from it or somebody who has owed somebody so much money, you know, we are looking at all possibilities," said Tan Sri Khalid Abu Bakar Malaysia's Inspector-General of Police.
At the time, authorities said they would consider all possible motives, no matter how unlikely they seemed, and would investigate all passengers and crew for any sign of unusual behaviour.
Alien abduction
Five per cent of Americans surveyed by Reason.com believe that the plane was abducted by aliens. Some bloggers have pointed to a number of UFO sightings in Malaysia as evidence for extraterrestrial intervention.
Alexandra Bruce, from Forbidden Knowledge TV, "proves" the involvement of aliens with her analysis of radar data. She claims that footage posted on YouTube shows the presence of something that "can only be termed a UFO" in the skies over Malaysia.
Of course, that means something that is "unidentified" rather than aliens.
A 9/11-style false-flag hijack mission
According to some theorists, Israeli agents planned to crash the Malaysia Airlines plane into a building, in a similar style to the September 11 2000 attacks, and then blame the atrocity on Iran.
Proponents point to the quick identification of two Iranian nationals travelling on forged passports and claims that CCTV images released of the pair had been doctored.
The CIA
In a blog post, Malaysia's former prime minister, Mahathir Mohamad, wrote that he believes the US Central Intelligence Agency (CIA) must know something about the plane's fate.
He also claimed that Boeing, the plane's maker, and "certain" unnamed government agencies, are able to take control of commercial airliners such as the missing Boeing 777 remotely if necessary.
"Airplanes don't just disappear," he wrote on his blog. "Certainly not these days with all the powerful communication systems, radio and satellite tracking and filmless cameras which operate almost indefinitely and possess huge storage capacities... For some reason, the media will not print anything that involves Boeing or the CIA."
China and Edward Snowden
Reddit user DarkSpectre has a theory that links the disappearance of MH370 with Edward Snowden's revelations about the extent of US surveillance.
The theory is based on the fact that the flight was carrying 20 employees of Freescale Semiconductor – a company that may have worked with the NSA to develop surveillance technology, according to Snowden's documents.
DarkSpectre writes: "We have the American IBM Technical Storage Executive for Malaysia, a man working in mass storage aggregation for the company implicated by the Snowden papers for providing their services to assist the National Security Agency in surveilling the Chinese.
"And now this bunch of US chip guys working for a global leader in embedded processing solutions (embedded smart phone tech and defence contracting) all together... on a plane... and disappeared. Coincidence?"
The EgyptAir MS804 link
EgyptAir flight MS804 vanished over the Mediterranean on 19 May 2016 - exactly 804 days after MH370 went off the radar on 7 March 2014.
The link was first spotted by Twitter user Kevin Andrews, the Daily Express reports, who made a tongue-in-cheek reference to the strange connection. "Conspiracy theorists are going to love that one," he wrote.
He was correct; it wasn't long before the spooky coincidence was being discussed on message boards across the web. One poster on Reddit's conspiracy forum called it "incredible", while another hinted numeric synchronicity was a favourite tool of "powerful people".

Continue reading for free
We hope you're enjoying The Week's refreshingly open-minded journalism.
Subscribed to The Week? Register your account with the same email as your subscription.