Mary Quant obituary: pioneering designer who created the 1960s look
One of the most influential fashion designers of the 20th century remembered as the mother of the miniskirt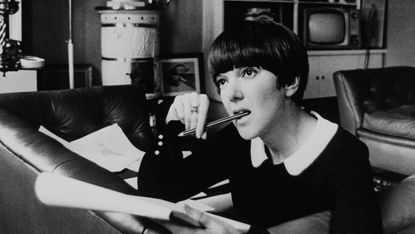 (Image credit: Keystone / Stringer)
If The Beatles wrote the soundtrack for the legend of Swinging Sixties London, then Mary Quant created the look, said Jess Cartner-Morley in The Guardian. One of the most influential fashion designers of the 20th century, Quant, who has died aged 93, is most closely associated with the miniskirt.
She did not invent it (André Courrèges might lay claim to that), but it was she who took it mainstream. She also gave it its name, in honour of her favourite car, the Mini Cooper – and in her hands the miniskirt became emblematic of "life in the fast lane".
Its hemline was shocking, said Kimberly Chrisman-Campbell in The Atlantic; but the miniskirt was not really meant to be sexy. For Quant, the main point was not to bare women's legs – it was to liberate them from the "long skirts, stockings, garters, girdles and petticoats" of the 1950s. As she put it, a woman should be able to run to catch a bus. Her miniskirts were paired with flat shoes, not heels, and the wearer's legs were usually encased in plastic boots, or brightly coloured tights (which she sourced from theatrical costumers).
Subscribe to The Week
Escape your echo chamber. Get the facts behind the news, plus analysis from multiple perspectives.
SUBSCRIBE & SAVE
Sign up for The Week's Free Newsletters
From our morning news briefing to a weekly Good News Newsletter, get the best of The Week delivered directly to your inbox.
From our morning news briefing to a weekly Good News Newsletter, get the best of The Week delivered directly to your inbox.
'Youthquake'
The garment's power lay, then, not so much in what it revealed as in what it represented: the "youthquake" created by the postwar baby boom, and the emergence of a new generation of independent young women, with jobs outside the home and money to spare. As Quant put it, the miniskirt "celebrated life and tremendous opportunity".
Until the 1950s, few clothes were designed specifically for young people. Women were expected to emulate their mothers, with their twinsets and lacquered hair. Abhorring this adult world, Quant decided to do things differently, and in the "spirit of the time", she broke every rule in the process. She used "formal fabrics for casual clothes, winter fabric for summer styles, menswear textiles for womenswear", and introduced industrial elements such as vinyl and PVC.
Her clothes – bright, colourful and simple – were not cheap, but they were accessible; and her lines were constantly being replaced, in a precursor to today's fast fashion. Like Coco Chanel, she designed the clothes she wanted to wear, and she was the best advert for her brand: young, quirky, hardworking, fun, and instantly recognisable, with her slight physique and angular Vidal Sassoon five-point bob.
"Vidal put the top on it," she'd say. Within a decade of opening her first shop, in 1955, she had become a global brand, said The New York Times. For her contribution to British exports, she was appointed OBE in 1966, the same year as she wrote her bestselling memoir, Quant by Quant.
'Cavalier girl'
Barbara Mary Quant was born in Blackheath, south London, in 1930. Her parents, John and Mildred (née Jones) were both teachers who had come from mining families, and who were anxious that their two children, Mary and Tony, should pursue conventional careers. But Mary had been interested in designing clothes since early childhood: one of her earliest memories was of lying in bed with measles aged six, and cutting up the bedspread to make a dress. Asked at her boarding school in Kent to choose between the Roundheads and the Cavaliers, "I came down strongly on the side of the Cavaliers, as they were more chic," she said.
Her parents were appalled when she said she wanted to go to art college, said The Independent, but agreed, if she promised to take an art teacher's diploma. She won a place at Goldsmiths, and it was there that she met her future husband and business partner, Alexander Plunket Greene, a tall, debonair aristocrat who was prone to wandering around the college clutching a trumpet or a lily.
They first met at a fancy dress ball; she was wearing "black mesh tights and strategically placed balloons", he was clad in his mother's gold silk pyjama top and prune drainpipes. The attraction was instantaneous, and despite their different social backgrounds, they became inseparable. Quant was naturally shy, but she shared his love of fun and pranks. "Let's be bad," he'd tell her. Once, he painted buttons onto his chest, instead of putting on a shirt. In her memoir, she recalled that passersby were infuriated: "God, look at this Modern Youth!" they'd sneer. The couple took this baton and ran with it, said Anna Murphy in The Times. As they were preparing to go out, they'd ask each other: "Shall we be Modern Youth tonight?"
On leaving college, Quant took a job at a milliner's in Mayfair, but soon decided that she didn't want to spend weeks working on a single hat, and that the future lay in mass production. Plunket Greene had inherited £5,000 when he was 21, and in 1955 they used the money to open a boutique-cum-restaurant on the King's Road, with Archie McNair, a former solicitor who became the financial brain behind the Quant global empire. Thanks in part to Plunket Greene's marketing genius, Bazaar was a sensation.
Initially, Quant stocked it with acquired merchandise; when she couldn't find the kinds of clothes she wanted, she started to design them herself on her kitchen table. In the 1960s, she adopted her famous daisy logo – redolent of her belief that clothes should be fun, playful, childlike even. (She designed her skinny-rib sweaters after putting on a jumper owned by an eight-year-old boy.)
'Miniskirts and hot pants'
The shop, with its outlandish mannequin displays and loud music, attracted the ire of some Londoners: she recalled that on the day it opened, bowler-hatted men struck its windows with their furled umbrellas. But stock sold out faster than she could resupply it, said The Times. John Lennon and Brigitte Bardot were among the stars who visited; Jean Shrimpton and Twiggy got dressed in her changing rooms, then strutted down the catwalk that was the King's Road; George Harrison and Pattie Boyd married in Quant furs.
It was her customers, she said, who really designed the miniskirt. "I wore them very short but [they'd] say, 'shorter, shorter'." Later, she introduced hot pants to the world. By 1963, the Quant label had gone mass market as the Ginger Group. It stocked 2,000 stores in the US and Quant began commuting monthly to New York.
In 1966, she created her own line of make-up. Hugely successful, her cosmetics had typically playful names, such as Jeepers Peepers eye shadow, Starkers foundation and Bring Back the Lash mascara. In the 1970s, she expanded into stationery, textiles and home furnishings. There was even a Mary Quant doll.
Quant started to wind down her role in the business in the late 1980s, after Plunket Greene was given two years to live. He was a heavy drinker and a womaniser, and their marriage had been tempestuous. But after his death, in 1990, she said that "I have never stopped loving him". Her later partner, Antony Rouse, died in 2014. She is survived by Orlando, the son from her marriage.

Continue reading for free
We hope you're enjoying The Week's refreshingly open-minded journalism.
Subscribed to The Week? Register your account with the same email as your subscription.