The tricky science behind reviving 'zombie viruses'
48,500-year-old pathogen poses no risk to humans, but scientists hope to learn more about impact of melting permafrost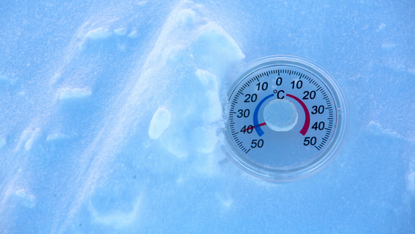 (Image credit: Andrey Rudakov/Bloomberg via Getty Images)
Scientists have revived a virus that has lain dormant in the Siberian permafrost for nearly 50,000 years, sparking fears that global warming could lead to ancient pathogens being released.
The cultivating of so-called "zombie viruses" by French researchers has "renewed fears of another pandemic", reported The Sun, with the New York Post warning about the dangers of "potentially prying open Pandora's box".
What have they done?
Researchers led by microbiologist Jean-Marie Alempic from the French National Centre for Scientific Research examined ancient samples collected from the Siberian permafrost and revived and characterised 13 new pathogens, which they termed "zombie viruses".
Subscribe to The Week
Escape your echo chamber. Get the facts behind the news, plus analysis from multiple perspectives.
SUBSCRIBE & SAVE
Sign up for The Week's Free Newsletters
From our morning news briefing to a weekly Good News Newsletter, get the best of The Week delivered directly to your inbox.
From our morning news briefing to a weekly Good News Newsletter, get the best of The Week delivered directly to your inbox.
The oldest had been trapped beneath a lake bed in Yakutia in eastern Siberia for 48,500 years, "a world record" said Professor Jean-Michel Claverie, of Aix-Marseille University in France, who co-authored the study which has yet to be peer-reviewed but was published in ScienceAlert.
While posing no direct threat to humans, the virus remained infectious despite spending many millennia trapped in the frozen ground, researchers said.
Why are they doing this?
Up to a fifth of the land in the northern hemisphere is underpinned by permanently frozen ground, known as permafrost. With the Arctic warming twice as fast as the global average, the permafrost is now thawing at an alarming rate, releasing organic matter that has been locked away for up to a million years.
When this decomposes it releases carbon dioxide and methane, which contribute to global warming. It also contains viruses and other microbes that have remained dormant since prehistoric times.
"Scientists have long warned that the thawing of permafrost due to atmospheric warming will worsen climate change by freeing previously trapped greenhouse gases like methane," said Live Mint, "but its effect on dormant pathogens is less well understood."
"In order to study these awakening organisms, scientists have, perhaps paradoxically, revived some of these so-called 'zombie viruses' from the Siberian permafrost," reported the New York Post.
After studying the live cultures, scientists found that all the so-called "zombie viruses" are potentially infectious, and therefore present a "health threat".
This means, said the New York Post, "that we could see more Covid-19-style pandemics in the future as ever-melting permafrost continues to release long-dormant viruses like a microbial Captain America".
Are they going to kill us all?
Known as a pandoravirus, the 48,500-year-old virus revived by the research team only infects single-cell organisms "and should pose no threat to humans," said The Times.
"The biohazard associated with reviving prehistorical amoeba-infecting viruses is…totally negligible," researchers said.
This is in contrast, they say, to the work of a Russian state laboratory, which announced last year it was conducting research into prehistoric viruses by analysing the remains of animals recovered from melted permafrost.
The Siberia-based Vektor lab said the aim of the project was to identify "paleoviruses" and conduct advanced research into virus evolution. To do this they said they would probe the remains of mammoths, elk, dogs, partridges, rodents, hares, woolly rhinoceroses and other prehistoric animals. This could prove "risky", said The Sun, as any dormant viruses revived could infect living mammals and potentially make the leap to humans.
The Guardian noted the Vektor laboratory in Siberia's Novosibirsk region is "a former centre for the development of biological weapons in Soviet times," and "one of only two facilities in the world to store the smallpox virus".
The Times reported that "concerns of 'zombie' pathogens being reawakened from the ice gained traction in 2016 when a child died in an anthrax outbreak in northern Siberia. The case was linked to a heatwave that melted permafrost and exposed an infected reindeer carcass. The disease had not been seen there since 1941."
A more realistic threat could come from huge numbers of bacteria released into the environment as the world warms up. "Given the antibiotics at our disposal it might be argued they would prove less threatening", said ScienceAlert, however, "a novel virus – as with SARS-CoV-2 – could be much more problematic for public health, especially as the Arctic becomes more populated."

Continue reading for free
We hope you're enjoying The Week's refreshingly open-minded journalism.
Subscribed to The Week? Register your account with the same email as your subscription.