Pong at 50: the video game that 'changed the world'
Atari's breakthrough invention remains a 'touchstone' in the history of gaming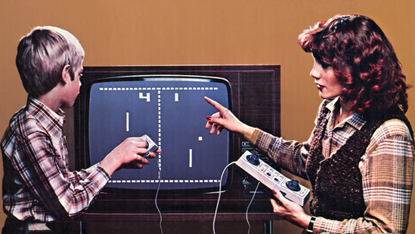 (Image credit: Interfoto/Alamy Stock Photo)
Today marks 50 years since the gaming giant Atari first released Pong into an unsuspecting world.
The "first commercially successful video game in history", the electronic table tennis game has embedded itself "in the public consciousness forever", said Kotaku's editor, David Smith. Today, historic Pong hardware even "sits on displays as prestigious as the Smithsonian".
But it started out as something of an experiment for Atari's first computer engineer.
Subscribe to The Week
Escape your echo chamber. Get the facts behind the news, plus analysis from multiple perspectives.
SUBSCRIBE & SAVE
Sign up for The Week's Free Newsletters
From our morning news briefing to a weekly Good News Newsletter, get the best of The Week delivered directly to your inbox.
From our morning news briefing to a weekly Good News Newsletter, get the best of The Week delivered directly to your inbox.
A 'warm-up exercise'
Nolan Bushnell and Ted Dabney founded Atari in 1972. The first engineer to join the team was Allan Alcorn, a University of California graduate who had "never played a video game before", according to Professor Allison Marsh, writing at IEEE Spectrum.
Alcorn was assigned "a kind of warm-up exercise" by Bushnell, said Kotaku's Smith. In an oral history taken by the Computer History Museum in 2008, Alcorn recalled that he was asked to create Pong – "which we now know was just an exercise" – believing that Atari had been contracted by General Electric to deliver a basic video game.
Pong "couldn't be more simple by today's standards", said Smith. A pixelated black and white screen depicts an electronic table tennis table, with a dotted line through the middle marking the net, a small square ball and two rectangular bats on either side.
During the game's development, Alcorn said he "basically had free reign". Pong was "low-budget to the point of being a one-man operation", said the New York Post, and Alcorn told the newspaper it took him two months to create it.
Keen to test Pong's potential, Bushnell installed Alcorn's creation at "local drinking hole" Andy Capp's Tavern, said Kyle MacNeill at The Guardian. The "new form of playable, payable game… quickly struck gold".
'The game-changer'
If anything "it was too popular", said MacNeill. "According to Pong lore, people lined up for their turn to stuff quarters into the machine", said IEEE Spectrum, until "the manager called Alcorn because the coin box was jammed to overflowing".
At the time, Pong machines cost $500 to manufacture, according to the New York Post, and Atari was selling them for $1,000. "The business grew quickly and even spread overseas."
Atari went on to sell thousands of Pong consoles, and "the sudden success of its first game" saw the company "scrambling to staff up", said the New York Post. In 1973 Alcorn hired Steve Jobs, then "a young hippie in sandals" who arrived at Atari's offices "asking for a job".
Alcorn told the newspaper that Jobs, who would go on to co-found Apple just three years later, was "kind of a pain to work with", and he had a "real problem with body odour", which saw him put on the night shifts. "It was better for everyone," said Alcorn.
The "real game changer" for Pong came in 1975, said IEEE Spectrum, when Home Pong was released. This at-home console was marketed as being compatible to play on any TV set, and "hundreds of thousands of Pong sets were distributed through the department store Sears", said the site.
"Striking while the silicon was sizzling", Atari released "a slew of sequels", said MacNeill in The Guardian, such as Pong Doubles and Quadrapong. But by the end of the 1970s "Pong was overtaken" as new games like Pac-Man and Space Invaders offered "more up-to-date" features and graphics, said MacNeill.
But it had already made its mark as the video game that "changed the world".
The next level
Pong "is still a touchstone" in the billion-dollar gaming industry, said Kotaku's Smith.
And the game "still has a place in active research", said IEEE Spectrum, and is used for "training AI algorithms, strengthening neural networks, and developing the brain-machine interface called Neuralink". It's also used to teach children how to code, said MacNeill in The Guardian.
Even "a bundle of lab-grown brain cells" has had a go at playing Pong, said The Guardian. In October, researchers at biological computing start-up Cortical Labs in Melbourne, Australia published a paper in the journal Neuron explaining how a grouping of 800,000 brain cells figured out how to play the game "in five minutes".
The mini-brain was "plugged into" the video game, said the BBC, which provided an "external environment" to test brain development. Once play got underway, the cells "often missed the ball" but the "success rate was well above random chance". The researchers hope the technology could one day be used to trial treatments for neurodegenerative conditions.
It may be "the most boring video game of all time", said IEEE, but 50 years since people first started playing it, gamers are still drawn to the "novelty factor" and, of course, its "nostalgia".

Continue reading for free
We hope you're enjoying The Week's refreshingly open-minded journalism.
Subscribed to The Week? Register your account with the same email as your subscription.