How long will the Ukraine war last?
Hopes of an end to the bloodshed in Ukraine grew this week as peace talks continued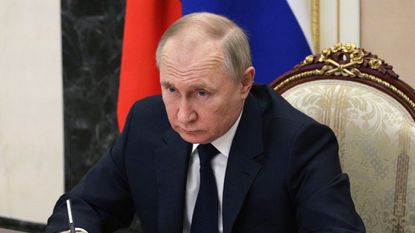 (Image credit: Mikhail Klimentyev/Sputnik/AFP)
Sign up to our 10 Things You Need to Know Today newsletter
A free daily digest of the biggest news stories of the day - and the best features from our website
Thank you for signing up to TheWeek. You will receive a verification email shortly.
There was a problem. Please refresh the page and try again.
Hopes of an end to the bloodshed in Ukraine grew this week after Volodymyr Zelensky said that the ongoing peace talks with Russia were beginning to "sound more realistic". During a meeting in Kyiv with the prime ministers of Slovenia, Poland and the Czech Republic, the Ukrainian president noted that "all wars end in agreements" and conceded that his country had to accept that the "door of Nato" had closed. However, Western leaders remained downbeat about the chances of an imminent breakthrough, and Vladimir Putin accused Kyiv of "not showing a serious commitment to finding mutually acceptable solutions". As diplomatic efforts continued, Russian troops continued to push towards the western suburbs of Kyiv and maintained their siege of strategic cities such as Mariupol, where they were accused of holding 400 people, including doctors and patients, hostage in a hospital.
On Monday, Jake Sullivan, the US national security adviser, met his Chinese counterpart, Yang Jiechi, in Rome, in an effort to dissuade Beijing from supplying arms to Russia. US officials had briefed its allies before the meeting that China had shown a willingness to provide such military assistance. Sullivan said the US had made clear to Beijing that there would "absolutely be consequences" for any "large-scale" efforts to help Moscow evade sanctions. A Chinese foreign ministry spokesman denied that Russia had requested either military or economic support, calling it American "disinformation".
That Moscow has asked China for military help seems all too plausible, said The Independent. Russia is also reported to have sought support from Belarus and to be recruiting fighters from Syria. It's an indication of how much its own forces are struggling on the ground. Russia was grossly unprepared for a serious, lengthy conflict, said William Hague in The Times. Tactical commanders were only informed that they were going to war, and what their objectives would be, a day before the invasion. Troops were told it was an exercise. The Kremlin clearly believed all the intelligence assurances of the FSB, about how Russia would win a quick, easy victory, "which is why senior FSB officers are now under arrest". The result of these planning failures is that Russia has suffered "huge losses of men and material", and is now bogged down, with no hope of achieving "its goal of a pliant Ukraine, however much it widens the war and however many innocent people it kills".
Subscribe to The Week
Escape your echo chamber. Get the facts behind the news, plus analysis from multiple perspectives.
SUBSCRIBE & SAVE
Sign up for The Week's Free Newsletters
From our morning news briefing to a weekly Good News Newsletter, get the best of The Week delivered directly to your inbox.
From our morning news briefing to a weekly Good News Newsletter, get the best of The Week delivered directly to your inbox.
The mass of weapons provided to Ukraine by the West has proved all too effective against Russian forces, said Colonel Tim Collins in the Daily Mail. A portable NLAW short range missile launcher, costing £30,000, can easily take out a £4m Russian tank. Likewise, Starstreak anti-aircraft missiles, built in Belfast at a cost of £100,000 each, are deadly against £30m SU-30 aircraft and £10m helicopter gunships. Russia's air strike on Sunday on a military base just 13 miles from the Polish border was a clear warning to the West that it aims to cut off this stream of lethal aid. Putin isn't giving up, said Paul Rogers in The Guardian. The Kremlin's recent spurious claims about US-backed chemical weapons laboratories in Ukraine may well be paving the way for Russia itself to use such weapons, in an attempt to break the resistance of the Ukrainians and force Zelensky's government to accept his terms. The only thing holding Putin back may be the attitude of President Xi Jinping of China. "He's the one person Putin has no option but to heed."
Xi must be regretting his recent love-in with Putin at the Winter Olympics, said Roger Boyes in The Times. He thought their self-proclaimed "rock solid" relationship with "no limits" would discomfit the Western alliance. But now it's China's reputation that is being damaged, and Chinese companies that fear attracting secondary sanctions. Beijing can't afford to endanger its economic ties with the West for the sake of Russia, said Wang Huiyao in The New York Times. Trade between China and Russia may have jumped by 36% in 2021, to $147bn – but that's still a fraction of China's trade with the US ($657bn) and the EU ($828bn). Xi's best move now would be to help negotiate a quick end to this war, agreed David von Drehle in The Washington Post. "Or, to put it another way: advance China's position by pushing Putin under a bus."
Such a step would make sense for China, said Ian Johnson on CNN. It grew rich on "the international order Putin seeks to destroy" and needs a freely trading world in order to thrive. But playing a proactive role would require a shift in mindset by China, whose instinct in foreign disputes is always "to stay out of the fray, see who is likely to win, and then cut deals". Beijing will likely go on supporting Putin to some degree, if only covertly, said Mark Almond in the Daily Mail. It doesn't want to see him humiliated and replaced by a democrat. It suits China to have a grateful "vassal state" stocked with natural resources as a neighbour.
The bottom line, said Max Hastings in The Times, is that neither Russia nor Ukraine will ever win an outright "victory" in this war. "The only realistic hope is for a deal with Moscow, in which painful concessions will have to be made." The outlines of such a deal are there, said Mark Galeotti in the Daily Mail. It could involve Ukraine formally renouncing membership of Nato, but joining the EU, and ceding ownership of Crimea and the parts of the Donbas region already controlled by Russia. The latter areas – "thuggish states run by embezzlers and warlords" – would be "no great loss to Ukraine". Judging by Russia's advance, Putin wants to secure not only those areas, but also a corridor of land all the way to Odesa, cutting Ukraine off from the sea, said Peter Ricketts in Prospect. Zelensky will never agree to such a thing. "The most likely outcome is, therefore, some form of stalemate." In such an unpredictable crisis, you can't rule out the possibility of a satisfactory resolution, but it's "hard to see a route to a more stable outcome while Putin remains in the Kremlin".
Continue reading for free
We hope you're enjoying The Week's refreshingly open-minded journalism.
Subscribed to The Week? Register your account with the same email as your subscription.
Sign up to our 10 Things You Need to Know Today newsletter
A free daily digest of the biggest news stories of the day - and the best features from our website