Narendra Modi: India's authoritarian leader with his own app
World fifth-biggest economy's direction of travel under cult-of-personality leadership is a growing cause for concern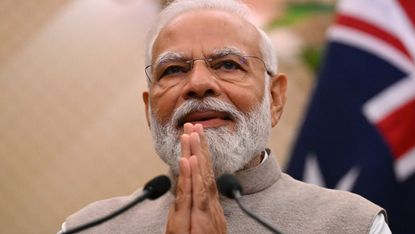 (Image credit: Dean Lewins-Pool/Getty Images)
Sign up to our 10 Things You Need to Know Today newsletter
A free daily digest of the biggest news stories of the day - and the best features from our website
Thank you for signing up to TheWeek. You will receive a verification email shortly.
There was a problem. Please refresh the page and try again.
India's 14th prime minister, Narendra Modi, is emerging as one of the country's pivotal post-independence leaders – along with its founding PM Jawaharlal Nehru, who set the template for a secular, democratic nation in 1947, and his daughter Indira Gandhi, who ruled for 15 turbulent years.
Today, India is estimated to have overtaken China as the world's most populous nation, with 1.4 billion people. It is the world's fifth-biggest economy, and one of its fastest growing.
But India's direction of travel under the leadership of Prime Minister Narendra Modi is a growing cause for concern.
Subscribe to The Week
Escape your echo chamber. Get the facts behind the news, plus analysis from multiple perspectives.
SUBSCRIBE & SAVE
Sign up for The Week's Free Newsletters
From our morning news briefing to a weekly Good News Newsletter, get the best of The Week delivered directly to your inbox.
From our morning news briefing to a weekly Good News Newsletter, get the best of The Week delivered directly to your inbox.
Who is Narendra Modi?
He was born in 1950 in Vadnagar in the western state of Gujarat. His family were from the Ghanchi caste of vegetable-oil producers, officially designated as "backward"; Modi's father had a tea stall in the station and Modi joined the Rashtriya Swayamsevak Sangh (RSS), a militant Hindu nationalist group, at the age of eight. Modi left an early marriage at 17, and went on what he has described as a journey of spiritual "discovery" around India. Upon his return to Gujarat, he dedicated himself to the RSS, becoming a pracharak (a sort of missionary or foot soldier dedicated to chastity and the ascetic life; he is still celibate and teetotal). Modi did an MA in political science in Ahmedabad, where he led a student faction affiliated with the RSS. He joined the BJP, a Hindu nationalist party often seen as the RSS's political wing, in 1987.
How did he rise to power?
When Modi joined the BJP, it had only two MPs. But in 1992, BJP and RSS activists led a crowd that destroyed a Mughal-era mosque in the northern city of Ayodhya, which they believed was built on the birthplace of the Hindu god Rama. Hindu-Muslim riots ensued across the country, and support for both the RSS and the BJP soared. By 1996, the BJP had become the largest party in parliament. Modi, meanwhile, worked his way up to become chief minister of Gujarat in 2001 – a controversial tenure, owing to his alleged complicity in anti-Muslim riots in 2002; but in 2013, he was named as the BJP's candidate for prime minister. In 2014, he guided the BJP to a crushing national election victory. In 2019, he was reelected by a bigger margin.
What happened in Gujarat?
Modi's path to election as PM was paved with violence. A year after he became chief minister of Gujarat, a train carrying Hindu activists through the state was set on fire, allegedly by a crowd of Muslims. Fifty-nine people died. Modi ensured that the bodies of the victims were taken to Ahmedabad, and paraded through the streets. A pogrom ensued, with Hindu mobs killing and raping unrestrained by police. More than 1,000 people died, including some 790 Muslims; over 2,500 were injured. Allegations of complicity in this communal violence dogged Modi for years: in 2005, he was even barred from the US because of his alleged role in inciting the mobs. Modi always denied wrongdoing, and in 2012 he was cleared by a Special Investigation Team (SIT) appointed by India's supreme court, owing to a lack of adequate evidence (a verdict that the court upheld last year). His US visa ban was lifted on his election as PM in 2014. But the questions over his role won't go away: in January this year, a BBC documentary (which Modi tried to stop being aired in India) revealed that an internal UK Foreign Office inquiry had concluded that he was "directly responsible" for the violence, which, it said, bore "all the hallmarks of ethnic cleansing".
Why has he been so successful?
Modi is a formidable politician and orator. In Gujarat he established himself as a pro-business leader who presided over rapid economic growth (partly by aligning himself with powerful business leaders). As PM, Modi has put a strong emphasis on development, providing electricity, gas and toilet facilities to areas that previously didn't have them: one of his signature policies is his war on "open defecation". This and his adept exploitation of India's religious divisions have allowed him to weather even major crises such as Covid-19: India was one of the hardest-hit nations, and his handling of the pandemic was seen as disastrous.
Why is he a controversial PM?
Modi is an authoritarian who keeps a vice-like grip on his own party, and has built up a personality cult (there is, for instance, a "Narendra Modi App"). He has centralised power, and weakened India's institutions. The independence of the judiciary has been eroded, while think-tanks and human-rights groups have been targeted. He has also cowed the free press: India now ranks 161st out of 180 in the World Press Freedom Index. Journalists have been jailed on spurious charges; Modi's business allies have taken over independent outlets; the PM himself hasn't taken questions at a single press conference during nine years in power. But the most worrying aspect of his rule has been the oppression of India's around 200 million Muslims.
How have they been oppressed?
Modi's BJP government has passed a series of anti-Muslim measures. A 2019 law prevented Muslim foreign nationals fleeing persecution from being granted Indian citizenship. In the same year, Modi revoked the autonomy enjoyed by Kashmir, one of India's few Muslim-majority states. At state level, the BJP has promised tough laws to combat "love jihad" (an alleged conspiracy among Muslim men to lure Hindu women into marriage for conversion). BJP politicans have attempted to ban veils in schools, and restrict the Muslim call to prayer. History books have been rewritten, cutting sections on India's Muslim Mughal rulers. Generally, the BJP, which is devoted to Hindutva (Hindu hegemony) has promoted an us-versus-them mentality that has emboldened nationalists: there has been a major rise in anti-Muslim violence, often condoned or excused by the BJP.
Where is the opposition in all this?
Congress, Nehru's secularist party, which long dominated Indian politics, has performed dismally in recent years, leaving a void that Modi and the BJP have been happy to fill. Rahul Gandhi, the former party leader, has been pursued for allegedly defaming Modi by implying he was a thief. He has been disqualified from political office, and could face a two-year prison sentence. Gandhi joins a long list of opposition politicians who have been prosecuted in the courts.
Can India's democracy survive?
The US-based non-profit Freedom House has downgraded India from a free democracy to a "partially free democracy", because it has passed discriminatory polices and harasses critics. Sweden's V-Dem Institute says that India has become an "electoral autocracy", like Russia. In some ways, democracy is still thriving: only half of its 28 state governments are BJP-led, though it does control the populous Hindi-speaking heartlands. Modi himself appears invincible, and his approval ratings, particularly among the 80% Hindu majority, are spectacularly high. Krishna Prasad, a liberal journalist, reflects gloomily: "India is becoming the country it has always wanted to be."
Continue reading for free
We hope you're enjoying The Week's refreshingly open-minded journalism.
Subscribed to The Week? Register your account with the same email as your subscription.
Sign up to our 10 Things You Need to Know Today newsletter
A free daily digest of the biggest news stories of the day - and the best features from our website