Eric Zemmour: the 'French Donald Trump' with his sights on presidency
The 'new face' of the far-right is tipped to supplant Marine Le Pen as main threat to Emmanuel Macron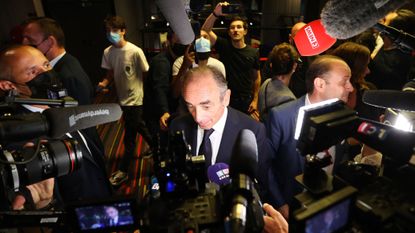 (Image credit: Valery Hache/AFP via Getty Images)
The meteoric rise of a controversial television pundit has put him in prime position to replace Marine Le Pen as the biggest threat to Emmanuel Macron in next year's French presidential election.
Dubbed the "French Trump" by Politico, Eric Zemmour is racking up "far more prime-time TV slots and front-page stories than many of his rivals". And while critics claim his "inflammatory rhetoric on immigration and Islam" is "degrading the public debate ahead of April's election", Zemmour is "on the rise in the polls", said the news site.
Provocateur politique
Subscribe to The Week
Escape your echo chamber. Get the facts behind the news, plus analysis from multiple perspectives.
SUBSCRIBE & SAVE
Sign up for The Week's Free Newsletters
From our morning news briefing to a weekly Good News Newsletter, get the best of The Week delivered directly to your inbox.
From our morning news briefing to a weekly Good News Newsletter, get the best of The Week delivered directly to your inbox.
Zemmour is an "admirer of the former US president", according to The Guardian's Paris correspondent Angelique Chrisafis, and has been "convicted for inciting racial hatred". But those criminal convictions have not stopped his "meteoric" rise to fame as first a journalist and now the "new face" of the French far-right.
Born in the Paris suburbs in 1958 to a Berber Jewish family who moved to France during the Algerian War, Zemmour graduated from the elite Paris Institute of Political Studies, a university that boasts Macron and four former French presidents among its alumni.
Zemmour twice failed to win admission to the École Nationale d'Administration, a training school for senior French officials, before joining Le Quotidien de Paris as a journalist on the newspaper's politics desk. He later worked at Le Figaro as a political reporter and then moved into TV, hosting his own show, Face à l'Info, from 2019 to 2021.
The veteran journalist has also published a series of non-fiction books about race in France. His 2014 book The French Suicide sold more than 500,000 copies and won the illustrious Prix Combourg-Chateaubriand.
Zemmour "portrayed himself as a truth-teller in a news media dominated by politically correct, left-leaning journalists", The New York Times (NYT) said. He has talked about the "existential threat of a 'great replacement'" – a "loaded term" related to racial dominance that Le Pen has "avoided".
Zemmour has "railed against the immigration of Muslim Africans" in particular, the paper added, and has repeatedly claimed that such new arrivals threaten to "overwhelm France's more established white and Christian population".
His controversial pronouncements have triggered a series of lawsuits, with Zemmour fined two times in 2011 for provocation of racial discrimination, and for provocation of hate against Muslims in 2018. He was acquitted on six other occasions.
The highly divisive public figure does not have any party political affiliation and has yet to confirm officially that he will run in the upcoming French election next year.
But polling by Harris Interactive last week of more than 1,000 French voters found that he would currently come second in the contest, with only Macron ahead. Zemmour would net 17% percent of the vote, the survey found, with Macron on 24% and Le Pen on 15%.
The poll "is an outlier" when compared with an "aggregate of all available polls, which shows Zemmour at 13%, behind Le Pen at 17% and Macron on 24%" , said Politico. But the Harris Interactive results "made headlines nevertheless".
Clash of civilisations
Zemmour's political ambitious are "aimed at the far-right Le Pen dynasty", said The Guardian's Chrisafis. "While the anti-immigration Le Pen tried to broaden her voter base by sanitising her Front National's image", the former TV pundit has won support by arguing that "she has gone too soft".
Zemmour has claimed that "France wants a more radical take" on what he has branded a "war of civilisations", Chrisafis added. But, according to Cecile Alduy, a Stanford University professor and expert on French politics, Zemmour is actually deploying a "very-old fashioned, French far-right discourse".
Alduy told The Guardian that there is "nothing new in what he's saying", adding: "What is new is the reception and acceptance of this discourse in the public conversation. It's a turning point in French political history that Zemmour's discourse is given so much space and legitimacy by the media."
Last month he stirred up further controversy "by calling for a ban on foreign-sounding names such as Muhammad, Kevin and Jordan", reported The Times. Zemmour pledged that if he ever held the presidency, "he would reinstate a law introduced by Napoleon Bonaparte stipulating that only names included in the Christian calendar of Saints and those from 'ancient history' were authorised".
As well as attacking foreign names, Zemmour has also made headlines by "calling for curbs on immigration and measures to force immigrant families – and, notably, Muslims – to adopt traditional French customs and culture", the paper added.
As a budding politician, he "seeks to radicalise, provoke and frame the debate around his own obsessions", said The Economist. Zemmour is positioning himself as a "counter-feminist" and "anti-woke" candidate who "blends erudition with outrage, simple sentences and rant".
Despite his Jewish heritage, he has also drawn fierce criticism for stating that "Vichy France in fact protected French Jews", The Economist added – a claim that has been "attacked by historians", said The Guardian's Chrisafis.
Despite allegations that he is "stoking division in France and degrading the public debate ahead of April's election", his supporters insist that he is "a breath of fresh air in a society beset by political correctness", said Politico.
And like Trump, he is winning support because he has "checkmated the media", according to Gaspard Gantzer, a former advisor to ex-president Francois Hollande.
"Zemmour is very well-known in a splintered media landscape," Gantzer told the site, and he is "ahead of the pack because those who make the most outrageous statements have the advantage today".

Continue reading for free
We hope you're enjoying The Week's refreshingly open-minded journalism.
Subscribed to The Week? Register your account with the same email as your subscription.