In hock to Moscow: exploring Germany's woeful energy policy
Don't expect Berlin to wean itself off Russian gas any time soon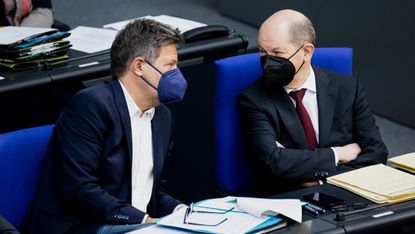 (Image credit: Florian Gaertner/Photothek via Getty Images)
"Like a deer in the headlights," Germany's government has been "caught in the trap of Russian gas", said Le Monde (Paris). For two decades, Berlin has prided itself that getting the bulk of its gas – now some 40% – from Russia was a win-win policy, helping both to lower energy costs and draw Russia closer to Europe.
Only two months ago, Chancellor Olaf Scholz was still resisting pressure from his European partners to abandon the Nord Stream 2 pipeline through which gas would flow from Russia to Germany. Now, however, that policy can be seen for what it is: "a veritable economic and social time bomb", one that could have exploded last week when Vladimir Putin threatened that payments for Russian energy would all have to be in sanction-breaking Russian roubles. Luckily, Putin relented on that threat this week: he needs the money as badly as Germany needs the gas. But let us hope this is a wake-up call for Berlin to give up its energy reliance on Russia. "The time for denial is over."
But how soon will it act, asked Nik Martin and Insa Wrede in Deutsche Welle (Bonn). Right now, "Germany is effectively funding Putin's war machine" by spending hundreds of millions of euros daily on Russian energy. We have to go on doing that, insists the Federation of German Industries, or we'll suffer "incalculable consequences", a line Scholz has echoed. Any sudden embargo, he told parliament last month, would mean "plunging our country and the whole of Europe into recession".
Subscribe to The Week
Escape your echo chamber. Get the facts behind the news, plus analysis from multiple perspectives.
SUBSCRIBE & SAVE
Sign up for The Week's Free Newsletters
From our morning news briefing to a weekly Good News Newsletter, get the best of The Week delivered directly to your inbox.
From our morning news briefing to a weekly Good News Newsletter, get the best of The Week delivered directly to your inbox.
Well, possibly so, yet some analysts are adamant that a short-term halt to the supply would be "sub­stan­tial but manageable": according to scholars from the German National Academy of Sciences Leopoldina, it would cause no more than a 0.5%-3% fall in Germany's GDP – small beer compared with the 4.5% fall in the first year of the pandemic.
Chancellor Scholz just doesn't seem to get it, said Alexander Kissler in Neue Zürcher Zeitung (Zurich). He has been deeply unimpressive throughout this crisis. He brooks no criticism: he resembles more and more the know-it-all Social Democrat mayor he once was. By contrast, the next most prominent member of the federal government – economics minister and Green party co-leader Robert Habeck – has grown in stature. Habeck has announced a three-stage alert system to put the country in readiness for energy cutbacks, the final one involving the rationing of gas supplies. The first stage – an early warning of a supply emergency – was triggered last week. The "brash" regional politician has turned into a pan- German leader. "Habeck can crisis; Scholz can only Scholz."
Well, not exactly, said Jörg Münchenberg on Deutschlandfunk (Berlin). Habeck should have acted a lot sooner to prepare citizens and companies to use energy more sparingly: his own Green party urged him to do so, but until this week he held back. The bottom line, in all this, said Hans-Werner Sinn in Project Syndicate (Prague), is that thanks to Angela Merkel's disastrous energy policies – shutting down the nation's 17 nuclear plants at the same time as phasing out coal – Germany is stuck. It simply won't be able to import the gas it would need were it to slash the supply from Russia. Unlike many of its neighbours, it has no liquefied natural gas terminals that could enable Russian deliveries to be replaced by deliveries from the US or the Middle East.
If it did suddenly cut back on Russian gas imports, then the gas-based residential heating systems – "on which half the German population rely" – and the industrial processes that depend on gas imports (notably the chemical industry and the world's largest chemical firm, BASF), would collapse. The chances of any government surviving the resulting chaos would be non-existent, and "the likely scale of domestic disruption would call into question the cohesion of the Western response to the Ukraine war". In short, don't expect Germany to wean itself off Russian gas any time soon.

Continue reading for free
We hope you're enjoying The Week's refreshingly open-minded journalism.
Subscribed to The Week? Register your account with the same email as your subscription.