Why Germany is under attack over Russia-Ukraine stand-off
Mayor of Kiev accuses Berlin of 'betrayal' for refusing to back arms exports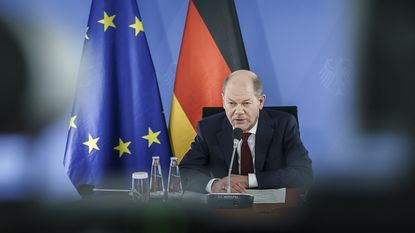 (Image credit: Jesco Denzel/Bundesregierung via Getty Image)
Germany has offered financial aid to Ukraine in an apparent bid to calm a diplomatic storm triggered by Berlin's refusal to provide military assistance to deter Russian aggression.
Foreign Minister Annalena Baerbock said that "economic stabilisation" was "one of the decisive measures" of support that Germany could provide to the war-threatened former Soviet state. "It is important that we especially keep the economic situation in Ukraine in mind," she told reporters ahead of a meeting of EU foreign ministers in Brussels on Monday.
Baerbock added that "we are very closely on Ukraine's side in terms of both financial and economic support", but refused to specify what such aid would entail.
Subscribe to The Week
Escape your echo chamber. Get the facts behind the news, plus analysis from multiple perspectives.
SUBSCRIBE & SAVE
Sign up for The Week's Free Newsletters
From our morning news briefing to a weekly Good News Newsletter, get the best of The Week delivered directly to your inbox.
From our morning news briefing to a weekly Good News Newsletter, get the best of The Week delivered directly to your inbox.
Friends like these
Baerbock's promise of economic aid came after Kiev Mayor Vitali Klitschko accused Germany of "betraying its friends" by banning arms exports and supporting the Nord Stream 2 gas pipeline from Russia to Europe.
In an article published in German tabloid Bild on Monday, former world heavyweight boxing champion Klitschko wrote: "There is huge disappointment in Ukraine that the federal government is sticking to Nord Stream 2. That it does not want to supply defence weapons and at the same time prevents states like Estonia from supplying us with weapons.
"This is failure to provide assistance and betrayal of friends in a dramatic situation in which our country is threatened by Russian troops from several borders."
Germany's relationship with Russia has long been a sticking point for Berlin's EU allies. Eastern European member states claimed to have been sidelined last summer as Berlin pressed ahead with plans for the controversial Nord Stream project.
President Frank-Walter Steinmeier had also triggered anger months earlier by defended the pipeline project "with the argument that his country owed Moscow a debt of guilt for the atrocities of the Second World War", The Times reported. Steinmeier told the Rheinische Post that "for us Germans there is another, very different dimension" to the deal, owing to Germany's "chequered history with Russia".
Ukraine's ambassador in Berlin, Andrij Melnyk, said it was "cynical to bring the atrocities of the Nazi reign of terror into play in precisely this debate".
Officials in Kiev have been angered further by comments by Germany's most senior navy official last week.
Kay-Achim Schonbach, the inspector of the German Navy, was widely criticised after arguing during a think-tank discussion in India on Friday that the West should show some "respect" to Vladimir Putin, adding that Crimea was "gone" and would "never come back".
Schonbach resigned the following day and said his comments had been "ill-considered".
Arms ban
As Russian troops mass on Ukraine's eastern border, Germany is sticking to its long-standing policy against exporting weapons to conflict zones. Berlin is also considering whether to allow Estonia to send howitzers under a veto that was a condition of their export from Germany.
Criticising this refusal to help arm Ukraine, Kiev Mayor Klitschko accused Germany of allowing "Putin sympathisers" to "seize political control on many issues".
"The billions that Russia has invested to buy German corporations, ex-politicians and lobbyists have paid off for Vladimir Putin," Klitschko wrote in his Rheinische Post editorial.
The export ban has fuelled Nato fears that Berlin is "dividing from the US and the UK" on "how to respond to any future Russian act of aggression in Ukraine" and its "assessment of the imminence of the threat", said The Guardian's diplomatic editor Patrick Wintour.
Major efforts are being made behind closed doors to "minimise" this potential split, he continued. But "they may be impossible to avoid since they reflect not just different short-term assessments on intelligence, but a deep fissure going back decades".
The UK and US have long "been openly critical of Germany for leaving itself so dependent on Russia for energy, and Berlin's recent refusal to allow Estonia to send German-manufactured arms to Ukraine". But in the corridors of the Bundestag, "the idea of Germany providing weapons to be used against Russia for the first time since the Second World War is anathema".
Eastern front
As Germany drags its feet over support for Ukraine, its allies have "begun to question what price Berlin is prepared to pay to deter Russia, and even its reliability as an ally, as it wavers on tough measures", The New York Times (NYT) reported.
While Nato forces "bulk up their military commitments in the Baltics and Eastern Europe", Berlin "has stood out more for what it will not do than for what it is doing".
"As Germany struggles to overcome its post-World War II reluctance to lead on security matters in Europe and set aside its instinct to accommodate rather than confront Russia, Europe's most pivotal country has waffled in the first crucial test for the new government of Chancellor Olaf Scholz," the paper added.
In an article for The Wall Street Journal, US national security expert Tom Rogan argued that on "the two most consequential security threats to America and to the post-World War II democratic international order" – China and Russia – Berlin is failing in its role as a "credible ally".
Germany has "abandoned the Nato defence-spending target of 2% of gross domestic product" and "allows Russian chemical-weapons research" used in Moscow's "assassination campaigns" against high-profile figures including Alexei Navalny to take place "on its soil", he wrote.
The UK and US still depict the European powerhouse as one of their "most important allies". But given Germany's stance on Russian aggression, "it's hard to see" how that "claim holds up", Rogan concluded.
Germany increasingly looks like "the West's weak link in the Russia-Ukraine stand-off", said NBC News. The "reluctance of Europe's leading economic power to join the more robust Western posture" has been attributed by many experts to "a mixture of short-term economic goals and the long shadow of its 20th century history", the broadcaster reported.
"These are the complexities of World War II, and Germany's dealings in Ukraine and Russia during the Soviet Union times," said Kiev-based political analyst Volodymyr Fesenko, the head of the Penta Centre think-tank. "Economically and politically, they just don't want to quarrel with Russia."
Berlin's "evident hesitation to take forceful measures" has triggered "concerns that Moscow could use German wavering as a wedge to divide a united European response to any Russian aggression", said the NYT.
And given that the "wrenching debate over where precisely German loyalties lie is not new", its Western allies are increasingly losing patience.

Continue reading for free
We hope you're enjoying The Week's refreshingly open-minded journalism.
Subscribed to The Week? Register your account with the same email as your subscription.