How the Ukraine war started and how it could end
A year of fighting has taken its toll on both sides, but Ukraine has more to celebrate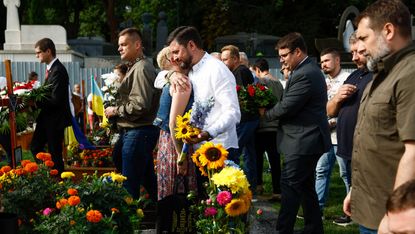 (Image credit: Jeff J Mitchell/Getty Images)
As the first anniversary of Vladimir Putin's invasion of Ukraine approaches, Kyiv is bracing for a renewed offensive by Moscow.
Oleksiy Reznikov, Ukraine's defence minister, said the Kremlin may be planning a push on 24 February to mark the occasion, but Western military analysts are sceptical that Russia will be able to mount a large attack.
Ukraine and Russia "are both still training their new troops and amassing weapons", Euronews said, meaning that any significant advance "is unlikely… particularly in time for the 24 February anniversary."
Subscribe to The Week
Escape your echo chamber. Get the facts behind the news, plus analysis from multiple perspectives.
SUBSCRIBE & SAVE
Sign up for The Week's Free Newsletters
From our morning news briefing to a weekly Good News Newsletter, get the best of The Week delivered directly to your inbox.
From our morning news briefing to a weekly Good News Newsletter, get the best of The Week delivered directly to your inbox.
Britain's Ministry of Defence said yesterday that Moscow is still "requiring undermanned, inexperienced units to achieve unrealistic objectives due to political and professional pressure." Russian leaders may "demand sweeping advances", but they are struggling to rebuild their forces and a game-changing attack "remains unlikely".
Still, said CNBC, Russia's Foreign Minister Sergei Lavrov has "hinted that his country has plans to overshadow pro-Ukrainian events around the world to mark the first anniversary of the war."
Earlier this month, Lavrov said that Russian diplomats were planning something that would ensure Western-led events were "not the only ones to gain the world's attention". He did not provide more details.
Prelude to conflict
Vladimir Putin's invasion of Ukraine has dragged on for nearly twelve months, upending three decades of post-Cold War orthodoxy and re-shaping the security map of Europe forever.
But the groundwork for the conflict had been laid well before then.
Putin had long made clear his belief that Ukraine is an illegitimate state, claiming in an essay published last year that Russians and Ukrainians, along with Belarusians, are one people, belonging to what was historically known as the "All-Russian Nation".
In the essay, titled On the Historical Unity of Russians and Ukrainians, Putin explicitly laid out his argument that Ukraine has no right to call itself an independent nation. "The formation of an ethnically pure Ukrainian state, aggressive towards Russia", he argued, is equivalent to the use of weapons of mass destruction against Russians.
It was with this logic that Putin justified the 2014 annexation of Crimea, as well as the long-running conflict between Kremlin-backed proxies in the Donbas region. That conflict, fought on Ukrainian soil, claimed 14,000 lives between 2014 and 2022.
Then, in a speech delivered days before February's invasion, Putin attacked the notion of Ukrainian statehood in an "angry" and "dismissive" speech delivered from the Kremlin, said Associated Press editor-at-large John Daniszewski. Putin outlined a "version of Ukraine's history" in which the territory now controlled by Kyiv was always part of Russia – and was stolen from mainland Russia by the Bolsheviks following the formation of the Soviet Union.
But "while that serves his purpose, it is also a fiction" that denies Ukraine's "own 1,000-year history", Daniszewski said. World leaders dismissed Putin's history lesson, but it nonetheless laid the "groundwork for war", he added.
How the war started
On 21 February, Putin signed a decree recognising the Donetsk People's Republic and Luhansk People's Republics, the two self-proclaimed states controlled by pro-Russian separatist forces in Donbas. No other country recognised their independence at the time. He then deployed Russian troops to the area, arguing that they were "peacekeepers" seeking to avoid a "genocide" of Russians living in the region. Ukraine later took Russia to the International Court of Justice "for having launched an invasion on the pretext of false claims of genocide perpetrated against the country's Russian speakers", The Guardian reported.
What followed was an assault on three fronts, with Russian troops flooding over into Ukrainian territory from annexed Crimea, the separatist-controlled regions in the east and Belarus, which shares a border to the north of Ukraine. Putin justified this attack by arguing that Nato expansion to the east threatened Russian national security, even though Ukraine is not a Nato member and was not likely to join the alliance in the near future. He also claimed to be "demilitarising" and "denazifying" the country, which is led by a democratically elected Jewish president.
He had intended the invasion to be swift, with troops quickly storming into the capital Kyiv and deposing President Volodymyr Zelenskyy's government. But his troops were met with stiff resistance from Ukraine's armed forces, laying the groundwork for the ongoing fighting in several major cities.
How will the war end?
Putin's invasion has not gone to plan. The Kremlin initially hoped that the country would fall quickly to Russia's massive military superiority, but stubborn Ukrainian resistance led the war into stalemate.
In the months that followed, Russian forces tried and failed to take Kyiv, but did occupy large swathes of Ukraine and bombard many others. Ukrainian counter-offensives have reclaimed some territory, but have not been universally successful.
Here are four possible outcomes of the conflict:
1. Victory for Ukraine
The way Kyiv would like to see the war end is "clear-cut", said Russia expert Owen Matthews in The Spectator. Ukraine hopes "to expel Russian troops from every inch of its territory, including Crimea and the self-proclaimed Donbas 'republics' annexed by Russia."
Some Kyiv officials have even gone so far as to discuss "forcing Russia to pay reparations and putting its commanders – up to and including Putin – in the dock of an international war crimes tribunal."
White House national security adviser Jake Sullivan has previously said that US military support is "putting Ukraine in the best possible position on the battlefield", which will help with any prospective peace talks.
At a news conference in the Hague last year, Nato Secretary General Jens Stoltenberg said "it is for Ukraine to decide what kind of terms are acceptable". And, "it is for us to support them".
The "most likely" way for the war to end is "with a Ukrainian victory which changes politics in Moscow", said Timothy Snyder, professor of history at Yale, speaking to Boston radio station WBUR.
Yet even the most "optimistic scenario" of forcing the Russians "back to pre-invasion borders" would still leave Putin still in power, said The Spectator's Matthews.
Not so, said Peter Wilson and William Courtney in The Hill. "Putin could fall."
A succession of defeats in Ukraine has "sparked a torrent of hardline pro-war criticism," Wilson and Courtney said, meaning "Putin could be pressured or ousted by renegade security forces, such as those led by hardliners Yevgeny Prigozhin (Wagner Group) or Chechen leader Ramzan Kadyrov."
2. Stalemate
Before Ukraine launched its counter-offensive in August, most experts were predicting a long stalemate.
The invasion was "at a near-operational standstill", said Bloomberg, with both sides "more conscious that they face a marathon rather than a sprint".
James Stavridis, a former Nato supreme allied commander for Europe, told Business Insider last year that he predicted a "Korean War ending, which is to say an armistice, a militarised zone between the two sides, ongoing animosity, kind of a frozen conflict".
In an interview with Radio Free Europe in late October, Harvard professor and former US defence official Graham Allison said an "optimistic scenario" would still be a stalemate "along the current line of control".
A permanent partition "is looking ever more likely," agreed Jonathan Cook on Middle East Eye. This would leave us with "two opposed blocs – one more pro-Russian, the other more pro-Nato."
If that occurred, both sides could claim success. Putin could declare that he has taken additional territory and Ukraine, having "survived as a free and independent country", could claim that it still intends to recover this territory in the future, said Graham Allison.
3. Compromise
Stalemate on the battlefield could open the door to some kind of negotiated settlement, with "those keeping a close eye on the war believing compromise rather than an outright winner remains the most likely outcome", said the Daily Express.
Negotiating teams from both sides have participated in peace talks since the early days of the invasion, but both Zelenskyy and Putin have talked themselves into a corner, said The Washington Post. Neither is willing to accept the other's territorial ambitions.
"Zelenskyy gets a lot of advice on how he can end the war in his country, and most of it pushes in one direction: swap some sovereignty for peace," the paper said. Yet he has repeatedly rejected the idea of Russian forces remaining on what he deems Ukrainian soil, saying the basis for any negotiation would depend on Moscow pulling back its forces to their pre-invasion positions.
Putin, for his part, is likely to believe that such a humiliating retreat will not be necessary. While he "might realise he will not be able to take Kyiv, Russia's president may still believe he can seize all of the four provinces he recently (and illegally) annexed – Donetsk, Kherson, Luhansk, and Zaporizhzhia", said military strategist Mick Ryan in Foreign Affairs.
His hope remains that, as the war drags on, "Europe will stop providing Ukraine with large amounts of assistance", and that this potential drop in support, "will pave the way for a new, successful Russian offensive".
4. Escalation
After the West made the decision to "cross the Rubicon of supplying battle tanks to Kyiv," it's worth considering the war's "most pressing conundrum – how to avoid the Ukraine conflict turning into a world war," said The Spectator's Owen Matthews.
One of the most prominent pieces of dissent around the supply of tanks to Ukraine came unexpectedly from Donald Trump, the former US president, who wrote on social media: "FIRST COME THE TANKS, THEN COME THE NUKES. Get this crazy war ended, NOW."
Former Russian president Dmitry Medvedev, who serves as deputy chairman of Putin's powerful security council, said in a post on Telegram this week that a defeat of Russia in Ukraine could trigger a nuclear war. "Nuclear powers have never lost major conflicts on which their fate depends," he said.
Yet many experts believe escalation into a nuclear escalation, while possible, is still very remote.
"We don't have any indication that Mr Putin has any intention to use weapons of mass destruction – let alone nuclear weapons, tactical or otherwise," John Kirby, a White House spokesman, said at a recent news briefing. "We monitor as best we can, and we believe that – that our strategic deterrent posture is appropriate. But we have seen no indication that that's in the offing."

Continue reading for free
We hope you're enjoying The Week's refreshingly open-minded journalism.
Subscribed to The Week? Register your account with the same email as your subscription.