How Russia's invasion of Ukraine could play out
Punishing sanctions follow Putin's deployment of troops into separatist-controlled areas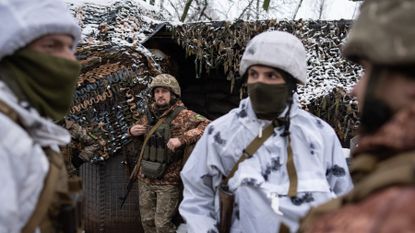 (Image credit: Aykut/Anadolu Agency via Getty Images)
The deployment of Russian troops in two separatist-controlled states in eastern Ukraine has prompted international condemnation and calls for devastating economic sanctions against Moscow.
Vladimir Putin yesterday signed a decree recognising the independence of Luhansk and Donetsk following a pre-recorded national security council meeting in which ministers and officials were invited to voice their support for the move on national television.
"The pained faces of some in the room suggested that not everyone was happy with the direction of travel," The Economist said. But the allies of the Russian president "unanimously hewed" to what he "wanted to hear", paving the way for aggression that "voids" the Minsk agreements and may "set off a spiral of sanctions and war".
Subscribe to The Week
Escape your echo chamber. Get the facts behind the news, plus analysis from multiple perspectives.
SUBSCRIBE & SAVE
Sign up for The Week's Free Newsletters
From our morning news briefing to a weekly Good News Newsletter, get the best of The Week delivered directly to your inbox.
From our morning news briefing to a weekly Good News Newsletter, get the best of The Week delivered directly to your inbox.
The US was quick to respond to the arrival of Russian troops with "targeted sanctions", Reuters reported, banning "new investment, trade and financing" in Luhansk and Donetsk. Further measures were announced by the UK and EU this afternoon.
Here are the scenarios for how Putin's invasion could play out.
1. Strong sanctions
The US was today "coordinating with allies and will announce new sanctions against Russia", Reuters reported. It has already imposed a financial package targeting investment into the two occupied regions.
Heavy sanctions were placed on Russia after its annexation of Crimea in 2014. At the time, the "ruble took a tumble" and "economic growth faltered", said The Telegraph. "But a prudent macroeconomic and monetary policy helped the Kremlin to stay afloat", in doing so "setting aside billions from its oil revenues for a rainy-day fund".
Boris Johnson this afternoon announced sanctions against five of Russia's biggest banks and three Kremlin-linked billionaires. The EU also published its "sanctions proposal", BBC Europe editor Katya Adler said, which will target "anyone involved in the decision" to recognise the independence of the two states controlled since 2014 by Russian-backed proxies.
German Chancellor Olaf Scholz told reporters that the government in Berlin has halted the approval of the Nord Stream 2 gas pipeline, stating: "The situation today is fundamentally different and therefore, in light of recent events, we must also reassess this situation with regard to Nord Stream 2."
John Herbst, senior director of the Atlantic Council's Eurasia Center and former US ambassador to Ukraine, said that any sanctions must be "strong", warning that "if the West's response is simply rhetorical, Putin will smell weakness and escalation is likely".
He continued: "The ideal sanctions target should be Nord Stream 2… If not that, the United States must sanction at least one major Russian bank, as well as some of the high-profile figures around the Russian president."
The West must also "make clear that far more punishing sanctions are to come if Moscow launches a major new offensive", he said. This should include the threat of "expulsion from the SWIFT financial system" that would essentially end Russia's ability to send and receive money from abroad.
A key difficulty for EU member states is the bloc's reliance on Russian energy. This means that "as the West weighs how to sanction" the Kremlin, the EU must sidestep the "high risk of helping fund the Kremlin's war machine through payments for oil and gas", Politico reported.
How would sanctions impact Vladimir Putin's 'fortress Russia'?
2. Military entrenchment
Once sanctions are agreed, the immediate concern will turn to Russia's entrenchment in Luhansk and Donetsk. Having assembled the largest ground force on European soil since the 1940s, Moscow has indicated that it is prepared for an escalation in hostilities.
"For many weeks, the Kremlin has refrained from making a clear argument to justify war," The Economist said. But after Putin's speech yesterday in which he "questioned the legitimacy of Ukraine's independence", the "propaganda offensive now appears to be in full throttle with claims of genocide and Nato aggression merged into one call to action".
Putin has claimed that the troops are "peacekeepers", sent in to ensure that the Ukrainian military does not launch an offensive to reclaim rebel-controlled territory. But President Volodymyr Zelensky sounded a bullish tone in an address to the nation yesterday afternoon, stating: "We are on our land, we are not afraid of anyone or anything."
Boris Johnson this morning said that Putin had "broken international law" and "repudiated the Minsk agreements" by sending troops into Luhansk and Donetsk. But forcing Russian troops back across the border will prove to be a challenge.
What does Vladimir Putin want from Ukraine?
3. Hybrid warfare
Another possibility now that Putin has boots on the ground is an expansion of the type of "hybrid warfare" that last week took down the Ukrainian Ministry of Defence's website.
Ukrainian officials have warned that they have "seen online warnings that hackers were preparing to launch major attacks on government agencies, banks and the defence sector", euronews reported.
UK Defence Secretary Ben Wallace yesterday told the Commons that the government is ready to use "offensive cyber capability" if necessary.
Thomas S. Warrick, a senior adviser with the Atlantic Council's Scowcroft Middle East Security Initiative, said: "Putin has used disinformation and false-flag operations to justify military action to the Russian people". But, he continued, yesterday's "overt military move" was "against territory that Kyiv does not control".
Luhansk and Donetsk have been held by Russian-backed proxies since 2014, meaning that the "next round in hybrid warfare" could be "diplomacy, to try to get real concessions from Ukraine and the West without a real invasion", he added.
Is Ukraine cyberattack a precursor to Russian invasion?
4. Bear backs down
Should the West "hit the right Russian pain points", it is possible that Putin could be forced into leaving Luhansk and Donetsk, said Arun Iyer, a non-resident senior fellow at the Scowcroft Center for Strategy and Security's Forward Defense practice.
Writing on the Atlantic Council, he said: "One of the many options could be action against a notable Russian oligarch inside Putin's circle of influence." This could turn the screws on the Russian president, especially if its "intensity" is enough to "get serious attention from his elite enablers".
The Western response should attempt to "make being a Russian oligarch essentially worthless anyplace other than Russia – unless they convince Putin to act within international norms", Iyer said.
According to The Telegraph: "Russian oligarchs and Kremlin-linked organisations have begun intense lobbying of the Foreign Office to avoid sanctions." A sudden "flurry of correspondence from individuals and companies" somewhat "undermines claims that the Kremlin is unfazed by the prospect of economic measures".
An ally of Foreign Secretary Liz Truss told the paper that making Russia's elite "squeal" is a key element of her plan for dealing with Moscow. "The Kremlin says it doesn't care about sanctions. But that's clearly not the view of Russian oligarchs and businesses."
For Western leaders, "all sectors will be on the table, from energy to defence to banking, chemicals and technology", they added. "It will be a surgical sanctions strike and very painful for Russia. It's a clear deterrence."
How London became the city of choice for Russian 'dirty money'
5. War in Europe
If deterrence and diplomacy fail, Russia could push beyond the line of contact between Luhansk and Donetsk to try to claim further swathes of Ukrainian territory. Joe Biden has warned "they will target Ukraine's capital Kyiv, a city of 2.8 million innocent people".
"Russia could mobilise troops in Crimea, Belarus and around Ukraine's eastern borders," the BBC reported. "In theory Russia could try to sweep across Ukraine from the east, north and south and try to remove its democratically elected government."
But a full invasion of Ukraine, a country of 44 million people, would be no easy task. "Ukraine has built up its armed forces in recent years and Russia would face a hostile population," the BBC said.
Nato has spent the last few weeks plying Ukraine with "lethal aid" in preparation for this eventuality, Sky News said. But Moscow still "has more military firepower than Ukraine – covering the land, air and sea".
What would a Russian war with Ukraine look like?

Continue reading for free
We hope you're enjoying The Week's refreshingly open-minded journalism.
Subscribed to The Week? Register your account with the same email as your subscription.