100 days of Joe Biden: has the president lived up to his 'quiet radical' reputation?
Democrat marks major landmark with 'call for transformation' in speech to Congress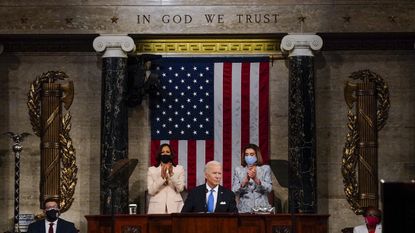 (Image credit: Melina Mara-Pool/Getty Images)
Joe Biden has marked his first 100 days in the White House with an address to Congress in which he laid out his $1.8trn (£1.3trn) spending package to revive the US economy.
Half a century after he entered Congress as a senator, Biden said his administration would overhaul US infrastructure and social programmes with policies funded by "corporate America and the wealthiest 1%" paying their "fair share".
Much has been made of the "quiet radicalism" behind Biden's plans for the US, with The Guardian describing his speech as a "once unthinkable call for transformation". So what is the verdict on his first 100 days in the Oval Office?
Subscribe to The Week
Escape your echo chamber. Get the facts behind the news, plus analysis from multiple perspectives.
SUBSCRIBE & SAVE
Sign up for The Week's Free Newsletters
From our morning news briefing to a weekly Good News Newsletter, get the best of The Week delivered directly to your inbox.
From our morning news briefing to a weekly Good News Newsletter, get the best of The Week delivered directly to your inbox.
Heir to Roosevelt?
At his inauguration, Biden pledged to "press forward with speed and urgency" during his first 100 days in office to deliver on vaccinations and the post-pandemic rebuilding of the US economy.
Having watched "the Obama presidency run out of legislative road when the Democrats lost Congress after two years" and "the Trump presidency floundering amid bitter partisan divisions", Biden was "determined to hit the ground running", The Times reports.
And though he has "made fewer personal and press appearances than his recent predecessors", his legislative record "shows that he had a busy start as he set out a bold blueprint" for reshaping the US, the paper adds.
After promising to deliver 100 million vaccine doses in his first 100 days, Oxford University tracking shows that the US has in fact administered over 232 million doses so far, contributing to a "significant decline in new coronavirus cases", The New York Times (NYT) reports.
Arguably, however, the "most eye-popping element to Biden's opening salvo is the volume of money he wants Congress to approve", associate editor Edward Luce says in the Financial Times (FT).
Biden has so far "boosted US spending by roughly 15% of gross domestic product", Luce adds, with Congress in March approving the $1.8trn (£1.3trn) American Rescue Act that will "help stimulate roughly 7% US economic growth this year".
The president has also pledged $2.3trn for the American Jobs Plan to upgrade US infrastructure and the $1.8trn American Families Plan, which seeks to invest in a national childcare programme, universal pre-school, tuition-free community college, health insurance subsidies and tax cuts for low- and middle-income workers.
Biden "has been quick to position himself as the heir to Franklin D. Roosevelt", The Times says, with Luce noting in the FT that "the last time spending leapt this sharply was during the second world war".
And it is in this regard that Biden's speech on Wednesday was a "once unthinkable menu of grand plans for coronavirus relief, building infrastructure and helping families" that Biden is "measuring not in billions but trillions of dollars", The Guardian says.
"My fellow Americans, trickle-down economics has never worked," Biden told a socially-distanced Congress. "It's time to grow the economy from the bottom up and middle out."
How to govern following the unpredictability of his predecessor was always the question when Biden took office. But "in the choice between going big and going bipartisan, big is winning, remaking America with government at the centre", The Guardian adds.
Underpromise, overdeliver
"Whether legislators go along" with Biden's plans "remains to be seen", The Times says. But in laying out his plans, Biden has "set out his stall for gigantic, once-in-a-generation investments to modernise the US" through "the most far-reaching tax-and-spend proposals since the 1960s".
Writing in the NYT, Michelle Cottle argues that Biden has shown that "he knows how to play the expectations game", namely "underpromise, then overdeliver".
An experienced political operator with a history of "chugging along in the face of adversity, tragedy and lousy odds", Biden "has fulfilled a range of more targeted promises", including rolling back Donald Trump's most divisive policies, "largely through executive action", Cottle continues. But in "making the presidency boring again", she adds that Biden is succeeding in "keeping things low-key" and "making bipartisanship cool again".
Despite outlining an overarching plan to reshape the US, "Republican critique of Biden's economic programme has been notably muted", the FT's Luce says, with his "persona making charges of radicalism even harder".
Cautioning that "it would be a stretch to compare Biden's bills to the radical changes" delivered in FDR's New Deal, Luce adds that "whether you ask Americans or foreigners, liberals or conservatives", Biden's presidency nonetheless "strikes most people as surprisingly radical".
His "haste" has "brought trouble at the southern border", The Times says, with Biden's desire to end Trump's draconian immigration policies prompting "an almost immediate surge of new migrants", including "thousands of unaccompanied children".
Plans to withdraw US troops from Afghanistan on 11 September have also prompted concern among his international allies, while the success of ongoing talks in Vienna to revive the Iran nuclear deal will test whether Biden can deliver on a key foreign policy pledge.
However, while "Trump's first 100 days were sheer craziness", Biden's have been marked by "sheer competence", writes Max Boot in The Washington Post.
"Biden is making real progress on the biggest issues facing America," Boot adds, combatting mass unemployment and the Covid pandemic while "turning down the temperature on our politics" and "reasserting America's international leadership".

Continue reading for free
We hope you're enjoying The Week's refreshingly open-minded journalism.
Subscribed to The Week? Register your account with the same email as your subscription.