Oil price posts two-year highs - but how long can it last?
Brent rose above $59 a barrel this week, its best third-quarter showing since 2004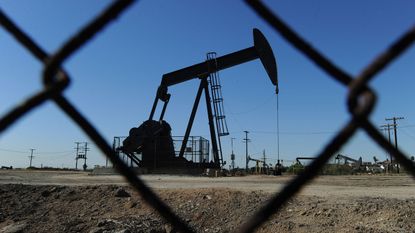 (Image credit: Mark Ralston/AFP/Getty Images)
Sign up to our 10 Things You Need to Know Today newsletter
A free daily digest of the biggest news stories of the day - and the best features from our website
Thank you for signing up to TheWeek. You will receive a verification email shortly.
There was a problem. Please refresh the page and try again.
Oil price gains to be 'capped' in low-$50s, warn analysts
7 December
A rally in the oil price will not extend much further and will be capped in the low $50s, say analysts.
Dennis Gartman, who writes the daily financial trading commentary The Gartman Letter, told CNBC US benchmark West Texas Intermediate will be "hard to push much past $52 a barrel".
Subscribe to The Week
Escape your echo chamber. Get the facts behind the news, plus analysis from multiple perspectives.
SUBSCRIBE & SAVE
Sign up for The Week's Free Newsletters
From our morning news briefing to a weekly Good News Newsletter, get the best of The Week delivered directly to your inbox.
From our morning news briefing to a weekly Good News Newsletter, get the best of The Week delivered directly to your inbox.
The US oil price has been above $51 already in the past week and advanced close to 15 per cent. However, it dipped last night and was flat at $50.90 a barrel this morning.
Its global counterpart, Brent crude, which set prices for oil extracted in the North Sea, was down 0.1 per cent at around $53.90 this morning.
Gartman also cast doubts on the Opec deal to cut collective output to 32.5 million barrels a day from January, saying it was very likely the cartel would not comply with, or would "cheat" on, its pledge.
He also suggested non-Opec states would not hold up their end of the bargain - cuts of 600,000 barrels a day - and that a rise in US shale production would offset reductions elsewhere.
Nick Cunningham, on Oilprice.com, also highlighted the pessimism that is mounting among analysts.
He said Russia had increased its exports by 500,000 to 11.2 million barrels a day since August, making "its cuts of 300,000 barrels per day seem much less impressive", while Opec production soared to 34.2 million barrels last month, "meaning it now has to cut 1.7 million barrels per day, not just the 1.2 million barrels that it announced last week".
Several Opec members are excluded from making reductions altogether, he added, and the group "did not discuss this contingency – who should cut even deeper".
Moreover, the promise is "contingent" on those falls in non-Opec production and even ignoring Russia's gaming of its numbers, there is little enthusiasm from its rivals to join the deal.
"So far, four countries are set to attend [a meeting at the weekend]… although 14 were invited," said Cunningham: Russia, Oman, Bahrain and Azerbaijan.
Despite all these concerns, few see prices falling back. BMI Research told CNBC: "The average annual oil price will be higher in 2017 than in 2016, with Brent at $55 per barrel for the year."
Oil price to settle at '$50 per barrel rather than $55'
6 December
The oil price has dipped back slightly from its year-high of yesterday after news of rising output from major global producers in November.
After breaking through $55 a barrel, Brent crude dipped as much as 0.7 per cent overnight to trade below this threshold today. Its US counterpart, West Texas Intermediate, was down 0.4 per cent to $51.60 a barrel this morning.
Investing.com put the fall down to simple profit-taking by traders "in the wake of a powerful rally that propelled prices to 16-month high". That would suggest the dip will be short-lived and the rally could shortly resume.
Reuters reports the modest slide followed reports that output from the Opec cartel rose to 34.19 million barrels per day in November, up from 33.82 million in October.
The group has pledged to cut production to 32.5 million barrels a day from January.
However, analysts fear the 370,000 barrel surge in exports that followed Opec's preliminary deal in September bodes ill for the chances of the agreement holding. It also adds to the hefty supply overhang from the past two years.
Russia additionally upped output in November to such a scale that even its promised 300,000 barrels a day cut will see production higher next year than in the first half of 2016.
Added to that is speculation that the strong oil price rally, from $44 a barrel early last month, could trigger a renewed production surge in the US shale sector.
Matt Stanley, a fuel broker at Freight Investor Services International in Dubai, said the market was trying to find "some kind of level it is happy settling at".
He added: "I have a feeling it is more toward the $50 per barrel range than $55 per barrel, not least because there is still ambiguity around production levels."
US investment bank Morgan Stanley said: "Other than a complete deal collapse, we don't see many catalysts to reverse the recent rally", adding that "a greater shift toward bullish positioning" pointed toward higher prices.
Oil price heads to $55 despite expected output rise
5 December
The oil price is powering on, adding to a 14 per cent advance since the middle of last week following the landmark deal from Opec and Russia to cut production.
Brent crude, the international oil price benchmark, was up 0.5 per cent to $54.75 a barrel this morning while its US counterpart, West Texas Intermediate, was 0.6 per cent up at $.
Both benchmarks had fallen by around one per cent in Asian trading, as bearish news on production raised doubts on whether the cuts will be enough to return the market to supply/demand balance next year.
In particular, Russia reported output of 11.21 million barrels a day in November, the highest for almost 30 years.
As the 300,000-barrels-a-day cuts it has agreed to make from January will be pegged to November levels, this means Russia's output in 2017 will be "higher than it was at the peak of the oil glut in the first half of 2016", says Reuters.
Exports from Saudi Arabia, Opec's de facto leader, and fellow cartel member Kuwait are also expected to rise before cuts take effect in January.
The two countries are expected this month to agree to resume oil production in the "to resume oil production in the Neutral Zone between both countries, with a potential of 300,000 barrels in daily output, from jointly operated oilfields which were shut down between 2014 and 2015".
Investment bank Goldman Sachs said a production decline of 620,000 barrels per day this year will be followed by an increase of 55,000 barrels per day in 2017. The rise in prices is also expected to boost output from the US shale industry.
This has analysts doubting whether Opec's cuts will be enough to offset a big supply overhang at a time when demand growth is underwhelming - and that's assuming Opec sticks to its agreement, which many are publicly questioning.
But for now, the positive sentiment and the statement of intent last week are keeping oil moving generally upwards, with some, including the International Energy Agency, pointing to a potential target of $60 a barrel in the weeks ahead.
Oil price surges to its highest level in a year
2 December
The oil price has kept on rising since the powerful Opec cartel agreed on Wednesday to cut production and yesterday hit its highest level in a year.
Brent crude rose 4.5 per cent, which on top of a nine per cent surge in the previous session took it more than $54 a barrel.
Sky News says the international oil price benchmark, which sets the price for oil extracted from the North Sea, was higher than it has been at any point since July 2015.
US counterpart West Texas Intermediate has followed a similar trajectory and jumped above $51 a barrel.
The 14-nation Opec group agreed this week to cut production by as much as 1.2 million barrels per day, to 32.5 million. That was a stronger cut than anticipated and defied analysts who doubted an agreement would be reached.
Some, including the International Energy Agency, have said oil prices could reach $60 a barrel. "Motorists are being warned to expect prices to rise at the pumps as a result [of the oil price rise]," says Sky News.
"Alongside the weaker pound, fuel price increases could put pressure on households already facing higher food prices thanks to inflation following the Brexit vote in June."
However, there are still doubts the deal will hold oil prices higher. The concerns are broadly threefold: that the cut is not enough to erode entrenched oversupply, especially as demand-led growth is set to underwhelm; that the price rise will encourage more US production, offsetting the cuts, or that Opec will simply not stick to the terms.
"Compliance is key and it's worth noting that Opec members don't have the best record on that front," Neil Wilson of ETX Capital told the BBC.
He added that the cartel said its reduction is dependent on a 600,000 a day cut from non-Opec countries. Russia has agreed to make up half of that number.
"But we don't know where the other 300,000 barrels a day from other non-Opec members is going to come from," said Wilson. "Opec has suggested the deal is contingent on getting this cut... We don't yet know if [the deal] could unravel if this doesn't happen."
Oil price leaps 10% after Opec deal 'confounds doubters'
1 December
Opec has "confounded its doubters and sent crude oil prices soaring" by agreeing to cut production following a meeting of members and other global producers in Vienna, Bloomberg reports.
Oil production by Opec members - the world's richest oil nations - will be reduced by two per cent, or 1.2 million barrels, to 32.5 million barrels per day.
It is the first time in eight years the cartel has agreed to reduce output. It's also a more aggressive cut than members indicated last month, when they said they would reduce output to between 32.5 and 33 million barrels a day.
Markets went into overdrive on the announcement, sending crude prices and energy stocks soaring, some by as much as ten per cent.
Brent crude, the international oil price benchmark, had been as low as $44 a barrel last month, but was this morning back above the $50 mark at $52.19.
US counterpart West Texas Intermediate also rose above $50 and was this morning only slightly lower at $49.77. Both are expected to continue to rise steadily above the $50 mark, perhaps as high as $60.
Bloomberg reports the deal "overcame disagreements between Opec's three largest producers: Saudi Arabia, Iran and Iraq".
Prior to the meeting, Saudi energy minister Khalid al-Falih said he country would be prepared to take a "big hit" in order to get the deal finalised.
"Saudi Arabia will take the lion's share of cuts by reducing output by almost 0.5 million bpd to 10.06 million bpd. Its Gulf Opec allies – the United Arab Emirates, Kuwait and Qatar – would cut by a total 0.3 million bpd [barrels per day]," Reuters says.
Iraq, which insisted on being given higher output quotas in order to fund its fight against Islamic State, unexpectedly agreed to a 0.2 million reduction. Both Libya and Nigeria have been exempted from the deal.
In a "significant victory" for Tehran, Iran was allowed to increase its output by 90,000 barrels "as it tries to rebuild its economy after the end of Western sanctions", the Wall Street Journal reports.
Russia, which is not part of Opec, has reportedly also agreed to reduce production by 300,000 barrels per day in a bid to reduce global oversupply, which has damaged a number of Opec economies.
The big question now will be what this means for US production, which analysts have said could surge as oil once again becomes profitable, swinging the market back into surplus and weighing on prices in the future.
Continue reading for free
We hope you're enjoying The Week's refreshingly open-minded journalism.
Subscribed to The Week? Register your account with the same email as your subscription.
Sign up to our 10 Things You Need to Know Today newsletter
A free daily digest of the biggest news stories of the day - and the best features from our website