Oil price posts two-year highs - but how long can it last?
Brent rose above $59 a barrel this week, its best third-quarter showing since 2004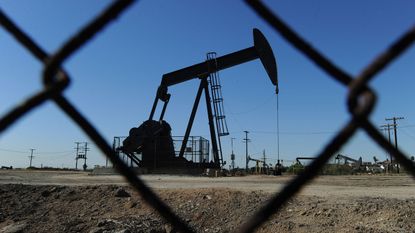 (Image credit: Mark Ralston/AFP/Getty Images)
Sign up to our 10 Things You Need to Know Today newsletter
A free daily digest of the biggest news stories of the day - and the best features from our website
Thank you for signing up to TheWeek. You will receive a verification email shortly.
There was a problem. Please refresh the page and try again.
Oil price 'rollercoaster' as Opec hints at policy shift
01 September
Oil prices are continuing to rally after the bank holiday weekend, but while the international benchmark is now back above $50 a barrel, trading remains extremely volatile.
A final strong US session, ending a week that began with a sharp crash, left Brent above the psychologically important barrier – and there was fresh upward impetus on Monday that pushed prices more than eight per cent higher again to settle at around $54 a barrel, the Financial Times reports.
Subscribe to The Week
Escape your echo chamber. Get the facts behind the news, plus analysis from multiple perspectives.
SUBSCRIBE & SAVE
Sign up for The Week's Free Newsletters
From our morning news briefing to a weekly Good News Newsletter, get the best of The Week delivered directly to your inbox.
From our morning news briefing to a weekly Good News Newsletter, get the best of The Week delivered directly to your inbox.
This reflected a wave of optimism that longstanding oversupply might be about to ease after the 12-nation Opec cartel signalled in its latest newsletter it was prepared to talk to rival suppliers about ending a production turf war. The Times notes the organisation's comments that "continuing pressure on prices… remains a cause for concern for Opec and its members" and that it "stands ready to talk to all other producers".
Oil is by no means set fair, however. The FT's David Sheppard points to a "rollercoaster" that saw Brent fall close to three per cent early on Monday trading in New York before the strong turnaround, which was also in part driven by data showing a drop in US production. Brent crude is again down 3.6 per cent this Tuesday morning in London at $52.20.
Sheppard adds that traders continue to see the market as "well supplied". Opec's hints have also been dismissed by some as insignificant given that the cartel recently reiterated it would act to "protect its own interests". There is also the autumn refinery slowdown, which typically adds to production stockpiles, to navigate.
All of which means that while an "overdone" sell-off in recent weeks has been reversed, there is a way to go before there will be real confidence that the downward trend has reversed permanently. And with Iran likely to ramp up production (assuming its nuclear deal holds in the US senate), a price recovery could hit more stumbling blocks further down the road.
Oil price rises: is this the end of the slump?
28 August
Oil prices are continuing to rise after the market posted its biggest one-day surge for close to seven years, a recovery that comes off the back of a sharp decline earlier this week.
The Financial Times reports the international benchmark Brent crude jumped by more than 10 per cent, or $4.42, to settle at $47.56 a barrel on Thursday. On Friday morning it had fallen slightly in early trading and was hovering around $47.
This recovery had followed several days in which a renewed slump, which set in earlier in the summer, gathered pace. Prices hit a post-financial crisis low of close to $42 a barrel on Tuesday. Even now Brent is only back to where it was a week ago and at a level that remains punishing for producers in many regions. US crude settled at $42.86, another week-long high but relative low.
Thursday's recovery was driven by two factors, the most prominent of which, the FT suggests, was Shell closing two pipelines and cutting shipments from Nigeria, Africa's largest oil producer. At a time when the market is heavily oversupplied this gave cheer to traders who were already buying on the back of a continued strong rally in equities and improved economic growth figures in the US.
A second factor was traders covering 'short' positions – bets the price would fall – in the face of the surprise rebound. Investors such as hedge funds "scrambled to buy back positions… squeezing prices higher".
So is this the beginning of the end for the latest oil trough, or merely a 'relief rally'?
Reuters says there is evidence to suggest the latter, as the market in oil contract derivatives "remained muted… suggesting most big traders were shrugging off the move as merely a correction in the year-long bear market". The news agency cites comments from BMI Research suggesting that the recent selloff was "overdone" and that prices could recover to $50-$60 a barrel, before falling again.
"The trend is strong and down… do not be wrong-footed by a correction higher," PVM Oil Associates technical analyst Robin Bieber told Reuters, in a report published on CNBC. "Few markets head forever in one direction with no respite."
Oil price: industry braced for 'wave' of North Sea asset sales
27 August
French oil major Total has announced it is stepping up the sale of its North Sea assets as the slump in oil prices continues to bite, which some suggest could spark a "wave" of asset sales as big producers seek to raise cash to protect profits and investor payouts.
The Financial Times reports Total is selling a Scottish gas terminal and interests in two pipelines in a deal worth £585m to Midstream Partners, an investment vehicle "formed in 2012 to invest in North Sea infrastructure". It is the latest in a planned $5bn disposal programme this year as part of cutbacks at the group and follows similar announcements by rivals such as Shell.
There is speculation the sale could "lead to a wave of North Sea dealmaking" and other big producers active in the region such as Germany's E.On are also thought to be "sounding out potential buyers". It also comes as The Guardian notes Danish driller Maersk Oil announced it would seek permission to close its Janice platform, with the loss of around 200 jobs. Elsewhere, cutbacks and changes to working hours have raised the prospect of the first strikes in the sector "for a generation".
Crude oil prices did pick up in US trading and in Asia overnight in the wake of data showing a drop in US reserve stockpiles and amid a recovery on global markets. On Thursday morning in London international benchmark Brent crude was trading at $44.79, marking a steady rally from the $42 low reached on Tuesday but still below the $45 nadir at the bottom of the last slide in January. Some analysts were also cautious that the rally could be maintained.
Daniel Ang, of Singapore-based brokerage Phillip Futures, told Reuters the fall in inventory was most likely an "anomaly" based on a reduction in imports, meaning reserves could rise again as the industry heads into the autumn, when refinery maintenance and poor weather typically reduces demand.
Motorists in the UK are already benefiting from the fall in prices, as Morrisons and Sainsbury's announced further cuts of 2p a litre off the price of unleaded petrol and 1p off diesel from Thursday, ahead of the bank holiday break.
Oil price falls, but why isn't petrol cheaper?
26 August
Oil prices are back in the red after failing to benefit from a 'risk-on' move by investors in a volatile session on Tuesday and overnight.
In risk-on trading, investors buy into riskier stocks or commodities in the expectation that they will benefit from a rising market. More cautious investors may make a 'risk-off' move towards bonds or gold, which would be expected to rise as other assets fall.
However, oil has so far failed to maintain any upward momentum. International benchmark Brent crude was trading down 0.3 per cent at a shade above $43 a barrel on Wednesday in London, after what the Financial Times' Naomi Rovnick described as an "indecisive" session overnight in Asia. Modest gains made in early trading were later eroded.
Having hit an 'intraday' six-and-a-half-year low of close to $42 a barrel on Monday, Brent had recovered and briefly touched above $45 on Tuesday, but it has noticeably failed to track a strong rebound elsewhere as oversupply fears continue to weigh on sentiment.
Oil prices vs petrol prices
Motoring organisations have raised the prospect of petrol in the UK hitting £1 a litre if the price was to fall much lower – but The Times notes that the last time Brent was at $43 a barrel in March 2009 a litre of unleaded was costing on average 86.6p. So why are consumers still stuck paying an average of 113.5p now?
The AA says the change is due to a "sharp rise in profits earned by oil refiners". In the UK major oil companies have largely stepped back from refining oil for fuel and the majority is now undertaken by firms such as Essar, owned by India's billionaire Ruia family, and Ineos, controlled by Switzerland-based petrochemicals tycoon Jim Ratcliffe.
According to the AA, the price paid to refine a litre of petrol has risen over the past six years from 14.5p to 29.5p, while taxes have gone from 65.25p to 76.9p. Retailers are taking essentially the same cut, of around 7p.
Oil could still fall further as we head into an autumn season, when demand typically wanes, which may bring prices down further. This is expected to put pressure on inflation and could delay the timing of an interest rate increase until later next year, according to analysts.
Oil price dips below $43 - how low can it go?
25 August
An acceleration in the recent fall in oil prices has continued, as the international benchmark dropped by more than seven per cent to settle close to $42 a barrel on Monday after a rout on global equity and commodity markets.
Brent was recovering slightly on Tuesday morning and stood at $43.42 a barrel, but this still remains well below the $45 nadir it had reached in January. Having been at fresh six-year lows, the Financial Times suggests it could remain depressed as traders remain cautious over demand from China, the world's second-largest oil consumer, which is in the throes of a fresh financial panic, as well as resilient global exports that remain well ahead of consumption.
Forbes too warns of 'lower for longer' prices, saying the 'Black Monday' crash in China and its effects on wider commodity markets "vindicated an industry already preparing for Brent seesawing from $40 to $60 per barrel until a modicum of supply-side stability becomes manifestly apparent". The industry is now braced for Brent to average $60 a barrel for three years, which could result in up to $250bn of exploration projects being cut.
But "at the time of a cyclical correction, things always get materially worse before they get better", it adds. So how low could oil go in the short term?
Alexey Ulyukaev, minister of economic development for oil-dependent Russia, told the the Daily Telegraph in the wake of the rouble hitting an 18-year low against the dollar that oil could yet dip below $40 a barrel, "if only for a short time". The New York Times is discussing prices heading back to the $30 level seen in the 2008 global downturn.
The effects of this on oil producers could be devastating. David L Goldwyn, who was State Department special envoy and co-ordinator for international energy affairs in the first Obama administration, told the paper that if Brent stays below $45 a barrel, that is "a red flag for stability issues across the oil-producing world". Goldwyn said Nigeria, Angola, Algeria, Venezuela and Iraq were most at risk of unrest, while protests are already a weekly occurrence in Ecuador.
Oil price tumbles to post-crisis low – and could fall further
24 August
The decline in oil prices entered a new phase this morning after another major crash on Chinese markets pushed the international crude benchmark below its $50 January nadir.
Brent crude in London was trading 2.7 per cent lower at $44.23 a barrel in early trading on Monday and heading lower, building on losses sustained during a torrid Asian session that has been dubbed 'Black Monday'. The Financial Times says the price has now passed a low not seen since March 2009, while the US benchmark, West Texas Intermediate, hit its lowest level since February of that year and is heading for $39 a barrel.
The fall in oil prices is part of a wider commodity collapse as investors fear the drag on demand from slowing Chinese growth, but the plunge is greater than most because the oil sector is already struggling with chronic oversupply amid a production turf war. "The Bloomberg Commodity Index, a 22-member gauge covering everything from egg futures to natural gas, fell 1.2 per cent to $86.79, its lowest since 1999… [It] is now down 40 per cent over three years, including a drop of nearly 17 per cent this year," the FT adds.
The wider effects of the price crash are mixed. For consumers, prices at the petrol pump are falling and The Guardian notes that supermarkets again reduced the cost of a litre of fuel on Friday. When Brent hit $45 in January some forecourts were offering unleaded at £1 a litre. Given the recent currency shifts, Rod Dennis from the RAC motoring group said it could happen again if the benchmark hit $40 a barrel.
From an economic perspective, the slump is helping oil importers but hurting producers – and all over the world it is holding back the inflation that is needed to justify an increase in interest rates. The latest accounts from the Scottish government reveal the amount received in tax receipts on oil production between January and March was £168m, which the BBC reports is 75 per cent lower than the £742m raised in the final three months of 2014.
Continue reading for free
We hope you're enjoying The Week's refreshingly open-minded journalism.
Subscribed to The Week? Register your account with the same email as your subscription.
Sign up to our 10 Things You Need to Know Today newsletter
A free daily digest of the biggest news stories of the day - and the best features from our website